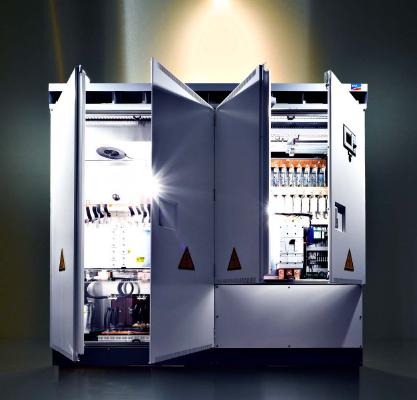 Major PV inverter manufacturer Sungrow Power Supply Co, recently reported a relatively strong rebound in revenue (up 10%) in the first half of 2018 but on a quarterly basis the second quarter sales increased 29% from the previous quarter, indicating that greater dependence on China and the utility-scale market with central inverters, creates a 'solarcoaster' ride.
Sungrow reported first half 2018 sales of approximately RMB 3.89 billion (US$568 million), an increase of 10% from the prior year period.
On a quarterly basis, Sungrow's sales in the first quarter of 2018 were around US$247 million, down from US$326 million in the fourth quarter of 2017. However, sales in the second quarter of 2018 increased 29% to almost US$320 million, quarter-on-quarter.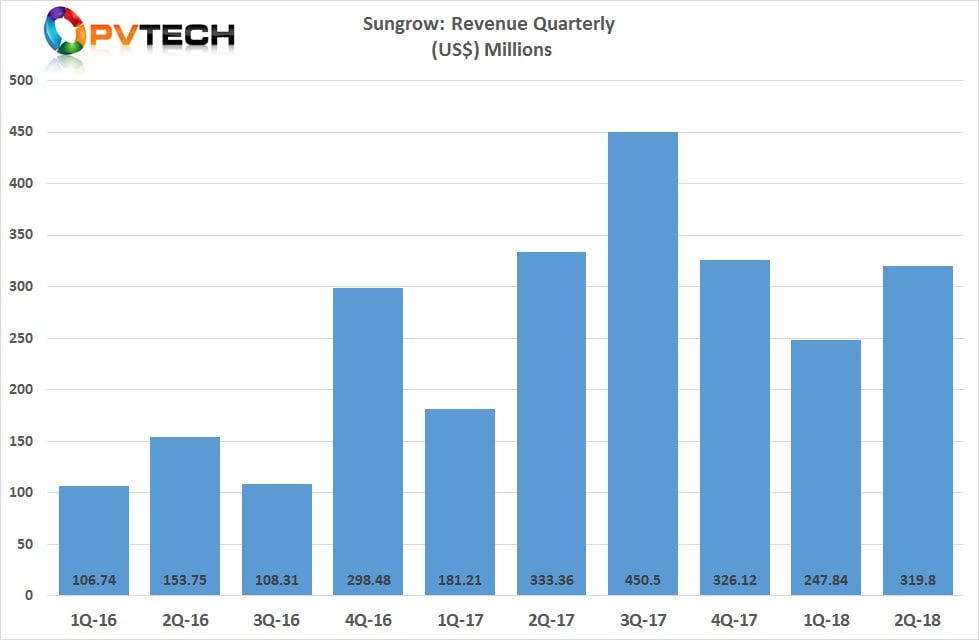 The company claims a 30% market share in China and installs in the country topped 24.3GW in the first half of 2018, compared to 24.4GW in prior year period.
The big difference was utility-scale installations were said to have reached 12.06GW, down 30% from the prior year period.
Looking at Sungrow's sales in the first quarter of 2018, compared to the prior year period clearly indicates increased sales, year-on year but second quarter comparisons show a softening in sales that didn't reach 2017 levels. Of course, ASP declines would need to be accounted for.
However, the bottom-line remains, it's been a bumpy road for many years, despite strong overall sales growth that took it past its nearest rival, SMA Solar in 2017.
SMA Solar's quarterly sales also follow a solarcoaster ride but not as severe as Sungrows. SMA Solar is also dependent (to a lesser extent) on the utility-scale PV market (notably USA) but doesn't compete in the China utility-scale market, hence the softer ride in quarterly sales. This is of course further helped by a large global footprint, compared to Sungrow.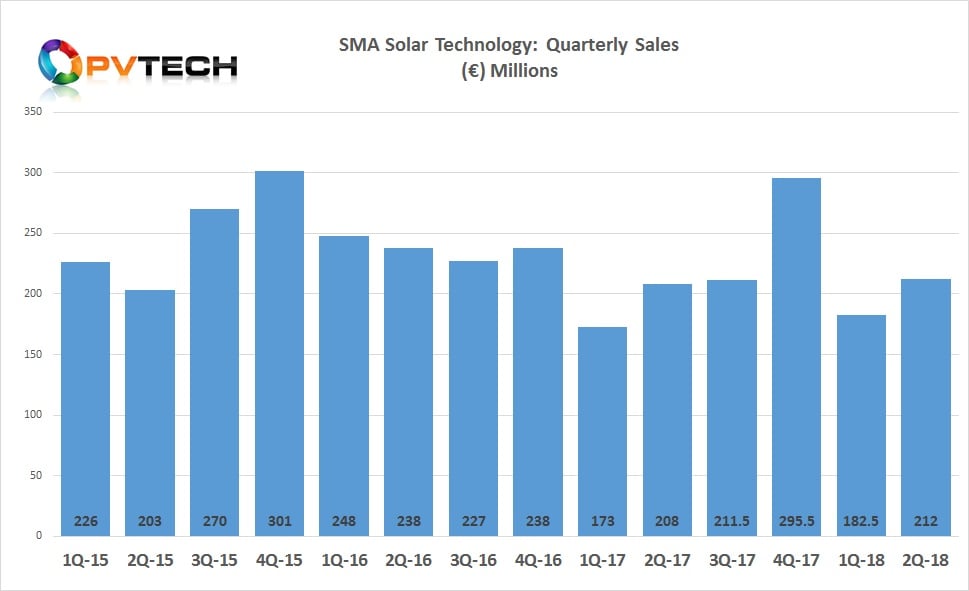 The two other stock market listed inverter manufacturers, SolarEdge and Enphase don't compete in the utility-scale markets anywhere and are predominantly residential and commercial market suppliers.

What is interesting in the below chart is that quarterly sales patterns of SolarEdge and Enphase are completely different from Sungrows and SMA Solar's and indeed completely different sales patterns between these two companies.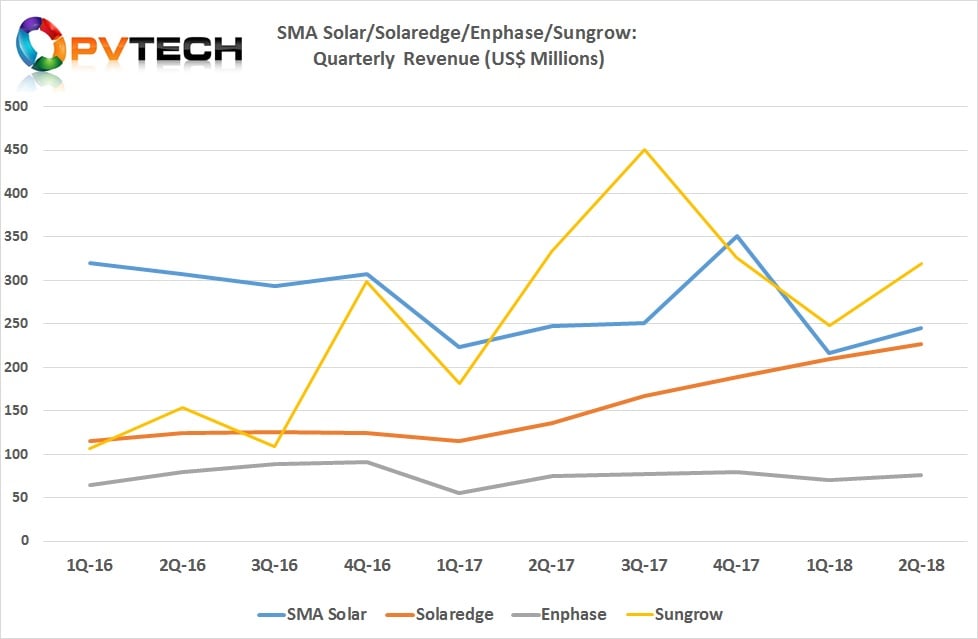 It is well documented that SolarEdge has been on a sales and market share gain for several years and its quarterly sales pattern reflects that. On the flip side, Enphase has been struggling and undergone several major restructurings and sales have basically flat-lined. However, Enphase believes it has recently turned a corner and expects meaningful sales upward movement in the coming quarters, which will be interesting to see.
As we have previously noted, SMA Solar's sales was surpassed by Sungrow for the first time in 2017, while SolarEdge's sales kept climbing that it almost challenged the first quarter 2018 sales of SMA Solar.
However, SMA Solar posted a rebound in sales in the second quarter and SolarEdge's 'squeeze' on its rival has eased for the time being.
With trade wars, China's cap on utility and DG markets taking effect in the second half of 2018, further volatility in quarterly sales patterns is almost a given. Keep watching closely!