Following-on from our recent analysis of Tesla's solar panel supply base changing rapidly, the same is true of leading public listed US residential installer, Sunrun.
The data used to compile this analysis comes from Philip Shen, financial analyst at ROTH Capital and in its basic from, data comes from the California Distributed Generation Statistics, which publishes all IOU solar PV net energy metering (NEM) interconnection data from the three large California Investor Owned Utilities (IOUs) which include Pacific Gas & Electric Company (PG&E), Southern California Edison Company (SCE), and San Diego Gas & Electric Company (SDG&E).
Sunrun recently surpassed Tesla in the US residential market, primarily by default as Tesla continues to restructure its solar operations towards sustainable profitability but Sunrun should gain recognition for maintaining around the double digit deployment and revenue growth over the last several years, despite the residential market flat lining and more market share taken by smaller, regional installers.

Although seasonality plays a part in deployments and revenue recognition, Sunrun's solar rooftop deployments have increased from 65MW in the second quarter of 2016 to a record 91MW in the second quarter of 2018.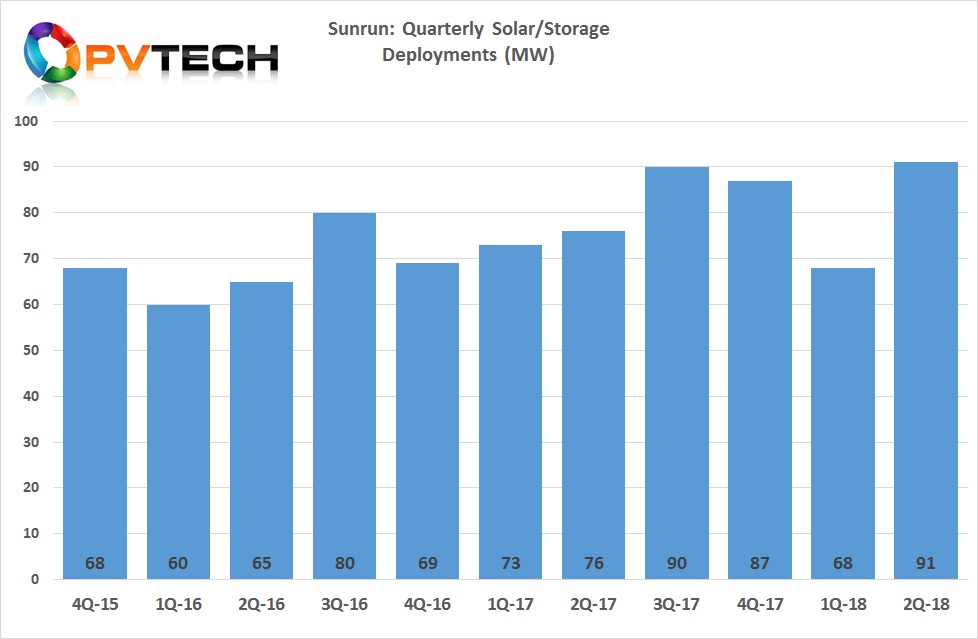 The same can said of its quarterly revenue figures, which have increased from US$122.5 million in the second quarter of 2016 to US$170.5 million in the second quarter of 2018. In more recent quarters, revenue gains have been offset by lower panel and therefore system prices but boosted by incremental increases in energy storage additions.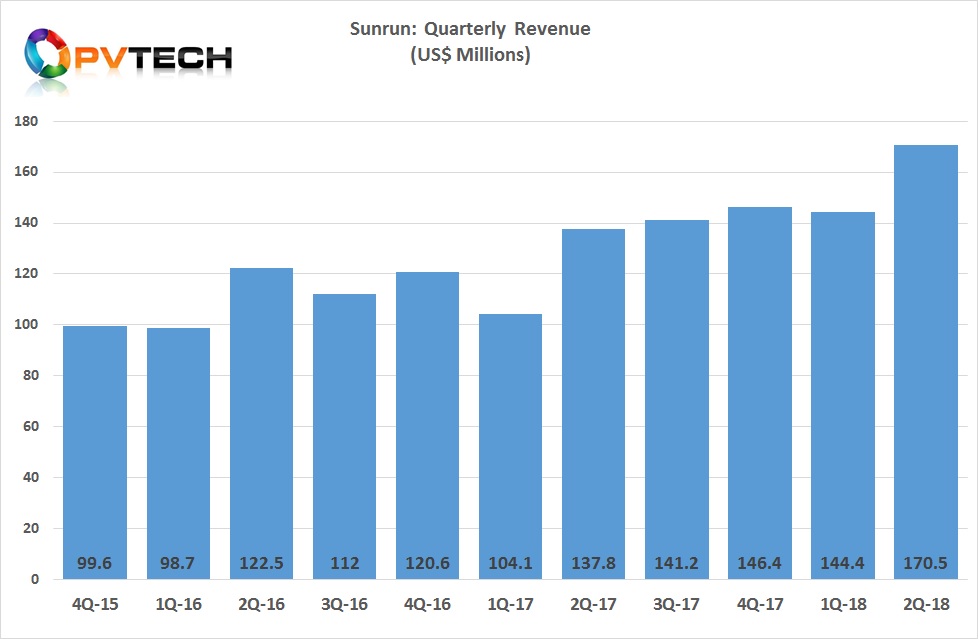 The company noted in its second quarter 2018 financial results that it had added over 12,000 new customers, supporting around a 20% increase in deployments.
Changing panel supplier base
Like Tesla, Sunrun has been selective in the number of PV panel manufacturers it has used for its residential installations since 2015.
Previously, around 15% of installs in California used a number of panel suppliers but this was narrowed down to around three key suppliers (REC Group 74% and Hanwha Q CELLS 10%).
However, the chart below shows that Sunrun had drastically shifted away from using mainstream multicrystalline panels from REC Group, which accounted for 74% of deployments in 2015 to only 33% by the end of 2016.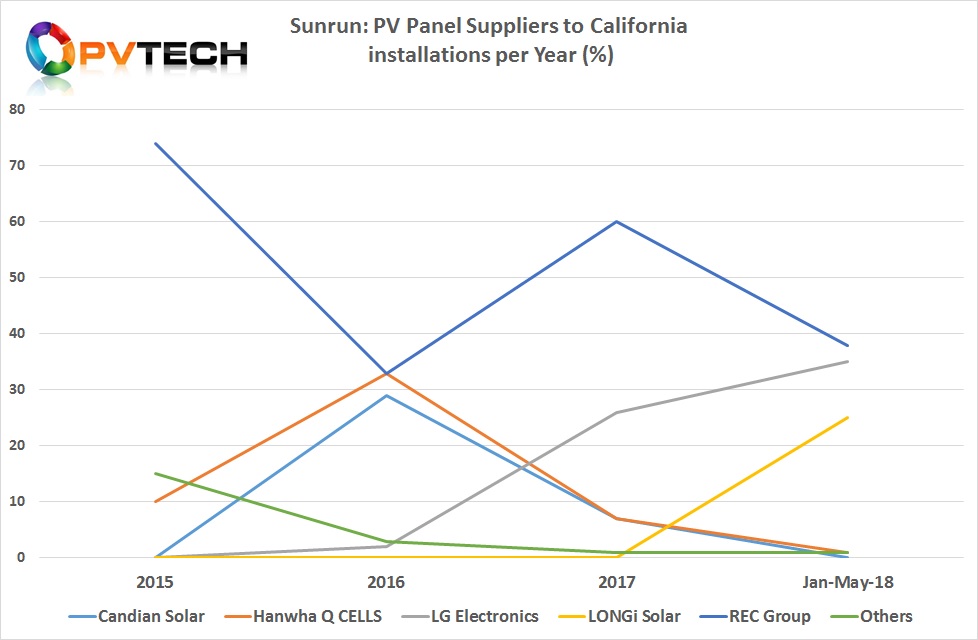 REC Group was supplanted by increased selection from Silicon Module Super League (SMSL) members Hanwha Q CELLS (33%) and Canadian Solar (29%) at the end of 2016. Both had been mainstream multicrystalline-based panel manufacturers.
Further changes occurred in 2017. Although the share (2%) is insignificant in the timeframe, Sunrun had started using LG Electronics panels by the end of 2016, although distinguishable for being N-type mono technology, carrying the then niche label of being high-efficiency.

Yet the use of LG panels took a significant turn upwards in 2017, accounting for 26% of California deployments by year-end.

A similar rate of increase was also noted with a surge in panels from long-term supplier, REC Group, which recovered its share to 60% by the end of 2017, up from 33% at the end of 2016.
REC Group and LG Electronics gains resulted in major share declines for SMSL members, Hanwha Q CELLS and Canadian Solar, both ending 2017 with 7% shares, down from 33% and 29%, respectively from 2016.
From a PV panel perspective, it would seem Sunrun had further simplified its supply chain, choosing REC Group for mainstream multicrystalline deployments and LG Electronics for high-efficiency deployments.

However, panel selection trends changed again in the first four months of 2018.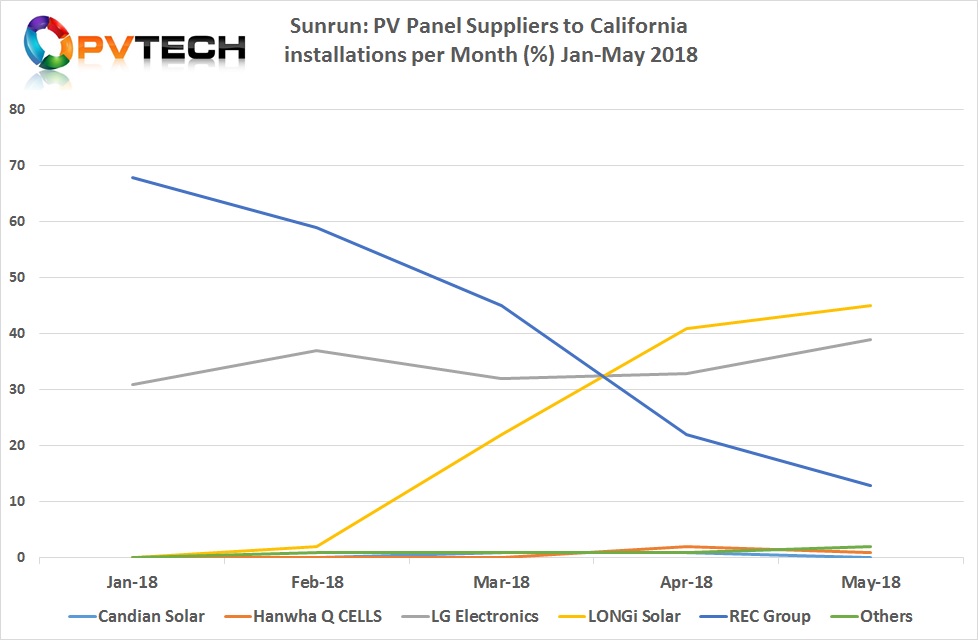 Again, REC Solar's share declined significantly to an average of 38% of deployments, while both SMSL members, Hanwha Q CELLS and Canadian Solar lost virtually all custom from Sunrun.
Supplanting REC Solar, Hanwha Q CELLS and Canadian Solar was another SMSL member LONGi Solar, a subsidiary of the largest high-efficiency monocrystalline wafer producer, LONGi Green Energy.
LONGi Solar has started as a new supplier to Sunrun at the beginning of 2018, achieving a 25% average share in the first four months of 2018.
As the deployment chart (Jan – May 2018) shows, LONGi Solar had become Sunrun's largest high-efficiency P-type mono-PERC (Passivated Emitter Rear Cell) panel supplier, accounting for 45% of installations.
N-type mono PERT (Passivated Emitter Rear Totally Diffused) and N-type mono IBC (Interdigitated Back Contact) panel supplier, LG Electronics with SunPower equivalent high-efficiencies had taken a 39% share of deployments by the end of May.
Once again, REC Group took a hit with its share declining to its lowest level at 13% at the end of May.
According to the data so far available, Sunrun's mainstream products are coming from LONGi Solar with its high-efficiency P-type mono PERC panels instead of being P-type multi-PERC based panels from REC Group.
Although the charts have yet to technically align after only four months of 2018 data, clearly Sunrun has been shifting to high-efficiency p-type and n-type mono panels at the expense of suppliers of multi-PERC.
There are some obvious reasons for the shift to high-efficiency panels, importantly for balance of system (BOS) costs. Fewer panels are required for a given rooftop PV system, which translates into less racking and wiring as well as short installation times.
In California you could add higher overall system yield due to the cell technologies being used, coupled to better temperature coefficient factors of mono over multi.
But not least is the benefit of lower performance degradation rates of mono over multi over a 20 to 25-year life-cycle, further boosting overall yields.
Another not insignificant factor influencing Sunrun's panel technology supplier base is its long-standing solar lease business model. Being able to pass-on ownership to the lease holder after 20 years would seem more advantageous when it related to high-efficiency mono panels with less degradation than P-type mono and limits reliability risks on Sunrun.
Of course with Tesla and SunPower being close residential rivals with high-efficiency panel product offerings, keeping competitive across many business metrics is fast becoming the new norm, most recently highlighted in PV Tech's recent preview of panels showcased at Solar Power International in Anaheim.
It is also worth noting that the announcement by LG Electronics that it would establish a 500MW panel assembly plant in the US.
The company is planning to initially produce its 'NeON ' series panels in 60 and 72-cell configurations for residential, commercial and utility-scale markets as well as the 'NeON 2' series that includes a transparent backsheet that improves residential system aesthetics by blending the roof colour through the spacing of the cells.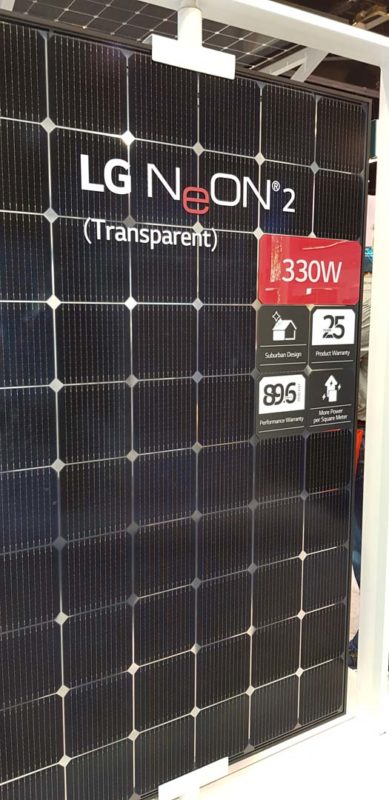 This would be a differentiated high-performance module for the US residential market.
A special thankyou to Philip Shen, financial analyst at ROTH Capital for sharing the volume of data gathered and assimilated for PV Tech to produce the data and analysis in this article.