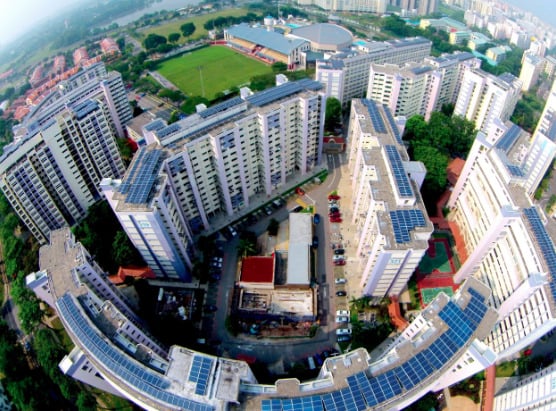 Southeast Asia-focused clean energy firm Sunseap Group has been awarded a 70MW project to deploy solar on rooftops across Housing & Development Board (HDB) blocks in Singapore.
The firm claimed that SolarNova 4 will be one of the island country's largest PV projects to date, with the installation of around 170,000 bifacial PV modules across 49 government locations and more than 1,200 HDB blocks.
The tender was launched by HDB and the Economic Development Board under their SolarNova programme, under which Sunseap won another tender back in 2015. The company has now won six out of nine government PV tenders for solar on public housing and government properties.
"When this project is completed, Sunseap would have installed solar systems on top of more than 2,700 HDB blocks or more than 27% of all HDB blocks," said Frank Phuan, CEO and executive director of Sunseap Group. "This is a testament to our tremendous growth since we started Sunseap eight years ago and it would not have been possible without the support of partners like HDB and EDB."
Sunseap now has a portfolio of 1.7GW of solar completed or under development in Australia, China, Taiwan, Japan and other parts of Southeast Asia.
In related news, a major renewable energy project in Australia's Northern Territory that would power the local grid as well as Singapore through undersea cabling has recently received backing from the Northern Territory, which unveiled a new target of net-zero carbon emissions by 2050.
Singaporean firm Sun Cable is planning to power the island state through a huge solar-plus-storage system to be deployed in Northern Australia, involving power transmission through a 3,800 km high-voltage direct current submarine cable.
The 10GW of solar would be combined with 20-30GWh of storage, with an expected investment of AU$20 billion (US$14 billion). Sun Cable's aim is to reduce Singapore's reliance on natural gas imports.