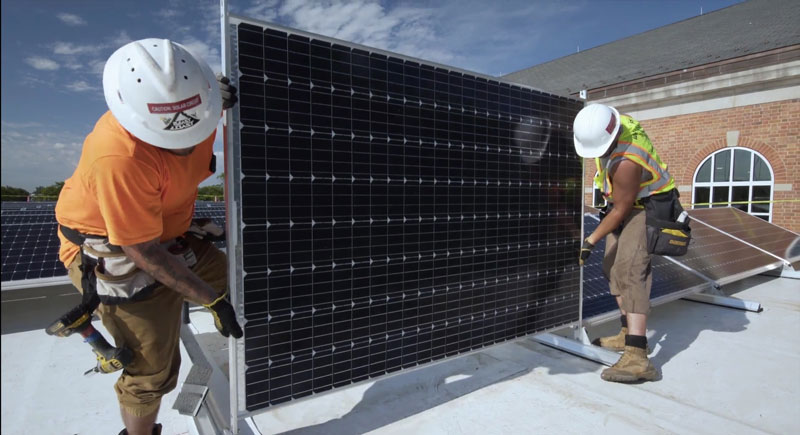 High-efficiency module manufacturer Ten K Solar, has announced that it will be "discontinuing" its current operation – but has claimed it is not because of any product performance issues, contrary to media reports.
In a statement emailed to PV Tech, the Bloomington-based hardware start-up said that the company "has decided to reposition the business to live within the constraints of marketplace realities", and cites significant pricing pressures and difficult market conditions as reasons for this decision.
The entire process of winding down is expected to be completed in Q3 2017.
The announcement that Ten K will be terminating "many" of its services comes less than two years after the firm secured US$25 million in investment from Goldman Sachs. Ten K also claims it has made more than 750 installations worldwide across 18 countries in the US, Europe, Africa, the Middle East and Asia.
Founded in 2008, the company shipped its first modules and made around US$3 million in revenue by September 2009. In 2012, Hanwha Corporation made a US$15.5 million Series B investment in Ten K Solar. Despite once employing 200 people and reaching US$50 million in annual sales, the company stated that navigating the market in a time of economic downturn took a toll.
"The most recent 18 months have proven to be difficult for companies in the solar industry. Ten K Solar has not been immune to those difficulties as significant price pressures and scale have proven a significant barrier to profitable growth," it said in its statement.
The company also implied it had exhausted all other avenues before deciding to close up shop.
Ten K said that module prices declined greater than 30% in 2016 alone. It was this pressure that contributed to the bankruptcy of German module manufacturer SolarWorld and Suniva not long before. Texas' Mission Solar too closed its N-type mono high-efficiency solar cell plant in October last year.
Tech start-up Beamreach Solar went bankrupt in January and the pilot-line facility recently was put up for sale.
Ten K claimed that the harsh market conditions were the reason for its decision, and not field testing failures or hardware or product performance issues. An article by GTM quotes APsystems saying that Ten K had been operating their inverters far outside the parameters of its given specifications, which had contributed to a series of field testing failures.
"Recent articles published by GTM and others were not based on information provided by Ten K, or a known trusted source. Ten K's decisions are based purely on the facts above, and are not based on any hardware, or product performance issues," the company said.