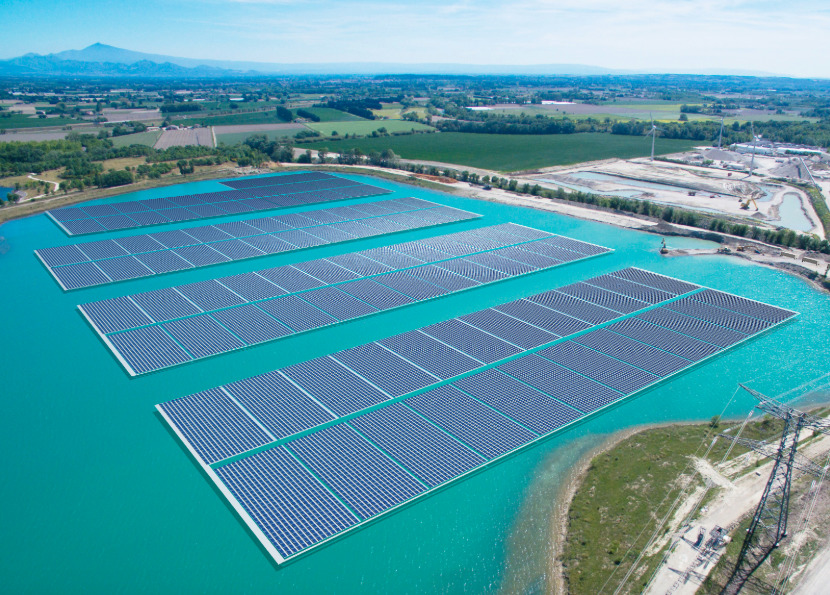 Silicon Module Super League (SMSL) member Trina Solar has supplied 17MW of PV modules to what is said to be the largest floating PV plant in Europe, developed by French IPP Akuo Energy.
The O'MEGA 1 project, located in Piolenc, a commune in the Vaucluse department in the Provence-Alpes-Côte d'Azur region in southeastern France, was awarded in France's CRE4.1 tender, which stipulates the use of low carbon footprint modules.
Trina has now supplied 46,000 units of its TSM-DEG14.20(II) dual-glass monocrystalline PERC modules in its low carbon footprint version. The dual-glass structure is made to protect solar cells from strong humidity over lifetime, preventing energy loss from potential induced degradation (PID), a key risk in floating solar projects due to their deployment on top of water bodies.
French floating PV specialist Ciel & Terre has also provided its Hydrelio floating structures to the project. Akuo Energy is the manufacturer and exclusive distributor of the Hydrelio product in France. Bouygues Energies Services is providing EPC services on the project.
Spread over a 17-hectare property, the plant will supply power for the consumption of more than 4,700 households.
Eric Scotto, president and co-founder of Akuo Energy, said: "O'MEGA 1 means multiple premieres for Akuo Energy: first floating solar power station in France; first time the group opens the capital of a project to individuals; and a common, first bank financing for floating solar. Through this societal project, we act as a global player in the energy transition and we hope to make this plant an example to follow. It is a great pride for us to be associated with all these actors who make it an exemplary and inspiring project."
Gonzalo de la Viña, head of Module Business Europe at Trina Solar, added that Trina intends for the project to open doors to further development of floating PV projects across France and Europe.