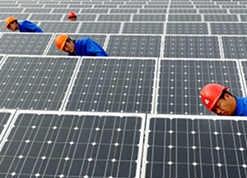 Trina Solar has signed off on a supply deal with Toyo Engineering to provide 96.2MW of solar modules to the Hosoe Mega Solar Project, which is currently being developed by Energy K.K. and is expected to be the largest solar plant in Kyushu, Japan.
The modules will be shipped starting in the fourth quarter of 2016 and will end byin January 2018. The installation will be developed on 140 hectares of land where a golf course was originally planned. The project is expected to be operational by the spring of 2018 and will produce clean energy for up to 30,000 homes.
Ye Chen, president of Trina Solar Japan, said: "We are thrilled to be partnering again with Toyo Engineering for another large supply agreement. We are delighted to see that the superior quality of our products alongside our extensive after-sales services has helped us maintain lasting business relationships with recurring customers. With cumulative installations of 6.5GW over the past three quarters, Japan remains one of the key markets for us, and the share of solar in the energy mix for the country is expected to further increase.
"We will carry on executing our growth strategies in the residential, mega solar and commercial segments while further diversifying our client base to expand our footprint in Japan's solar market."