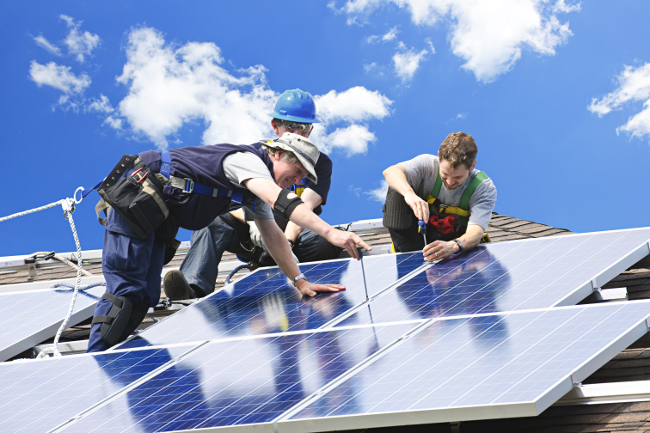 Germany's renewable energy trade associations have spoken up collectively about their country's plans to introduce tenders to award rights for new large-scale projects.
Representing stakeholders from 10 out of 16 German states, trade associations for solar, wind energy, biomass and for the general renewable energy industries put out a joint statement on Monday, criticising the plans.
The groups say the widespread introduction of auctions for various sources of renewables following their recent implementation on a trial basis for ground mounted PV, would "slow the energy transition".
Several aspects of Germany's energy policy have been up for discussion recently. The mechanisms of the EEG, the legislature that has underpinned the economics of its famed 'Energiewende' ('energy transition') – including the feed-in tariff (FiT) and surcharges taken from consumer bills to pay for the policy – are due for revision this year before their re-launch in 2017.
Among the possible revisions is the overhaul and replacement of the FiT system with tenders for all technologies. The Federal Ministry for Energy and the Economy (BMWi) appears to be keen on auctioning 80% of renewable capacity each year through such a process.
The president of national renewable energy association BEE, Fritz Brickwedde, said the wave of transition away from fossil fuels and nuclear was a path the renewables industry was already on, in particular in the electricity sector. Heat and mobility could and should be expected to follow that lead, while the years of the energy transition had given Germany's equipment manufacturers a potential to export to other, still-growing markets. He said those manufacturers' exports were making an increasingly important contribution to the economy. The country needed to stay the course on its Energiewende, "instead of rolling up the sails", Brickwedde said.
Solar as an experimental guinea pig
Carsten Koernig, CEO of solar PV and solar thermal trade association BSW Solar, said Germany had been close to missing its own government's targets for renewable energy capacity deployment in 2016. Sources in the German PV industry have previously described solar as the experimental guinea pig in the government's tendering plans, with three auctions held last year and another in April.
Each has been heavily oversubscribed, with the Federal Network Agency (Bundesnetzagentur) hailing them as a success due to the pressure exerted by price competition. BSW Solar meanwhile saw it very differently, saying that plans to limit utility-scale PV capacity to just 1.5GW over three years was a mistake, especially when large-scale solar could in many cases now be built cheaper than coal.
In Monday's statement, Koernig said that "solar power has become very inexpensive". Market barriers had broken down as quickly as possible, instead of new barriers having been created by the FiT and other policies to support development. Koernig went on to say also that proposals to charge a higher proportion of the EEG surcharge to self-consuming rooftop solar users and to fund rooftop solar from auctions funded by that EEG pool was also a mistake.
'Incomprehensible', 'inadequate' plans spark call for unity
President of wind energy association Bundesverband WindEnergie Deutsch, Hermann Albers, said the limiting of onshore wind energy through the government's use of "restrictive corridors and a complicated formula" was "incomprehensible". Germany needed a stable domestic market populated with medium-sized players, Albers said, mentioning the existing and future export potential of the industry and the thousands of jobs created by it. Albers pleaded for the energy transition to not be left at a standstill.
Horst Seide of Fachverband Biogas said policies in place at present did not represent a compensatory function adequate to support the uptake of bioenergy.
"The present EEG is completely inadequate for the bioenergy industry", Seide said, adding that Germany needed a statutory succession plan for existing plant sites and the government had to recognise that "moderate additional construction is possible".
There are due to be further discussions of the EEG and the Energiewende policies this Thursday at Federal government level and BEE's Fritz Brickwedde said citizens, municipalities, energy cooperatives and small to medium enterprises should be able to continue the "positive development" the country had already achieved.
Collectively, the associations said that government objectives to maintain diversity of industry participants, to develop necessary quantities of renewable resources and to lower costs could be achieved through the already "proven" mechanisms of the EEG. A change to tenders would put the sector at "enormous risk", the joint statement said.
Read the joint statement here (in German).