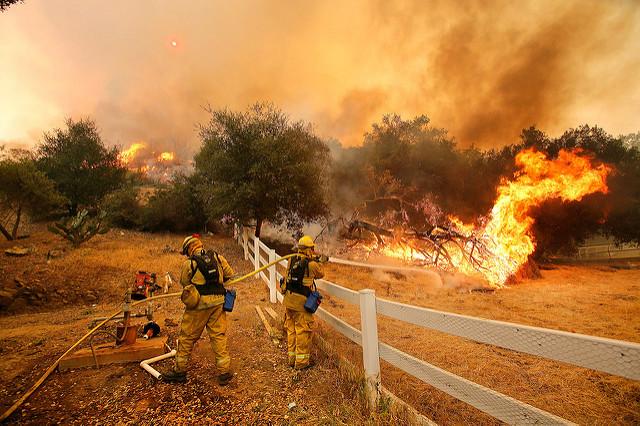 Summer wildfires across the West Coast of the US have significantly impacted the output of solar PV projects in the region with smoke cover reducing irradiance levels, according to environmental and industrial measurement firm Vaisala.
Project revenues during this peak generation season are also estimated to have been seriously impacted, said Vaisala on the release of its 'Solar Performance Maps' for June to August this year.
The West Coast is seeing an increasing number of large-scale forest and bush fires due to greater levels of heat and dry conditions during the summer.
California was cited as having "particularly severe" fires this year, with more than 180,000 acres covered, with several major fires still ablaze. As the most successful solar state in the US, with a fifteen-fold increase in capacity in five years, fires now pose a threat to both safety and profitability for California's solar project owners.
However, GTM Research's latets report did find that the key California market had experienced a slowdown.
Vaisala said the threat that fires pose to transmission infrastructure in terms of damage is well known and many project owners are able to enact precautionary site shutdowns for protection from fire. However, the threat that smoke poses to PV plant output is less apparent.
The 'Solar Performance Maps' for this summer, which demonstrate monthly resource variability from long-term averages, shows large areas of below-par resource in a number of regions across California and the southwest, which directly correlate with the sites of major wildfires throughout the region.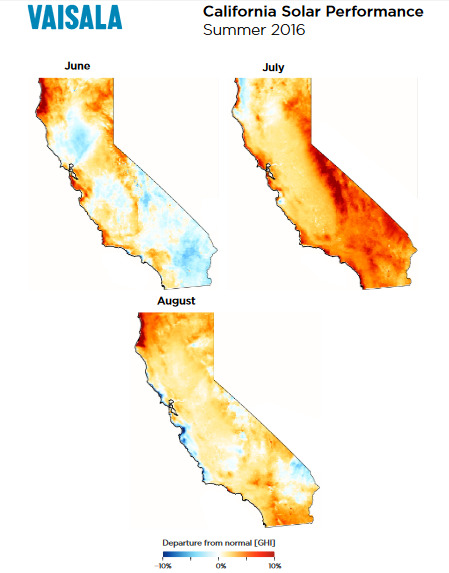 Kern County
One of the largest wildfires this summer was the Cedar Fire in Kern County, southern California, engulfing nearly 30,000 acres. Kern County has 4,881MW of installed solar power capacity yet its irradiance fell by between 1-4% in different areas during June.
Vaisala estimated US$940,000 in lost revenues for PV operators in the region based on a 1% loss in production during peak production and a tariff of US$150/MWh.
It is estimated that project operators in Los Angeles and San Bernardino counties, which both have large installed solar capacities, will have had similar losses.
Gwendalyn Bender, product manager, Vaisala, said: "Faced with the significant financial impact of performance fluctuations caused by regular wildfires, it's clear that solar asset owners and operators in commonly affected areas need to start factoring this regional risk into their plans – particularly since these incidents typically coincide with the peak generation season."
Bender added that the west coast wildfires show the importance of gathering long-term historical data at project locations, using satellite technology. Understanding such extreme events will help develop a "climate resilient portfolio", which can account for variability in generation casued by such events.