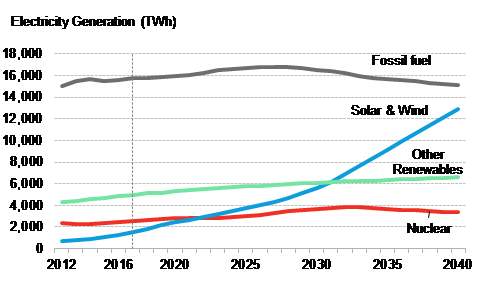 Renewable energy is indeed the future, according to Bloomberg New Energy Finance's latest report, which forecasts technologies such as wind and solar to "dominate" the future of electricity by 2040, making up 48% of the world's installed capacity and 34% of electricity generation.
"This year's report suggests that the greening of the world's electricity system is unstoppable, thanks to rapidly falling costs for solar and wind power, and a growing role for batteries, including those in electric vehicles, in balancing supply and demand," said Seb Henbest, lead author of NEO 2017 at BNEF.
Renewable energy-generated electricity will rise 169% by 2040, and reach 74% penetration in Germany, 38% in the US, 55% in China and 49% in India.
BNEF's New Energy Outlook (NEO) predicts US$7.4 trillion to be invested in new renewable energy plants by 2040 also; which is 72% of the US$10.2 trillion that is projected to be spent on new power generation worldwide. Of that investment, solar takes US$2.8 trillion and sees a fourfold increase in capacity.
China and India account for 28% and 11% of all investment in power generation by 2040. Asia Pacific sees almost as much investment in generation as the rest of the world combined. Of this, just under a third goes to wind and solar each, 18% to nuclear and 10% to coal and gas.
Solar specifics
The NEO details how the levelised cost of electricity (LCOE) from solar PV, which is now almost of quarter of what it was in 2009, is set to drop another 66% by 2040. By then, US$1 is expected to buy 2.3 times as much solar energy than it does today; which is significant as utility-scale solar prices have recently fallen below US$1/Watt according to GTM Research.
Furthermore, solar is already on par with coal prices in the US, Australia, Germany, Spain and Italy. By 2021, BNEF forecast that this trend will permeate into China, India, Mexico, Brazil and the UK.
On the residential side, by 2040, rooftop PV will account for as much as 24% of electricity in Australia, 20% in Brazil, 15% in Germany, 12% in Japan and 5% in both the US and India.
At the same time, utility-scale renewable energy plants will continue to grow, further reducing the need for existing coal and natural gas plants. In fact, BNEF forecast coal use in Europe will fall by 87% in Europe by 2040 and 51% in the US. However, coal will continue to grow in China by a fifth over the next decade, but is expected to reach its peak in 2026.
Global emissions too are projected to peak in 2026, but be 4% lower in 2040 than they were in 2016.
"One of the big questions for the future of electricity systems is how large amounts of variable wind and solar generation can be accommodated, and yet keep the lights on at all times," the report reads. "Sceptics worry about ultra-cheap renewables depressing power prices and squeezing out base-load coal, gas and nuclear plants."
Energy storage
In order to support the increased amount of variable renewable power on the grid, energy storage – both in the form of utility-scale and small-scale battery systems – will have a big part to play in smoothing out the peaks and troughs in supply.
BNEF expects the lithium-ion battery market for energy storage to be worth at least US$239 billion between now and 2040. Utility-scale batteries will be increasingly competitive with natural gas to provide system flexibility at times of peak demand. Small-scale residential and non-residential battery systems will account for 57% of storage worldwide by 2040.
"NEO reflects the understanding our team has built up over more than a decade of how technology costs and system dynamics have evolved, and are evolving," said Jon Moore, chief executive of BNEF. "This year's NEO shows an even more dramatic low-carbon transition than we have projected in previous years, with steeper drops in wind and solar costs and faster growth for storage."