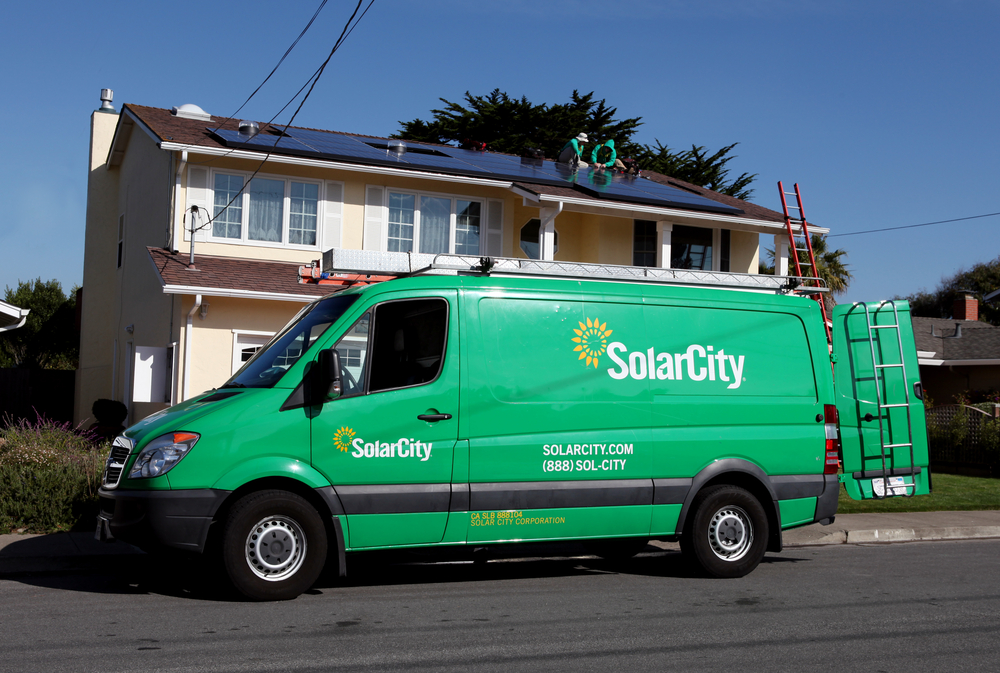 Last night, Elon Musk, chief of electric vehicle (EV) and energy storage pioneer Tesla, announced that his firm had put in a bid for the largest residential solar installer in the US, SolarCity. Musk currently acts as chairman of SolarCity and the firm is also headed by his cousins Lyndon and Peter Rive. PV Tech traced back over time at key moments that set the tone for Musk's latest grand move:
August 2012
In conversation about what power sources will drive his electric vehicles, Elon Musk champions the solar alternative: "If you took just a small section of US, a 100 miles by 100 miles corner of Utah or Nevada and carpeted it with high efficiency panels you could supply the electricity for the whole United States."
He claims Tesla helped accelerate the transition to sustainable energy with solar systems a perfect match for his EVs. Residential PV panels charge the car's battery by day, and the car's battery can power homes when the sun goes down. At the time SolarCity had already installed 2,500 EV charging systems.
December 2013
SolarCity says it will offer business customers an energy storage unit option using technology from Tesla. It will offer the system on a ten-year contract with no initial outlay. The two companies had already combined on a residential storage unit in 2012.
June 2014
SolarCity's US$350 million deal for module manufacturer Silevo sees Elon Musk take a prominent role during the announcement.
September 2014
Tesla reveals it will build its lithium-ion 'Gigafactory' in Nevada, projecting that the factory will produce 500,000 batteries, totalling around 50GWh by 2020, with production to start in 2017. It is also anticipated that the factory will supply SolarCity.
March 2016
SolarCity launches a micro-grid offering internationally that will include Tesla batteries and zero down financing. The GridLogic service will also include monitoring, backup generation and an optional grid connection.
May 2016
Tesla announces that its stationary storage systems for homes, businesses and off-grid communities, to be packaged and sold in partnership with SolarCity, will begin at a groundbreaking US$3,000. A few hundred of the company's batteries have already been deployed at commercial and residential level, mostly through its tie-up with SolarCity.
August 2015
Musk purchases US$5 million worth of SolarCity shares a few days after the head of a short-selling hedge fund ignited a war of words with SolarCity chief executive, Lyndon Rive.
Financial news sites reported a rise in share price of 8.83% for the US PV installer immediately following the news of Musk's purchase.
Jim Chanos of Kynikos Associates criticises the US PV installer's financial position and business model claiming that SolarCity's model of long-term agreements to lease PV systems meant that customers would be tied in to "above market" price electricity once the cost of solar fell beyond a certain point, making it difficult to attract new customers. Chanos said the company was "burning an awful lot of cash" and said the SolarCity business model "had been passed over in terms of the more institutionalised and distributed model of solar".
November 2015
SolarCity raises US$113 million through a convertible bond sale to technology investor, Silver Lake Kraftwerk (US$100 million), Elon Musk (US$10 million), and Lyndon Rive (US$3 million).
February 2016
SolarCity chooses Tesla to supply a 52MWh utility-scale energy storage system, which will make the output of a solar farm in Hawaii dispatchable. The project, on the island of Kauai, is to help local utility Kaua'i Island Utility Cooperative (KIUC) meet evening peak demand.
March 2016
Warren Buffett, chairman and CEO of multinational conglomerate holding company Berkshire Hathaway, confirms that Elon Musk contacted him directly about the Nevada net metering row. Buffett-owned state monopoly utility firm NV Energy had pressed for changes to net metering regulations that left SolarCity and other installers exiting the market.
SolarCity had pulled out of the state within days of the controversy flaring up, taking 500 workers away with it. Tesla had already started producing battery packs for stationary energy storage from its Gigafactory, which it chose to build in Nevada despite lobbying from its home state of California.
June 22
Tesla makes offer to acquire SolarCity. The company announced overnight that it had made a stock swap offer at a ratio that would give SolarCity shareholders a 21-30% premium.