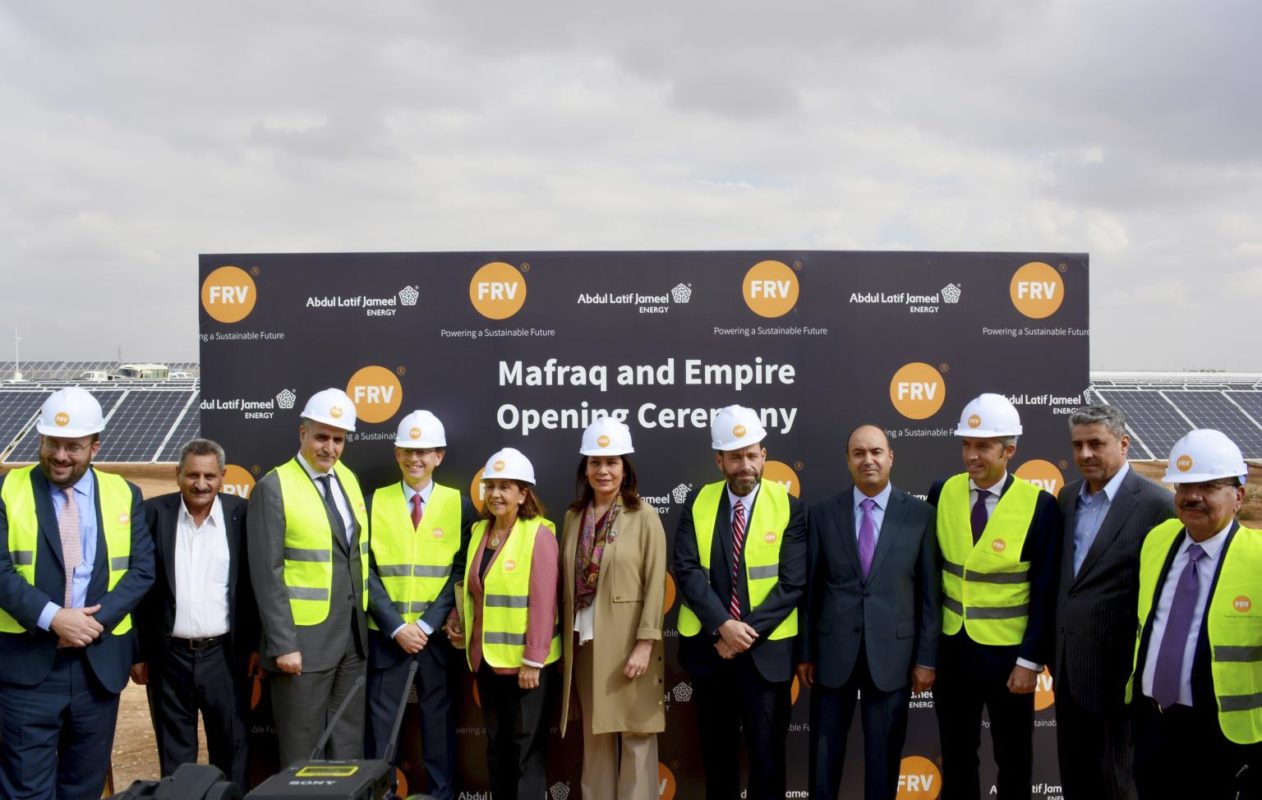 Two 50MWac solar plants set to reportedly provide 1.5% of Jordan's electricity supply were inaugurated on Sunday by their developer, Fotowatio Renewable Ventures (FRV).
The operational Mafraq I and Empire plants, found 80 kilometres north of Amman in northern Jordan, were awarded to FRV in the second round of Jordan's solar programme, in 2015. The US$180 million project duo will generate 134MWdc.
Power will be supplied with tariffs of US$0.069/kWh at Mafraq I and US$0.076.kWh at Empire, also known as Mafraq II, according to a FRV release at the time of the projects' financial close in March 2017.
The Minister of Energy and Mineral Resources Hala Zawati attended the ceremony alongside local government officials, representatives of the Saudi embassy, delegates from the state-run National Energy Company and the Spanish ambassador to Jordan.
Spain-headquartered FRV, which was bought by Saudi Arabian power company Abdul Latif Jameel Energy in 2015, now has three plants in operation in the Middle Eastern state, with plans underway for a fourth.
The 66.7MWdc Al Safawi plant, also in the country's north, started operations in April 2019, and a yet-to-be-constructed 50MWac project is earmarked for an industrial park in Amman. The latter project was awarded to the developer in a competitive tender floated by the Water Authority of Jordan.
Together, the four solar plants will be capable of delivering 270MWdc and supplying 600GWh, or 3% of the country's electricity generation, according to FRV.
Jordan doubled its PV capacity between 2017 and 2018, according to IRENA statistics. It had 771MW in total in 2018, making the country the second largest player in the Middle East after Israel. The country is targeting 10% clean energy penetration by 2020.
In August, Philadelphia Solar switched on an 8.2MW plant that powers an Amman hospital. One month before that, an European Bank of Reconstruction and Development-led consortium invested US$35 million into a Kawar Energy plant earmarked to supply energy for Orange Jordan.
FRV, which has operations in Armenia, India, Chile, Uruguay, Mexico, Spain, Italy, Australia and the US, plans to have 5.8GW of total installed capacity by 2024, an eight-fold increase from the 700MW it boasts today.