Last June, I was driving east on I-90 towards Billings, Montana, USA, when I stumbled upon a megawatt-scale solar plant south of the Interstate. Planning to visit the Little Bighorn Battlefield National Monument the next day, I missed the exit and opted against backtracking for site photos.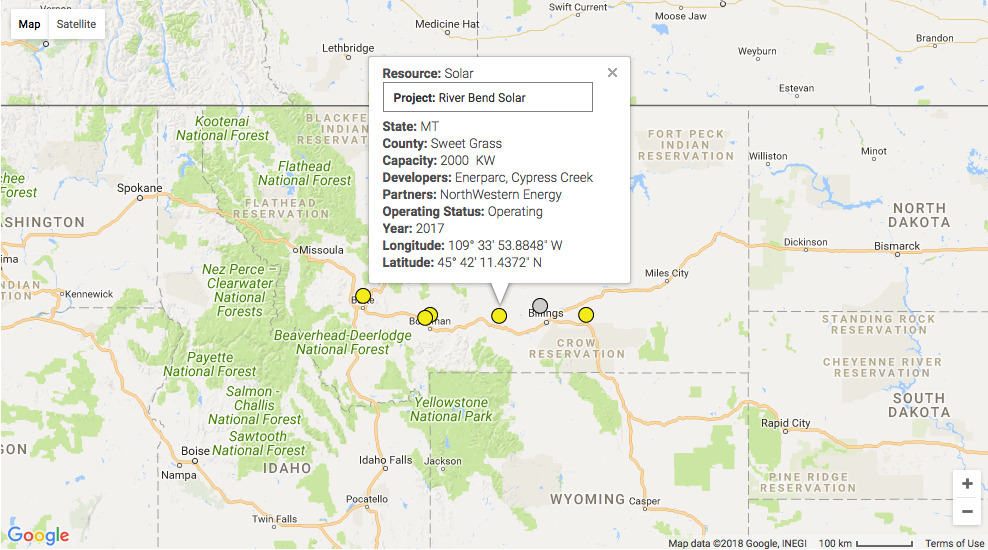 Unable to find the PV project on Google Maps, the Renewable Northwest Project map later helped me determine it was the 2MW AC River Bend Solar project near Reed Point, Montana. First, I contacted the project developer, Cypress Creek Renewables, to get further project details and site photos. However, Cypress Creek sold the project to Enerparc Inc. after an NTP (notice to proceed). Enerparc financed and then built the River Bend Solar project over the Montana winter and completed the 2.8MWp (2MW AC) Single Axis Tracker PV System and interconnected with the utility, NorthWestern Energy, by Spring 2017 per the promo video.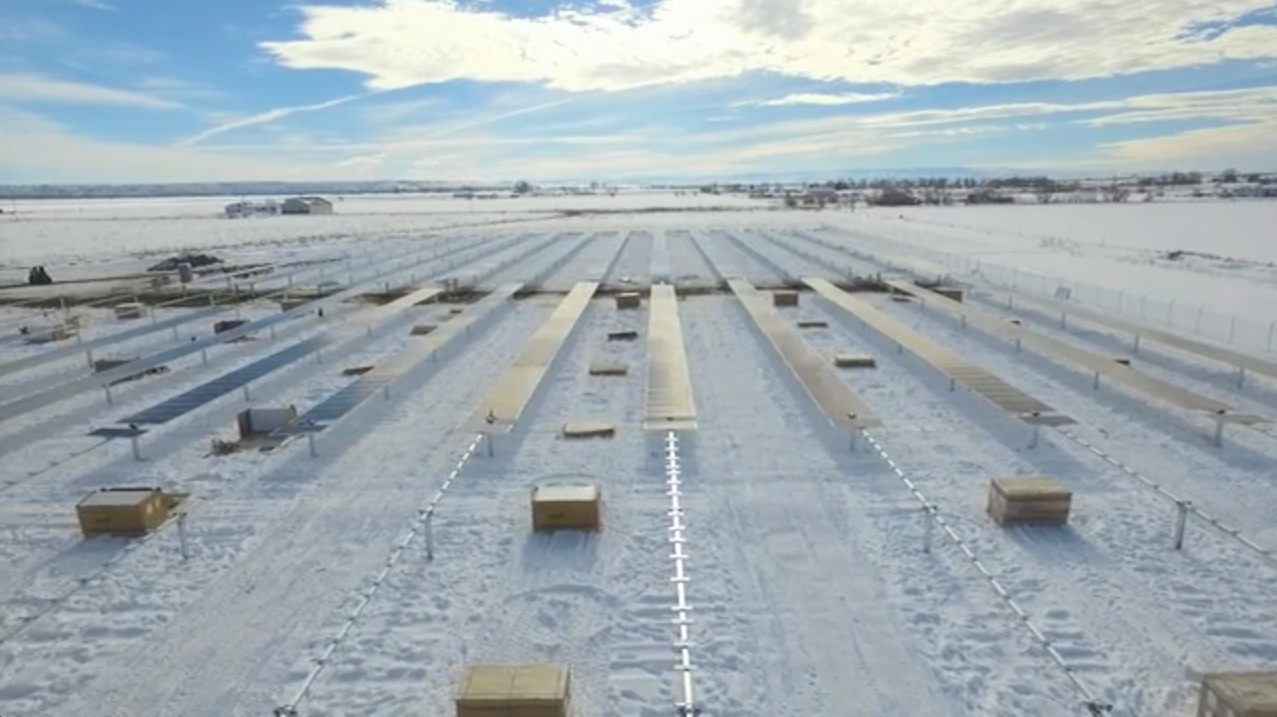 While River Bend Solar was touted as the first utility-scale solar project in Montana, Enerparc also completed the Green Meadow Solar project in Helena, Montana, and the South Mills Solar project in Hardin, Montana, by March 2017. In June, Enerparc began three more Montana projects, Black Eagle Solar (Great Falls), Great Divide Solar (Canyon Creek), and Magpie Solar (Lavina), completing them by Fall 2017. These five projects were again acquired from Cypress Creek and were all 4.2MWp (3MWAC) sized Single Axis Tracker PV Systems. According to Sunstall, the Black Eagle and Great Divide Solar projects used 12960 PV modules mounted on Solar FlexRack TDP Trackers arranged in 240 rows.
Via these six projects, NorthWestern Energy's system has 17MW AC of solar Qualifying Facilities (QF) as defined by the Federal Energy Regulatory Commission (FERC) under the Public Utilities Regulatory Policies Act of 1978 (PURPA). These Cypress Creek developed projects had formal interconnection applications and executed Power Purchase Agreement (PPAs) with NorthWestern Energy before the Montana Public Service Commission (PSC) suspended the PURPA QF tariffs in June 2016 in response to NorthWestern Energy's motion for emergency suspension. The previous request by NorthWestern Energy to reduce the avoided costs defining the PURPA QF tariffs was rejected by the same Montana PSC.
Prior to the suspension, NorthWestern Energy was obligated under Montana's implementation of PURPA to enter into standard offer contracts with solar QFs between 100kW and 3MW AC at an avoided cost rate of US$66 per MWh for 25-year terms. As a result, NorthWestern Energy had been flooded by over 100 solar projects with active formal interconnection requests or pre-application reports. The situation was akin to an uncapped Feed-in Tariff (FiT) program without tariff degression. The Montana PSC decision on the suspension was contested based on concerns the commission did not follow established PSC processes and procedures in the dissenting opinion.
Fast forward sixteen months later after multiple submissions, hearings, decisions, "hot mics", and reconsiderations, the Montana PSC settled on 15-year contract terms in October 2017 and said:
"The rate available to Qualifying Facilities under the Commission's modified order breaks payments to Solar QFs up into two separate time periods. During times where demand for energy is high NorthWestern must pay US$37.26 per megawatt hour (MWh), but when demand drops off, the rate falls to US$28.14 per MWh."
After flirting with 5-year and 10-year terms, this last Montana PSC reconsideration was nonetheless unpopular with all parties. Solar developers and advocates have filed three lawsuits against the Montana PSC with the most recent by Cypress Creek Renewables in Federal court seeking the Montana PSC to honor the QF tariff and contract terms suspended back in June 2016. Note that all six of the Cypress Creek projects sold to Enerparc received the QF standard contracts of US$66 per MWh for 25-years. Three other Cypress Creek projects, Deer Creek Road Solar (Missoula), Ragen Ranch Solar (Townsend), and Fox Solar (Great Falls), would have received these original terms had local communities not rejected the projects for NIMBY reasons. The solar project rejections were surprising given the local property tax benefits net of abatements and the economic stimulus from construction.
With "NorthWestern Energy sues Montana utility regulators", NorthWestern objected to the reciprocal application of QF 15-year contract terms to their own regulated procurement process. NorthWestern Energy spokesperson Butch Larcombe said:
"Applying the same rules to a utility obligated to serve customers at the least cost possible as those that apply to independent power producers is clearly wrong and poor policy in our opinion. We have asked the courts to review this 'symmetry' approach."
In 2017, NorthWestern Energy generated almost 60% carbon-free electricity for Montana customers from hydroelectric, wind, and less than 1% solar PV, though NorthWestern has completed several solar pilot projects across Montana and has another in development. Just over the past week, NorthWestern announced the acquisition of the 9.7MW Two Dot Wind Farm near Two Dot, Montana, for US$18.5 million, and NorthWestern agreed to purchase electricity for US$21.03 per MWh plus an annual estimate of US$1.58 per MWh for capacity over a 15-year term from the 80MW QF South Peak Wind project being developed by an Allete Clean Energy subsidiary near Geyser, Montana.
Unless the solar lawsuits lodged against the Montana PSC bear fruit, the PURPA environment for solar PV in Montana will remain challenging especially if the avoided cost is set by onshore wind power. For example, the 80MW MTSun solar project proposed on 480 acres of leased state lands near Billings, Montana, was offered US$20 per MWh and reconsidered 15-year contract terms by the Montana PSC when agreement could not be reached with NorthWestern Energy. The US$110 million MTSun project is believed to be a non-starter with these terms.
PURPA reform is in the air at both the U.S. Congress and FERC. The National Association of Regulatory Utility Commissioners (NARUC) has proposed four changes to PURPA in a reform letter sent to FERC. Hitting at the heart of the issues in Montana, NARUC said:
"The first reform would be for FERC to adopt regulations that move away from the use of administratively determined avoided costs to their measurement through competitive solicitations or market clearing prices."
As it happens, NorthWestern Energy issued an RFP (Request for Proposals) last month seeking up to 45MW of renewable generation from Community Renewable Energy Projects (CREP) as part of the Montana Renewable Portfolio Standard. It remains to be seen if solar projects can be competitive in the RFP, but over time, solar has a way of beating expectations and winning.