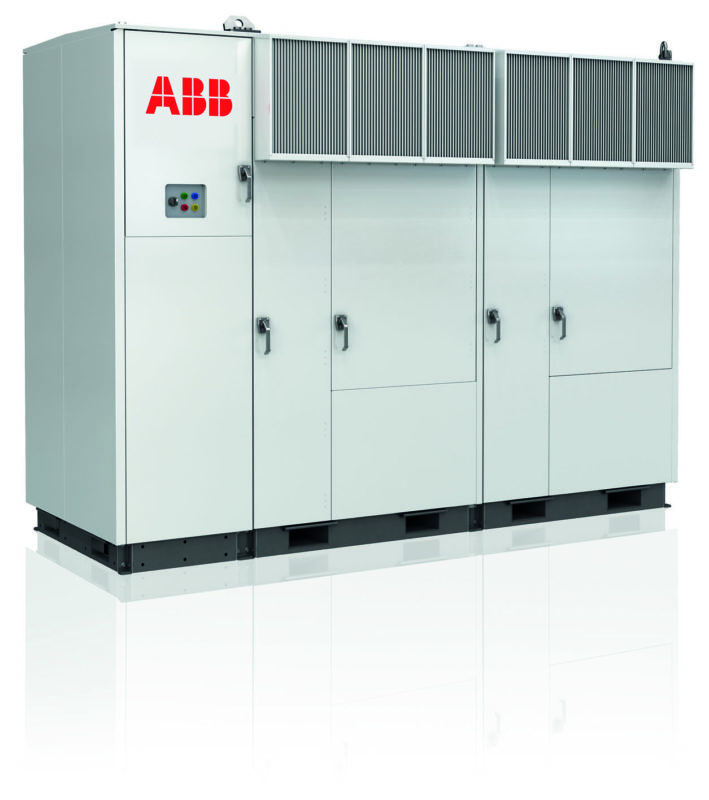 ABB has released a low maintenance, high power outdoor central inverter. Overall system costs are driven down by the increased DC input voltage up to 1500 VDC and a high power rating of up to 2000 kVA to provide an even more attractive solution for investors and plant owners alike.
Problem
Large utility-scale PV power plants continue to be located in harsh environments that provide high irradiance levels and sufficient land. However, central inverters have to be designed specifically to provide reliable low-cost maintenance capabilities in such extreme environmental conditions.
Solution
One of the key features is its self-contained cooling system. Based on development from the ABB ACS800-38 low-harmonic drive's innovative cooling system, the PVS980 uses phase transition and thermosiphon technology to avoid external air entering the critical compartments of the inverter. Given its IP65 rating, the high efficiency inverter can operate from below freezing to extreme heat in 100% humidity without jeopardizing functionality. With the simplicity of air cooling and with the power density of a liquid cooled inverter, ABB is able to provide a low maintenance and easy-to-commission design as there are no fillable liquids, pumps, valves or inhibitors and, hence, no leaks. These low maintenance components are capable of withstanding some of the harshest environments throughout the world making this high power central inverter ideal for any outdoor utility-scale PV plant, according to ABB.
Applications
Utility-scale PV power plants for demanding applications and harsh environments.
Platform
The high DC input voltage, high efficiency, proven components, compact and modular design and a host of life cycle services that also includes the standard grid support features of PVS series inverters such as active and reactive power control including nighttime reactive power support. . PVS980 central inverters are available from 1818 kVA up to 2000 kVA, and are optimised for cost-effective, multi-megawatt power plants.
Availability
September 2015 onwards.