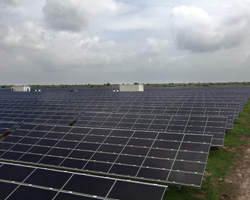 India-based project developer ACME Solar Holdings has won the highest capacity of projects in yesterday's solar auction in Uttarakhand with four projects totalling 50MW combined out of the 171MW awarded.
Other major winners included Omkar PowerTech India with 30MW (3x10MW projects). Punj Llyod Infrastructure won 20MW (2x10MW projects), while Emami Power won a 20MW project. Rays Power Infra also won 20MW (2x10MW projects).
Other winners were:
Profigate Infra Gasoline 10MW (2x5MW)
JLTM Energy India 5MW
Vishal Techno Commerce 5MW
RP Infrapower 5MW
Impex 2.4MW
A.R. Solar Power 2MW (2x1MW)
Hydro Power Engineers 1MW
Makin developers 1MW
Rays Power won a project with the lowest bid of INR5.57/kWH (US$0.085), while RP Infrapower had the highest winning bid of INR5.99/kWh.
The figures were provided by Ali Naqvi Imran, head, strategy consulting, Gensol Engineering, and Bhuwan Mehta, senior consultant, at Gensol Engineering, who were both present at the auction.
PV Tech reported yesterday that the range of tariffs in this latest auction were seen as a departure from the "mad rush" for bidding in the previous three auctions in Madhya Pradesh, Telangana and Punjab, where winning tariffs approached INR5/kWh.
Yesterday the two consultants commented: "Although, the questions of viability still remain, there is definitely a sign of caution here, and the tariff is somewhat representative of land and connectivity costs in Uttarakhand as compared to other bids."
According to consultancy firm Bridge to India's latest India Solar Map released in September, Acme is set to displace Welspun Renewables as India's largest solar developer this year.