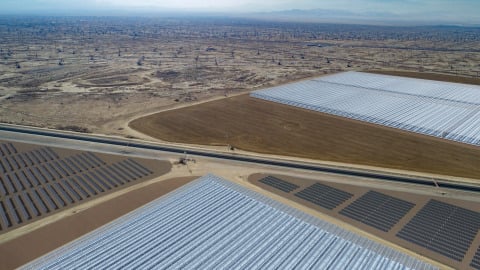 California oil and gas producer Aera Energy and GlassPoint Solar are set to built California's largest solar energy project — which will be used to power operations and reduce carbon emissions at the Belridge oilfield west of Bakersfield, California.
The hybrid solar project will be comprised of both an 850MW solar thermal facility and a 26.5MW PV facility. The PV portion of Belridge Solar will be used to generate electricity, while the solar thermal facility will produce 12 million barrels of steam annually. The solar-generated steam and electricity will reduce natural gas currently used onsite in oilfield operations.
Aera Energy president and CEO Christina Sistrunk noted: "Aera is committed to safe, responsible operations and is thrilled to extend our environmental leadership by using solar to power our production. Adding solar energy at Belridge allows us to continue to lead the way in the safest, most environmentally responsible energy extraction there is.
The people of California are counting on us to help them get to school and work each day, allow their businesses to grow and thrive and help get California-grown food on their dinner tables. We are proud to be an active part of California's low carbon future and lead the industry by adopting bold solutions to deliver valuable energy, more efficiently while protecting the environment."
Once completed, the solar facility is expected to save more than 376,000 metric tons of carbon dioxide emissions per year — offsetting the equivalent of 80,000 cars. The installation is also expected to create hundreds of direct and indirect jobs in California throughout the oil and gas supply chain and supporting industries.
Aera and GlassPoint plan to break ground on the Belridge Solar plant in the first half of 2019 — with the installation expected to start producing steam and electricity as early as 2020.