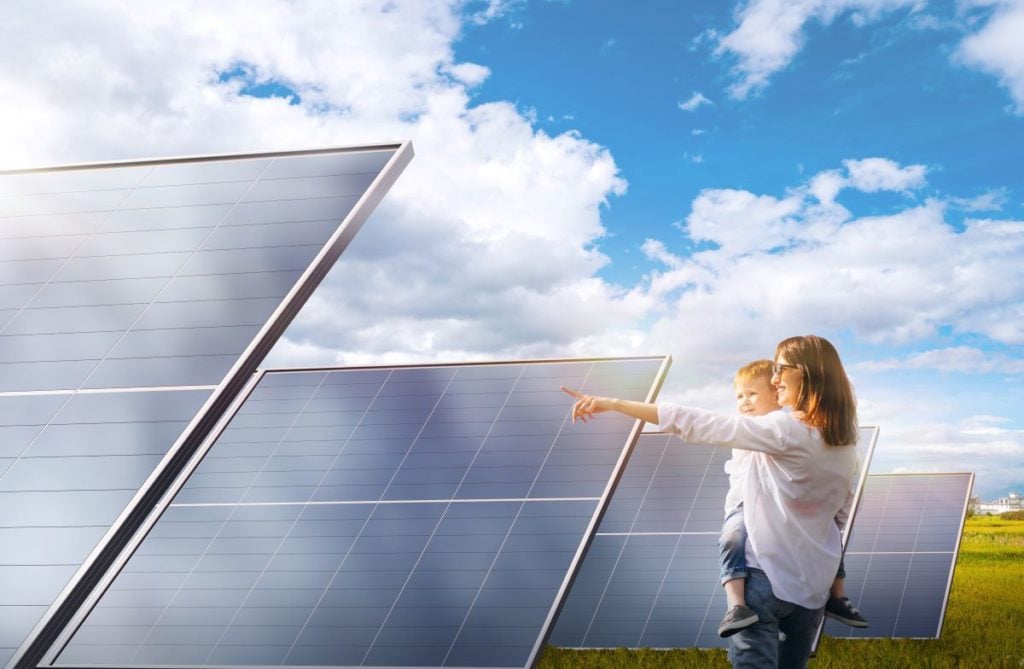 Aiko Solar, one of the world's leading solar cell manufacturers, has announced the launch of its new 'All Back Contact' (ABC) module in Europe. Based on cells with entirely back-contact technology and no silver in the cell construction, Aiko claims it to be the most efficient option for the future of residential and commercial and industrial (C&I) PV markets.
Since 2015 the company has been mass-producing cells from its bases in China, developing both its PERC and back contact technologies to record efficiency levels at scale. In 2020, it established a European presence by opening SolarLab Aiko Europe, with a view to combining the mass-production knowledge of its Chinese operation with European research and development (R&D) expertise.
Christian Peter, managing director of SolarLab, sat down with PV Tech to discuss the rollout of the ABC module in Europe, the specifics of the technology and the history and future of solar R&D in Europe.
PV Tech: Tell us about the background of Aiko Solar's cell R&D in both Europe and China that has led to this new back contact tech.
I've known Aiko since 2015, when the company was one of my clients. At that time, it was a pure PERC manufacturer, with one base in Foshan, where the company originated. Chairman Gang Chen had a really ambitious programme to further develop PERC and the company's success story has been tremendous. If you look at the current turnover, it shows an average CAGR of 77% over the last few years, and the National Renewable Energy Laboratory (NREL) chart from 2021 showed Aiko as the world's number one cell manufacturer.
In 2020 Mr Chen asked me if I would like to join Aiko to be a bridge between China and one of the most important markets, Europe. The general idea was to support Aiko in terms of R&D, customer relations and local production, so we opened SolarLab Aiko Europe in Freiburg, Germany.
Moving on to the subject of current technology, if you're not going in the direction of tandem cells, there are only three other options – TOPCon, heterojunction and back contact.
Heterojunction (HJT) offers a high efficiency potential and very low temperature coefficient thanks to the outstanding surface passivation enabled by its amorphous silicon passivating contact layers. The main issue is that I'm not sure if one can significantly reduce the usage of scarce materials like indium and silver. Additionally, the CAPEX is more than twice that of PERC or TOPCon.
TOPCon is more or less a 'PERC-plus-plus' cell, so you could in principle use your PERC production lines and retrofit them to TOPCon. TOPCon has a similar efficiency potential to HJT, but today has lower production costs.
You then have the back contact option. We ultimately opted to develop TOPCon and back contact in parallel, in collaboration with our Chinese colleagues. Following a technical assessment in 2021, there were some issues to overcome but, once I'd seen the ABC pilot line in Foshan, it was really amazing. We now have a module efficiency of 23.6% and, having analysed all the various technologies, we believe that back contact offers the highest potential.
There's been a big industry shift towards TOPCon as PERC begins to fade. Will you follow this trend, or will back contact continue to play a major role in Aiko's R&D?
You always have to balance the R&D and business views. I don't yet have yield data for the production or balance of system costs – these are areas which are well covered by China – but in the end they have to calculate themselves which business model makes more sense. If you're looking at utility scale, particularly in terms of LCOE, a PERC module might still fit best. It's quite difficult, even for the more advanced TOPCon, to defeat PERC in terms of utility-scale costs. For a private rooftop I'd always recommend the best available module, as you have high installation costs and a variation in module related costs isn't so important.
Turning back to the ABC module: it's removed the need for silver from the cell construction. How and why was that change made?
The reason is very easy – because silver is expensive. There's a paper by Brett Hallam from the University of New South Wales which I like a lot. He calculated the gross rate of PV growth and then the amount of silver on Earth and he found that, if we increase PV at the rate currently planned, we will completely exhaust the world's supply. So silver was always a problem for us and it's a good step to remove it. This has been a well-known issue for at least 10 years, with many ideas as to how to eliminate silver being discussed at industry conferences.
You always try to introduce copper because it is the 'standard' conductor, but then you have to check the solderability and the diffusion of copper into the bulk material. That's the path that Aiko followed and we found a good solution. I'm not able to give full details but, basically, we replaced the silver with copper.
The ABC module also does away with the front-face grid that we see on most PV units and has been dubbed the 'black hole' module. How much of a difference do these changes really make, and are we going to see gridless, silver free modules become more widespread?
The modern PERC cells currently have maybe a 5% coverage with the front grid, so there's 5% you can add to your efficiency. Also, every grid line is a potential recombination area, so you have to open your passivation area if you want to have the grids. Grid lines are not only an optical loss, you also always have an electrical loss with grids – that 5% of 'shading' can be added on and, additionally, better passivation of the emitter can be achieved with back contact technology.
Our ultimate aim is to see the product used everywhere, but this requires interim development steps, of course. The first step was to provide high class modules for the residential and C&I markets. I'm not an expert on C&I, but I think you have high installation costs there and weight is an issue, so Aiko is developing lightweight modules to overcome this problem. We believe we have a great opportunity in this area and the markets for both are huge.
Utility-scale, as we discussed before, is totally price-driven. This means you're not selling watt peak but LCOE, and for a good LCOE you need a degree of bifaciality. If you have all the contacts on the back side then the bifaciality is lower and, while there are some ways to mitigate this, they simply haven't been optimised yet. This is something that Aiko is working on at the moment – improving bifaciality as much as possible and then checking the LCOE for utility-scale.
What is Aiko's strategy for entering the European market with this product?
We are focusing on the high-end, quality market. On the customer side, there are those who don't care about price, since they are mainly interested in offsetting the effects of climate change. Then there are others who are more price sensitive and will calculate the cost themselves. Right now feed-in-tariffs are quite low, so it's not really about the sale of electricity to the grid, more about self-consumption. There are many different types of customer, but if they are totally price sensitive I don't think they will use our system.
They're looking for payback times. The capex is higher, but the payback time is still quite good. From analysis we have carried out, our expectation is that the energy generated with these modules can be 15% higher, based on the area, compared with other 'second best' modules. Not only do you have better efficiency, but also a better temperature coefficient and, if you take all that into account, it adds up to around 15%.
In terms of markets, we believe that Italy may be significant in the future. I think that France may also increase in potential, Portugal is developing quite well and, for sure, there's still a lot of potential in Germany. We have divided Europe into six regions and we will have dedicated offices to check out each market in detail, as subsidy schemes are often a deciding factor in take up.
Can we expect to see more Aiko R&D and products entering Europe in the coming years?
We have established Aiko Energy Germany in Düsseldorf and this will be the headquarters for the European operation. Aiko Energy is focusing exclusively on ABC modules and fully integrated systems (inverters, batteries, mounting material, EV chargers, etc.), with a strict separation policy in place so as not to compete with our existing cell customers. This will result in the company not manufacturing any PERC modules, because it's already delivering a lot of PERC cells to Europe, and not supplying ABC cells to any other module manufacturer.
TOPCon is something we already have in our portfolio, so it's a question of how much we will invest and whether we will have full mass production lines. If you look three to five years into the future, I think the next big development will be tandem cells and modules. There are always obstacles to overcome, but at the moment we are reaching the efficiency limit for silicon cells. With the all back contact cells, there may be a record efficiency around the end of this year of around 27% – and that's close to the limit of where you can go. If you want to go above this, you really have to adopt tandem technology.