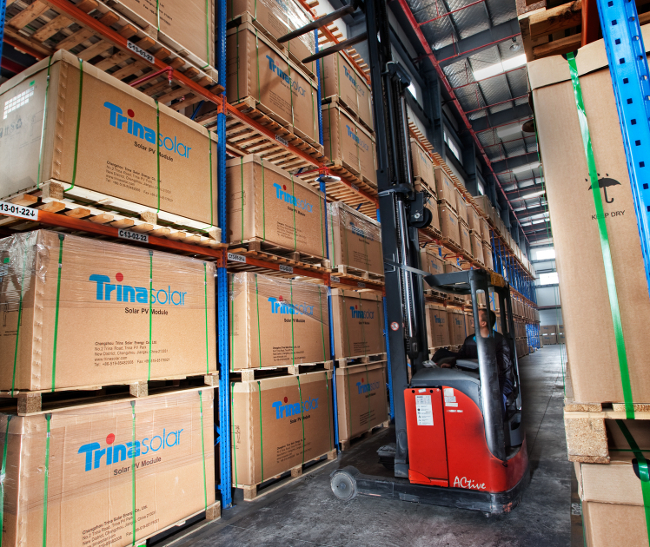 Updated: All the latest reaction to the Section 201 solar trade case as the ITC unanimously finds injury to domestic US manufacturers from global imports.
Suniva company statement:
"Suniva is gratified that the ITC has found that a surge of imports into the US has decimated the American CSPV cell and module manufacturing industry. We brought this action because the US solar manufacturing industry finds itself at the precipice of extinction at the hands of foreign market overcapacity. The ITC has agreed, and now it will be in President Trump's hands to decide whether America will continue to have the capability to manufacture this energy source. President Trump can remedy this injury with relief that ensures U.S. energy dominance that includes a healthy US solar ecosystem and prevents China and its proxies from owning the sun."
Abigail Ross Hopper, president and CEO of the Solar Energy Industries Association (SEIA):
"The ITC's decision is disappointing for nearly 9,000 US solar companies and the 260,000 Americans they employ. Foreign-owned companies that brought business failures on themselves are attempting to exploit American trade laws to gain a bailout for their bad investments. Analysts say Suniva's remedy proposal will double the price of solar, destroy two-thirds of demand, erode billions of dollars in investment and unnecessarily force 88,000 Americans to lose their jobs in 2018. While we continue to believe that this is the wrong decision, based on Suniva and SolarWorld's mismanagement, we respect the commission's vote and we will continue to lead the effort to protect the solar industry from damaging trade relief. We expect to be front and center in the ITC remedy process, and in the administration's consideration of this deeply-flawed case. As the remedy phase moves forward, I am determined to reach a conclusion that will protect the solar industry, our workers and the American public from what amounts to a shakedown by these two companies. An improper remedy will devastate the burgeoning American solar economy and ultimately harm America's manufacturers and 36,000 people currently engaged in solar manufacturing that don't make cells and panels."
The solar industry now has an ITC it likes and one it doesn't. Won't be confusing at all.

— Maria Robinson (@mduaime) September 22, 2017
Tony Clifford, chief development officer, Standard Solar:
"Anyone closely involved with watching how this trade petition wended its way through the US International Trade Commission process always had a sneaking suspicion the final decision would end up with President Donald J. Trump. The ITC did its due diligence and, after much deliberation, decided these two foreign-owned module makers were indeed harmed by module imports from other countries – but fortunately, today's decision is only the beginning, not the ending, of the story. Now the ITC begins its deliberations about what remedies should be imposed on imports, and this will be where the real effects on the industry will be determined. I hope the ITC will conclude only minimal or no tariff increases are necessary. Otherwise, the US solar industry could lose 88,000 or more jobs. I'd also remind President Trump that two-thirds of the solar jobs in America do not require any college education. Losing 88,000 jobs, most of which are blue collar, is a lot for the American economy – and President Trump's base in particular – to absorb."
Juergen Stein, CEO and president, SolarWorld Americas:
"On behalf of the entire solar cell and panel manufacturing industry, we welcome this important step toward securing relief from a surge of imports that has idled and shuttered dozens of factories, leaving thousands of workers without jobs. In the remedy phase of the process, we will strive to help fashion a remedy that will put the US industry as a whole back on a growth path. We will continue to invite the Solar Energy Industries Association (SEIA) and our industry partners to work on good solutions for the entire industry. It is time for the industry to come together to strengthen American solar manufacturing for the long term."
Ben Kallo, financial analyst at Baird Equity Research:
"This decision was largely expected and any potential tariffs should be positive for FSLR [First Solar] (as its thin-film technology is excluded from the trade case), and negative for manufacturers of crystalline silicon cells and modules who have production outside of the United States."
Philip Shen, financial analyst at ROTH Capital:
The USITC was not expected to issue more than the results of the vote, i.e. no commentary or rationale. That said, we got some results on how the commission voted on free trade zones. Notably, Canada and Singapore won the right to be considered a free trade zone. With Singapore out of the case, REC Solar is a key winner from today's vote. Our understanding is that Singapore has 1GW of cell capacity, with much of it being REC's. Canada, on the other hand, does not have much or any cell capacity. So the exclusion may not have much impact, though Canadian Solar (NASDAQ: CSIQ-Neutral) has module capacity in the country.
Energy Trade Action Coalition statement:
The Energy Trade Action Coalition (ETAC) today expressed disappointment at the vote by the U.S. International Trade Commission (ITC) to continue the Section 201 trade case on imported solar components by determining that imports of solar cells and modules are causing injury to the petitioners. ETAC also pledged to remain fully engaged in the trade case to strongly advocate that the ITC and President Trump avoid imposing any remedies that would threaten the U.S. solar industry and the many related industry sectors that use solar. ETAC is a group of companies, associations and organizations who joined together to oppose the trade petition.
"The ITC decision to find injury is disappointing because the facts presented made it clear that the two companies who brought this trade case were injured by their own history of poor business decisions rather than global competition, and that the petition is an attempt to recover lost funds for their own financial gain at the expense of the rest of the solar industry," said ETAC Spokesperson Paul Nathanson. "ETAC will continue to fight vigorously during the remedy phase, encouraging Administration officials and Members of Congress to help ensure that no remedies are imposed that would threaten the solar industry's ability to compete with other energy sources."
"Utilities, power co-ops, retailers, manufacturers and other large commercial users, along with conservative groups who have criticized federal solar subsidies, all agree that unwarranted tariffs would cause severe damage to the solar industry while setting a terrible precedent for future trade cases," continued Nathanson. "Artificially raising the price of solar products would increase costs for solar power consumers and jeopardize tens of thousands of U.S. manufacturing jobs."
Members of ETAC also added their response.
Scott Segal, Executive Director of the Electric Reliability Coordinating Council:
"The imposition of trade remedies on solar technology sought by the two petitioners in this case, Suniva and SolarWorld, could fundamentally change those carefully calibrated assessments of grid stability — and do so without any consequent societal benefits. Ill-conceived energy protectionism in the guise of a trade remedy, on the other hand, will only do more harm than good. We would all do well to take heed of recent events and remember to prioritize the importance of maintaining a diverse and resilient electric grid. The government should say no to the Section 201 trade petition for solar."
Diane V. Denton, Managing Director of Federal Policy for Duke Energy:
"In the event that imported modules are subject to an artificial floor price or significant import tariff as requested by the petitioners in this case, the module market, and Duke Energy's plans to procure modules, will likely be significantly disrupted. If such a remedial floor price or tariff is imposed, we expect that the installed cost of solar projects will increase 30% or more and that demand for modules would contract precipitously. As solar energy is just approaching parity with the traditional grid resources in a number of states, a significant reduction in demand for new solar projects could deliver a serious blow to continuing development and evolution of this market."
John M. Grau, CEO of the National Electrical Contractors Association:
"Solar energy is one of the most promising sectors in the American economy, providing good construction and manufacturing jobs and valuable products at a low cost to consumers. It's been creating jobs for electricians who install utility scale and roof top solar systems around the country. These are good, middle-class jobs that promote apprenticeship, community based hiring, and veterans. All this progress would be placed at risk if the government decided to cut off the cells and modules that form the basic ingredients of the U.S. solar supply chain."
Paul Spencer, CEO/Founder of Clean Energy Collective:
The trade barriers proposed would needlessly make solar more expensive at a time when we are seeing record low prices that make solar cheaper for consumers and provide ever-increasing benefits for the global environment.
David French, Senior Vice President, Government Relations at the National Retail Federation:
The trade restrictions that would result from this petition would raise the price of solar cells and modules, the basic ingredients of solar panels, brought into the U.S. from anywhere in the world. This trade case threatens the competitiveness of solar power and could negatively impact retailers across the country who have proactively moved to diversify their energy sources.
Karla Jones, Director of International Relations & Federalism, American Legislative Exchange Council:
"Long a champion of free markets, ALEC opposes the ITC's decision as protectionism that will ultimately harm the U.S. economy and cost American jobs. We urge the President, who will make the final determination on whether to accept or reject the ITC's recommendation, to choose free market principles over protectionism."
Solar Energy Industries Association (SEIA) press conference
Abigail Ross Hopper, president and CEO of the Solar Energy Industries Association (SEIA) said she expected solar manufacturing in the US would decline, due to the ITC decision and cited that around 33,000 jobs in all sectors of manufacturing currently existed today. Ross Hopper also noted that a legal case to oppose the ITC decision was unlikley, due to the "very limited rights" to appeal. This is because appeals can only be made when proceedual errors have occured.
Ross Hopper also noted that countries could go to the WTO for rulings over any further import tariffs being imposed as part of the President Trumps possible policy decision. The ruling and possible new tariffs only add to the uncertainties over the future of the solar industry in the US as the last case which came under the Section 201 proceedings used by the US steal industry were withdrawn before the four year tariff period had expired.
Further reaction to the ITC ruling follows.
Vishal Shah, managing director covering Alternative Energy at Deutsche Bank North America:
Our view is that the ITC would likely consider the impact on the downstream jobs when it proposes a remedy action. As such, the final remedy recommendation would result in a small overall tariff (with some form of quota adjustment mechanism – for example the first 8GW of products would have little to no tariffs). We also believe the overall module price adjusted for any tariff would be likely similar or even lower compared to current module price. Finally we note that it would take about 6-9 months for Chinese companies to bring manufacturing capacity online in the US and as such any demand reduction resulting from higher module prices would be likely temporary.
In terms of impact on overall US solar demand, we believe the US utility scale market could likely see the biggest impact (some utilities have come out strongly against the ITC decision highlighting that tariffs would result in a 30% increase in costs and lower demand significantly). Assuming the US solar market is around 18-20GW this year with utility scale roughly 10-12GW, demand next year could likely decline to 8-10GW (in the worst case scenario of high tariffs) unless a more gradual quota based tariff is announced. In the case of resi [residential] companies for example, module costs are only about 12% of total installed costs and as such any potential tariff would have a minimal impact (~6-8%) on costs which could likely get offset by lower customer acquisition costs.