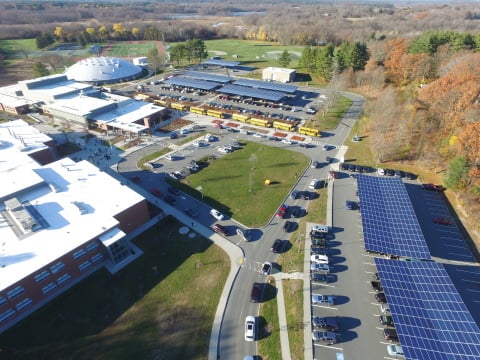 US renewables and energy storage developer Ameresco has reported a modest revenue increase and a drop in income due to a "substantial project backlog" in its third quarter financial results.
The firm's revenue increased from US$205.4 million in the third quarter of 2018 to US$212 million this quarter.
Project awards reached a record high of US$343 million, a 72% year-on-year increase.
Operating income dropped from US$25.9 million in the third quarter of 2018 to US$23.9 million this year, or a drop of net income to shareholders from US$10.7 million to US$8.9 million. Adjusted EBITDA was US$23.9 million, compared to US$25.6 million in the third quarter of 2018.
Despite the fact that third-quarter results were less peachy than expected, Ameresco has not tempered its full year income forecast. It continues to expect an adjusted EBITDA of US$103 million at the year's end, an US$8 million increase from 2018.
CEO George P Sakellaris in a call with investors on November 5 said that the income drop was due to a "record" award backlog that would be addressed by the close of the year.
"Sample versions or awards to contracts expected in Q3 were delayed, shifting approximately $30 million of revenue out of the quarter. I will point out that the number of these contracts have already been signed since September 30. We expect the remainder to close in Q4, and most importantly, the overall trends in our business remain very strong," he said.
The backlog at the end of September amounted to US$2.2 billion. Of that number, US$787 million were signed projects yet to bring in revenue and US$1.4 billion were projects that awarded but not yet signed.
'Unprecedented' DER demand
Sakellaris added that recent grid blackouts in California – imposed by utility PG&E to quash the threat of wildfires – would be a boon to Amaresco's off-grid, stand-alone, solar and energy storage businesses.
"We believe that these historic events are creating unprecedented demand for resilient distributed energy resources, which are relevant to our smart energy solutions in Ameresco asset business as well as our integrated solar distribution business."
He added that "years of utility under-investment are growing and growing, where the volatility increase (sic) the likelihood that such proactive blackouts will become more frequent and will spread to other geographic areas."
Project milestones from the third quarter of 2019 included the announcement of a 2.1MW solar project for a public school district Orange, California, a 27MW solar plant in DePue, Illinois, the inauguration of 16MWh energy storage project in Ontario, Canada and 2MW community solar project in Bloomfield, Connecticut.
Ameresco, which turns 20 next year, is headquartered in Framingham, Massachusetts.The company claims to have 287MW of assets in development in total, totalling US$572 million.