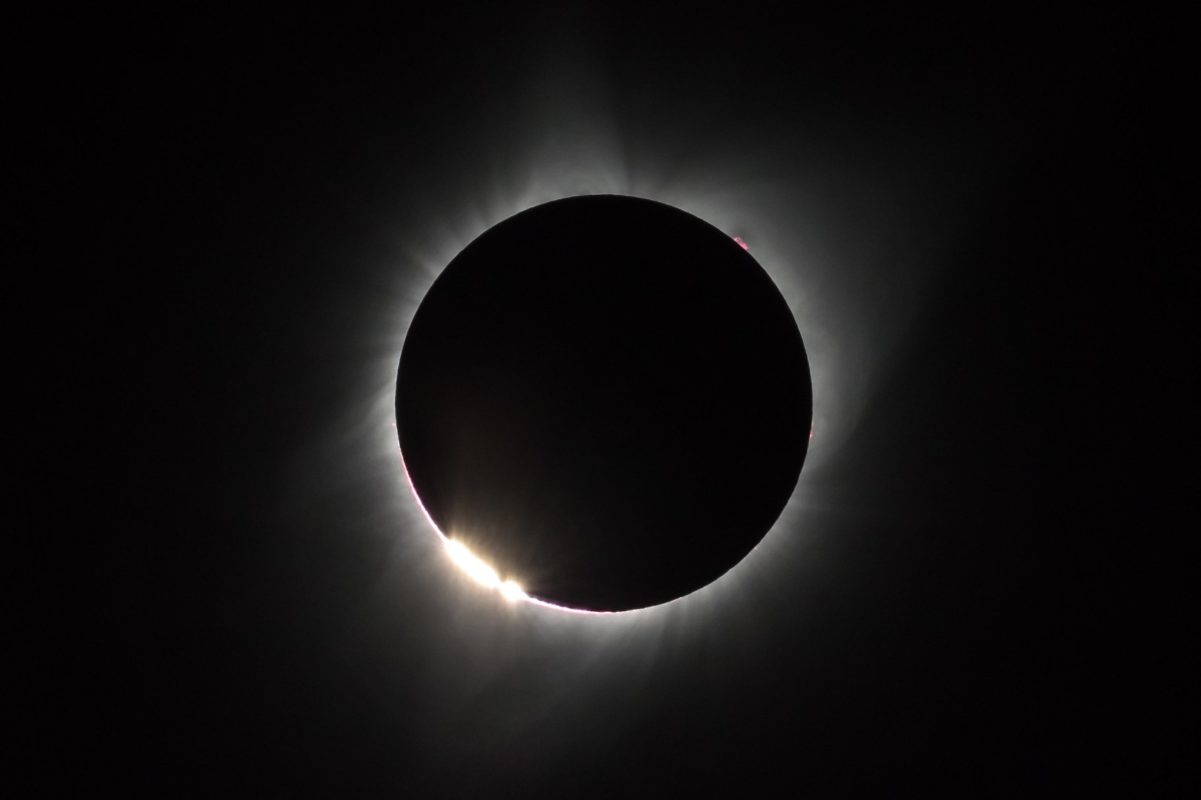 Hydro, gas help Chile plug eclipse solar gap
3 June: Hydro and gas generation was ramped up in Chile this week to guarantee supply as a total solar eclipse cloaked its PV-generating north in darkness.
Energy minister Juan Carlos Jobet said the rare Tuesday event – witnessed by thousands in Chile and Argentina – saw PV generation slide from 1.45GW to 200MW.
The powering up of hydro dams and gas plants followed three months of planning, with analytics firm AWS TruePower hired by the government to forecast the extent of the PV shutdown.
The solar eclipse dented PV production between 15:14 and 17:50 local time, with darkness peaking at 16:39. The phenomenon was visible across all of Chile, Easter Island included.
Having doubled installed PV capacity between 2016 (1.12GW) and 2018 (2.13GW), Chile is currently witnessing rapid roll-out, particularly around the Atacama Desert in the north.
Argentina starts up new 13.5MW of 379MW PV complex
1 July: Across the Chilean border, in Argentina's San Juan province, 13.5MW Parque Solar Ullum IV started injecting power into the grid.
Marking the commercial launch on Twitter, the Argentinian Energy Ministry said the plant will supply enough electricity to cover the needs of 13,000 households.
The plant is one of the Ullum series, a 379MW scheme which entered construction in December 2017. Its neighbours include Ullum III (36.5MW), VI (25MW) and VII (25MW).
The complex, a partnership between state utility EPSE and private developers, lies in Argentina's dry west. Further up north, work is underway to build 600MW Cauchari, the country's top PV project.
Associations push to cut red-tape for distributed PV, storage
1 July: Technology could help slash costs of distributed US solar and storage under a scheme by PV body SEIA, the Solar Foundation and the National Renewable Energy Laboratory (NREL).
NREL has secured US$695,000 in US innovation funding to develop an online portal that would automate the review of application documents and approval of permits.
The software push comes under the SolarAPP initiative, supported by California Solar + Storage Association and industry names such as SunPower, Sunrun, Tesla and Vivint Solar.
The goal, said SEIA CEO Abigail Ross Hopper, is to bring down indirect "soft" costs – permitting, inspection and connection – that are higher for US residential solar than other mature markets.
Brazilian state urged to retain solar tax incentives
2 July: Changes to solar policies in Brazil's Mato Grosso could put business and jobs at risk, national PV body ABSOLAR has warned.
The association cautioned authorities of the inland state against the attempt, via new draft legislation, to discontinue tax incentives to distributed solar generation.
Layoffs, company shutdowns and a "flight of investment" are all possible if the policy changes go ahead in their current form, according to ABSOLAR.
Brazilian PV is currently enjoying a bullish phase – with auction records commanding global attention – but distributed generation faces an uncertain outlook, with nation-wide incentives up for reform.
Aurora Solar users to benefit from Google imagery tech
2 July: Customers of San Francisco-headquartered Aurora Solar will be able to browse high-definition, three-dimensional prototypes of solar installations under a new deal.
The firm, the developer of software for solar sales and design, has sealed a partnership with Google to enhance the satellite imagery used by its clients to plan installations.
The addition of HD and 3D functionalities will not stop customers from sticking to existing viewing options, including standard Google and Bing imagery.
According to the firm, its new 3D data sets is the largest of any application in the market, covering 90% of US territory as well as further locations worldwide.