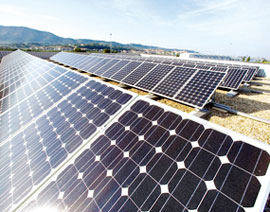 Global grid-connected solar PV additions reached 75GW in 2016, a 50% year-on-year growth from 50GW in 2015, according to the PV Market Alliance (PVMA).
PVMA which launched at Intersolar Europe in 2014, published its 2016 figures in a statement today, announcing that worldwide solar has passed the cumulative 300GW mark.
However, the organisation warned that 2017 could be a "challenging year" with 65GW in a worst-case-scenario, down 13% from 2016. However, the same levels of 2016 could still be hit.
China is expected to exceed 100GW overall within 2017, having added an annual record of 34GW last year, up 26% on the prior year and accounting for 45% of the total global deployment.
The US also experienced strong growth, with an estimated 13GW, but PVMA warned of "significant uncertainties" in the coming years.
India experienced significant growth with 5GW installed in 2016, up from 2GW in 2015. The fast growing market is also expected to add up to 8-9GW this year.
In contrast, Japan experienced a slow down, deploying 8.6GW, down from 10.8GW in 2014. Further decreases are possible but at least 7.5-8.5GW are expected in 2017 under the current pipeline.
Europe installed around 6.5GW, driven by the UK, Germany, Turkey and France. The continent now accounts for less than 10% of the global share.
Emerging markets accounted for around 7GW in 2016, with strong inputs from the Americas, Asia and with the Middle East and Africa beginning to gain a foothold.