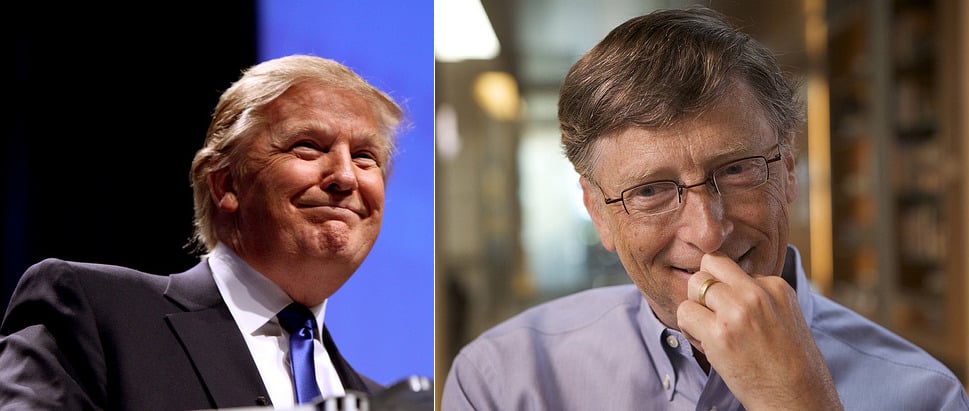 After a call on clean energy with Donald Trump, Microsoft co-founder Bill Gates fears for federal support of renewables under the new US president.
Despite confirming what the industry has speculated for months since the election results broke, the tech entrepreneur remains hopeful for clean energy.
Having recently announced the start of Breakthrough Energy Ventures, a US$1 billion clean energy fund backed by some of the world's top investors, Gates discussed the investment agenda with Trump around two weeks ago in a conference call, Bloomberg reports.
Despite the two representing opposing sentiments on the future of American energy and innovation, the eight minute call was reportedly somewhat productive.
"The key point I was pushing there was the opportunity for innovation in not only energy but also medicine and education," Gates told Bloomberg, "and encouraging the idea that that's a great deal and a great thing for American leadership."
However, Gates was up against it, as the incoming president had recently drawn a line in the sand regarding the future of federal funding for climate initiatives, and reaffirmed his plans to cancel both the Clean Power Plan and the ITC. Gates on the other hand has signed away a significant chunk of his investment with the aim of combating greenhouse gas (GHG) emissions.
Breakthrough Energy Ventures has garnered support from the likes of Facebook's Mark Zuckerberg, current energy secretary Ernest Moinz and Barack Obama.
Great to see so many investors come together to work towards a clean energy future. It's a smart investment and it's good for the planet. https://t.co/X8pBb1NAmL

— President Obama (@POTUS) 13 December 2016
Gates announced the formation of the Breakthrough Energy Coalition, the group that is launching the fund, at COP21 last year. In addition to the private investments, Gates said he and other investors convinced 20 governments to double their energy research and development budgets over the next five years.
In light of the call with Trump, however, Gates doubts how involved the US government will be in that commitment:
Gates acknowledged that the US "will probably see at the federal level less incentives for renewable deployment" during the Trump administration. "That is unfortunate," he said.
Looking on the bright side, he predicted increased investment in research and development, telling Bloomberg that "I do think the most bipartisan piece of energy policy has been a commitment to energy R&D. So, if your framework for looking at where the government should do more is where it's a good deal for American leadership and jobs, I actually think there is some upside. I think in the R&D space we may see more investment."