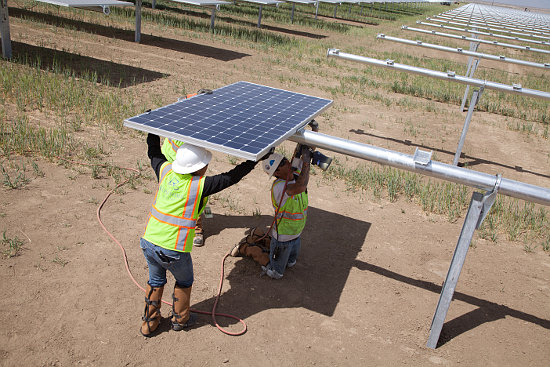 According to Bloomberg New Energy Finance (BNEF) US residential solar installations are expected to increase by 21% in 2016, yet growth in 2017 is expected to be a tepid 0.3%.
This equates to a 2016 US residential market of 2.76GW and only 2.77GW in 2017, according to BNEF.
Recent figures from GTM/SEIA highlighted US expectations of over 10GW of total PV installations from residential, commercial and utility-scale segments in the second-half of 2016 to meet a total annual forecast of 13.9GW.
The latest GTM/SEIA 'U.S. Solar Market Insight' report highlighted that the US installed 2,051MW (DC) of solar PV in the second quarter of 2016, up around 23.3% from the first quarter of 2016, when installations reached 1,665MW and up 43% from the prior year period.
However, residential installs have been relatively flat since the fourth quarter of 2015.
Residential PV installations grew 1% over the first quarter of the year, according to GTM/SEIA.
To achieve BNEF's 2.76GW residential figures, quarterly installation run rates of around 690MW are needed, while GTM/SEIA figures suggest no more than around 650MW per quarter has been achieved.
During SPI 2016, PV Tech highlighted the challenges facing the US market after 2016 looks like being a benchmark year for total PV installs.
There has also been a lack of clarity over US PV demand in 2017. Although GTM/SEIA noted 7.8GW (DC) of additional utility-scale projects were expected to come online in 2016, a decline in utility-scale projects is expected in 2017.
With the residential market expected to flat line next year, all eyes are on the US utility-scale market and how much of a decline will there be from an expected total of 13.9GW in 2016.