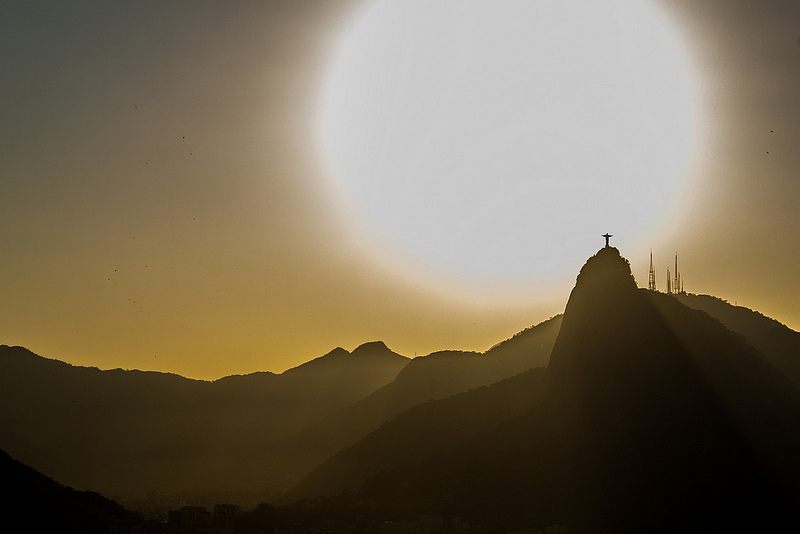 Brazil is primed to surpass 1GW of solar in 2017 as projects from three auctions between 2013-15 start to come online, according to the Brazilian Solar Association ABsolar.
Meanwhile the industry is eagerly awaiting the imminent publication of its next 10-year energy demand forecast, following a hiatus for the annual periodical last year, due to political upheaval. One of the reasons cited by the Ministry of Mines and Energy (MME) for cancelling 2016's only wind and solar auction at the last minute was a fall in projected energy demand, so the new report could have significant consequences on Brazil's future renewables tendering scenario.
Maria Luisa Cravo Wittenberg, investment manager at Apex-Brasil, the Brazilian trade and investment promotion agency, linked to Ministry of Foreign Affairs, told PV Tech that energy agency EPE had originally planned to contract another 1GW of solar in 2017, but it now wants to calculate more accurate figures regarding future electricity requirements.
Once numbers are totted up, Cravo Wittenberg expects a Reserve Auction to be held in September this year, or at least in the second semester.
However, while vocal MME intentions to hold another renewables auction have also been reported in the press, ABsolar has been pushing the government to make an official notification as soon as possible, since it will take at least three months from the notification for the auction to take place. This will give government agencies, players and the market time to prepare. It's not yet clear which technologies would be included in any new tender.
Market outlook
ABsolar president Rodrigo Sauaia told PV Tech that Brazil started the year with roughly 100MW of installed solar PV, but the country is expecting 10-fold growth in 2017 to reach 1GW. The majority of the related project completions will come from large-scale plants auctioned by the state of Pernambuco in 2013, as well as the federal auctions of 2014 and one of the two 2015 auctions.
Sauaia said: "2018 will probably follow the same trajectory as we still have a lot of projects from the auction of 2015 – the second auction – that will be coming online as well as some of the delayed projects from previous auctions."
ABsolar also expects the distributed generation (DG) market to grow 300% this year. DG deployment currently lags well behind that of large-scale, but there are positive signs with the government moving to incorporate solar PV technology in new projects for low income housing and public buildings that could boost the DG and rooftop segments.
Macroeconomic effect on solar
Regarding the whole PV industry, Sauaia said: "The challenge that we face at the moment is really because of the macroeconomic situation and after two years of a slowdown in our economy this is starting to catch up with the sector."
Nevertheless Sauaia expects MME's targets for solar PV within the future energy mix to continue to grow, having doubled from 3.5GW in 2014 to 7GW in 2015 (the latest forecast). However, it is also likely that the projected electricity demand growth will be reduced from 4-4.5% to roughly 3-3.5%.
Sauaia added: "Although brazil is passing through a difficult economic moment in the short-term, all the drivers for the mid- and long-term are still of demand growth and Brazil still consumes relatively little electricity per capita and there will be certainly a pressure on increasing this electricity demand per capita as we see in other developing countries moving forward."
In the meantime, MME is already seeing job generation growth, industries resuming operations, and simultaneously the country's huge reliance on hydro power is still being tested by drought, so the case for PV as a strategic resource is strong.
Sauaia said: "Including solar into the matrix will actually help to diversify and reduce risks and costs for the operation of the system overall. It currently represents a very small fraction of the total electricity generated in the country."
Cravo Wittenberg added: "The expectation is that demand will increase again, so as the economy picks up, solar and wind will be important in supplying this demand."
She also said that the sector has had a financial boost with the development bank, BNDES, fundraising around US$1 billion with JP Morgan and Merryl Lynch in May, as well as raising US$300 million with the BRICS bank.
She said: "The message in that point is that the development bank is already ready for doing loads – specifically for renewables, wind as well not just solar."
Contraction Auction
Brazil is also due to hold an auction to decontract various renewable energy projects that were previously awarded. This will allow MME and EPE to make more accurate predictions about energy generation in the future and avoid a situation of having excess energy.
Defending the wind and solar auction cancellation last year, Cravo Wittenberg said it was the Brazilian government showing the world that Brazil was changing and would no longer be "manipulating the market", in terms of contracting projects without needing to.
She said: "So they are in the process of understanding and gathering the numbers in order to be able to say if there is demand for a new auction or not. The government is very transparent and they want to show exactly the need in terms of contracting."
These comments contrast with ABsolar's analysis of the cancellation last year, which described the industry as having been left "perplexed".
This article has been revised to say that Maria Luisa Cravo Wittenberg is the Apex-Brasil spokesperson.