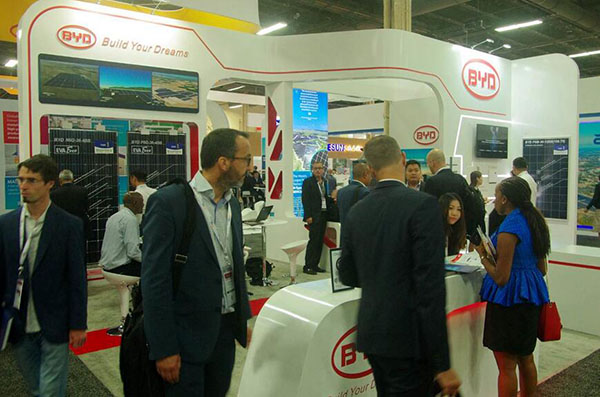 China-based technology giant BYD has won its largest ever solar module supply contract for 170MW of NextEra Energy solar projects in the US.
The company has shipped roughly 1GW of solar modules to the US market to date.
Tom Zhao, managing director, BYD Solar Division, said that the firm's reputation from commissioning a 60MWh integrated PV and energy storage project in the UK had helped it break into the US market. He also noted that BYD is exploring opportunities in wind power.
Zhao added that BYD is in discussions with several international companies about introducing EV-charging infrastructure and other clean energy solutions. Indeed, this week the company also signed an agreement with the United Nations Environment Programme (UNEP) to promote electric mobility.
First B-Box home storage system installed in Germany
BYD has also installed the first of its residential high-voltage B-Box energy storage systems in Germany. The system included nine modules with a combined capacity of 11.52kWh. Utilising its modular design, the new storage system can have up to five systems connected in parallel in one location.
The firm is aiming to launch the B-Box into the US later this year, targeting east and west coast states, as well as Hawaii, where conventional electricity costs are high, and grid constraints make storage applications attractive. The firm launched the B-Box in the UK 12 months ago.
In July, BYD also announced a tie-up with the inverter manufacturing division of Kostal, where the former's latest high voltage energy storage systems would be paired with the latter's PIKO brand inverters.
The company claimed to have a 25% market share in energy storage in the US.