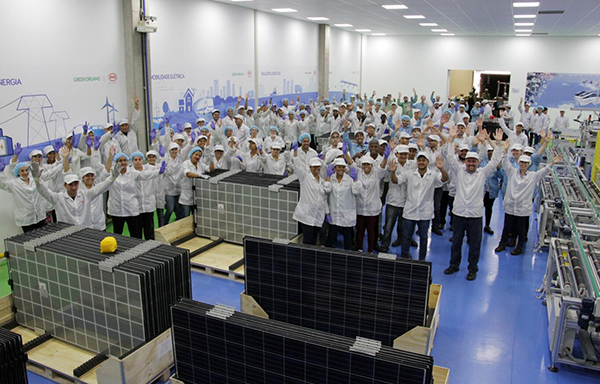 Chinese automotive to renewable energy technology company BYD has officially opened its first solar module assembly plant in Brazil with a nameplate capacity of 200MW that will include glass/glass modules.
BYD initially announced plans for a manufacturing facility in Brazil that would include an all electric commercial bus chassis production line as well as a 200MW module assembly plant in July, 2014, according to PV Tech's ongoing analysis of PV manufacturing capacity expansion announcements.
The R$150 million (US$45 million) module assembly plant, located in the city of Campinas in the south eastern region of Brazil is already producing modules for downstream PV projects in Brazil and is expected to generate around 360 jobs.
"BYD is a global high tech company. As such our goal is to bring the world's best technology to Brazil, creating new jobs and generating innovation in the country. With local production we will help consolidate the distribution and generation markets," says Tyler Li, General Manager of BYD Brazil and President of BYD Energy do Brasil.
Local content rules for downstream PV power plants are intended to build a PV manufacturing sector in the country.
Recently, 'Silicon Module Super League' (SMSL) member Canadian Solar opened a 350MW to 400MW module assembly plant in Sorocaba, state of Sao Paulo that is being operated by electronics subcontractor Flextronics International (Flex).
Canadian Solar previously won auctions to build three PV power plants in in Pirapora and Vazante, in the state of Minas Gerais. The 191.5MWp Pirapora I project was said to be under construction and operational in the third quarter quarter of 2017.