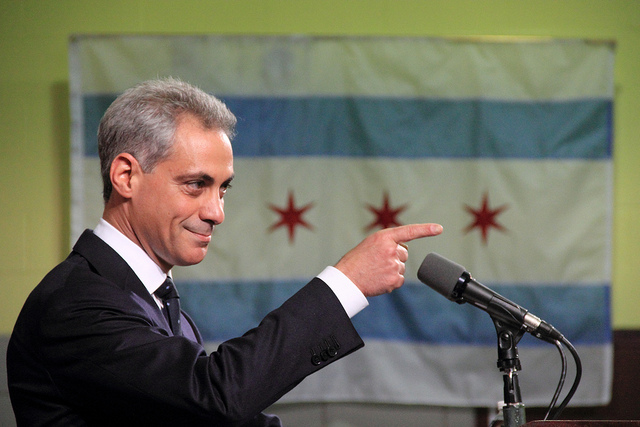 Chicago mayor Rahm Emanuel and various public entities have teamed up to move the city's buildings' electricity use to 100% renewable energy by 2025.
Once implemented, Chicago will be the largest major city in America to have a 100% clean energy mandate for its public buildings.
"As the Trump administration pulls back on building a clean energy economy, Chicago is doubling down," Emanuel said. "By committing the energy used to power our public buildings to wind and solar energy, we are sending a clear signal that we remain committed to building a 21st century economy here in Chicago."
Committed parties include the Chicago Public Schools (CPS), Chicago Park District, Chicago Housing Authority, Facility Management and the City Colleges of Chicago. Collectively, the parties used nearly 1.8 billion kWh of electricity in 2016, which is roughly 8% of all electricity use in the city. Therefore, the 100% clean energy commitment has potential to save the city a significant amount on electricity costs. The commitment will be met through a combination of renewable energy credits (RECs) and renewable energy procured through the state of Illinois' renewable portfolio standard (RPS), and on-site generation in Chicago. Initial purchases will begin in 2018 and 2019.
"Today's action is a historic step forward in establishing Chicago as a clean energy leader," said Jack Darin, president of the Illinois chapter of the Sierra Club. "By moving boldly to repower its public buildings with renewable energy like wind and solar, Chicago is leading by example at a time when local leadership is more important than ever.
"While President Trump and his administration would reverse America's progress on climate change and clean energy, mayor Emanuel is ensuring that Chicago will move forward, and that its residents will benefit from the good jobs and cleaner air that come from renewable energy projects. We look forward to working with the Mayor, community leaders, and the people of Chicago to achieve this bold goal on the path to eventually powering all of Chicago with 100% clean energy."
By this new commitment, Chicago is stepping up its game in the renewable energy field. Back in 2013, the city eliminated coal use. Further, a dozen CPS schools have had solar arrays installed since 2009. In fact, the mandate announcement made on the rooftop of the city's Shedd Aquarium, which has installed over 900 solar panels as part of its goal to reduce energy consumption by 50%.