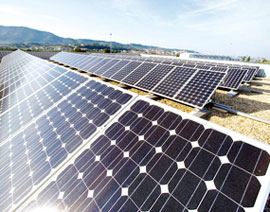 China's National Energy Administration (NEA) has called on local governments to ease burdens on the renewable energy sector with a range of measures including the "strict implementation" of a guarantee for signing power purchase agreements (PPAs).
NEA's note, stressing the importance of following the 'Renewable Energy Law', accounted for wind, solar and biomass technologies. Among its orders to provinces, autonomous regions and municipalities, it said: "Power grid companies shall promptly accept the applications for [renewable energy] project integration and clearly define the time limit for the provision of grid-connected access plans."
It alos stated: "The grid company shall sign a grid-connected agreement that complies with national regulations without discriminatory provisions."
China's solar and wind projects have faced heavy curtailments in recent years while its deployment continues to boom. To remedy this, NEA has also asked for renewables to be given priority access to the grid.
NEA listed a number of orders to local governments, including:
Reducing land costs and unreasonable charges
Reducing corporate financing costs through green finance
Preventing the correction of arbitrary charges and other acts that increase the burden on the company
Strengthening policy implementation and supervision
Reducing the logistics costs
Regulating the technical standards and their applications
Regulating various inspections and charges
China installed a total of 9.65GW of solar PV capacity in the first quarter of 2018, a 22% increase over the prior year period, according to NEA.