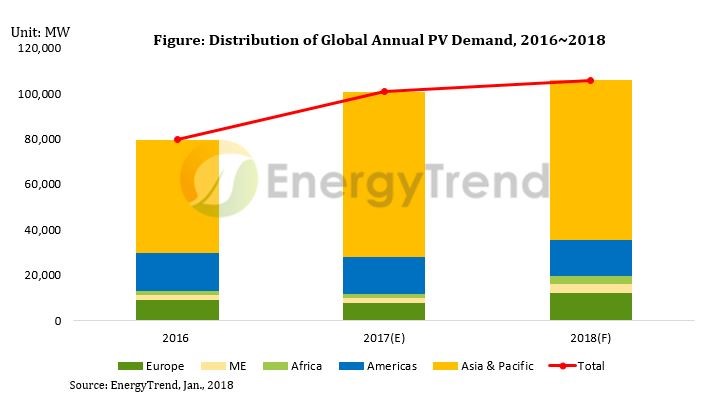 Taiwan-based market research firm, EnergyTrend expects Chinese end-market demand to contract slightly in 2018, after posting record installations for several years in a row and accounting for around 50% of global solar installations in 2017.
EnergyTrend said that it expected Chinese market will slow down in 2018 through to 2020. Total annual grid connections, including ground-mounted projects, Distributed Generation, PV Poverty Alleviation and Top Runner projects combines would reach 46.7GW in 2018.
The recovery in the European market in 2018 is expected to support global demand of 105.88GW, according to the market research firm, up slightly from just over 100GW in 2017.
EnergyTrend reiterated that China installed 52.83GW in 2017, retaining its dominant position, while the US was the second largest market with installations of around 12GW.
India was said to have surpassed Japan as the third largest market, installing 9.26GW, compared to Japan's 6.09GW.
EnergyTrend noted that 2016 witnessed the highest growth in global solar market, increasing 42.5% over the previous year, while the growth in 2017 was 26%. Growth in 2018 would therefore be in the range 3 to 6%, only.