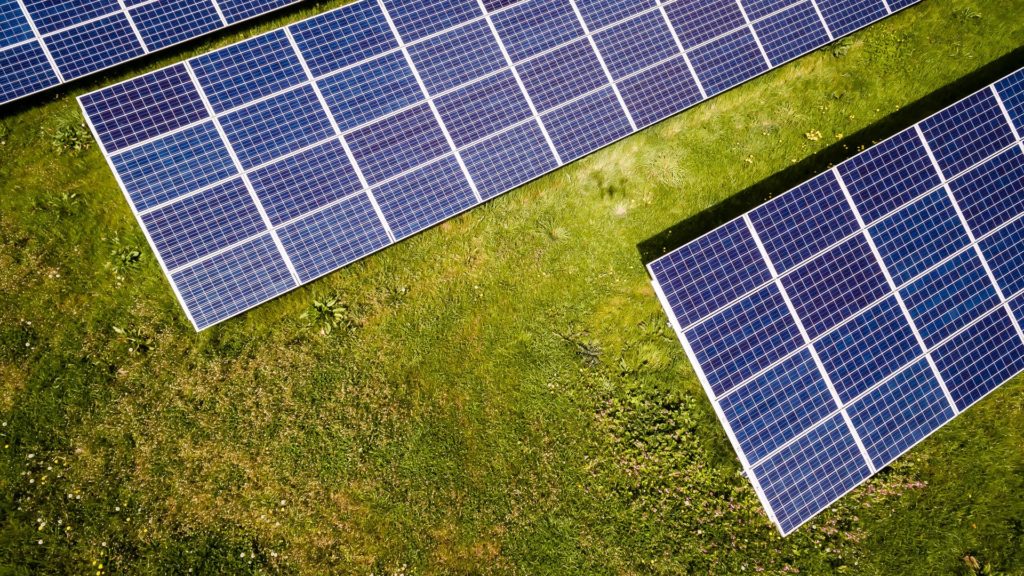 Public institutions and private companies bought a record number of renewable energy last year, according to BloombergNEF's (BNEF) 1H 2023 Corporate Energy Market Outlook.
The outlook highlighted 167 organisations that announced power purchase agreements (PPA) in 36 markets worldwide, including Amazon, Ford and McDonald's. Last year, both private companies and public institutions signed contracts to secure 36.7GW of renewable energy to power their operations, increasing by 18% from 2021 despite facing the global energy crisis, supply chain bottlenecks and high interest rates.
Since 2008, corporations have signed PPA for 148GW of clean power in total. This figure was more than the total power-generating capacity of France.
The increased purchase was due to strong growth in the Americas and Asia Pacific. As measured in GW, contracts signed rose 18% in the Americas to a record 24.1GW, with upticks in both the US and Latin America.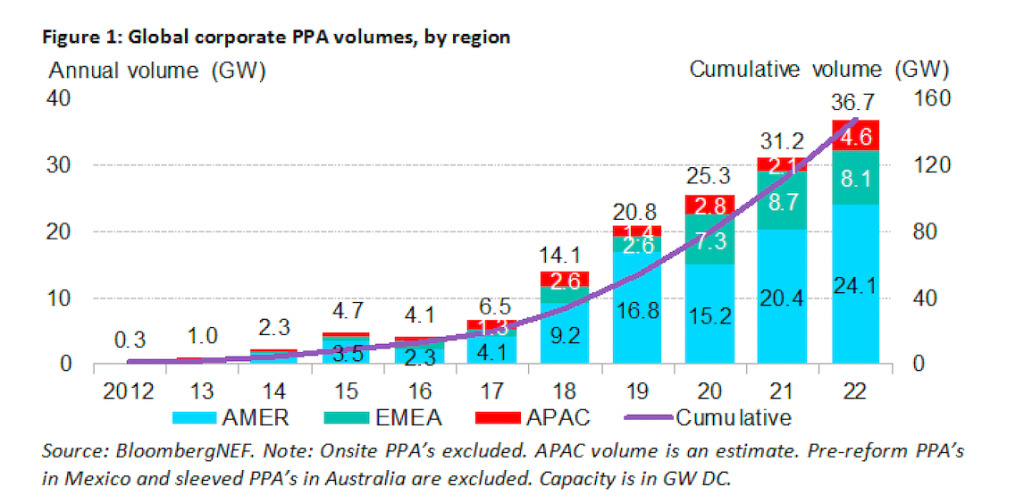 In the US market, companies embraced the virtual PPA model, where a clean power project sells directly into the wholesale market to capture the spot price. BNEF said that such contracts allowed them to hedge against power price spikes.
In Latin America, the increase in PPA activity lay in mining companies seeking clean energy to power operations in remote areas of Chile and Brazil.
Asia Pacific saw corporate PPA activity more than double to 4.6GW led by India and Australia. Currently, the PPA model is widely available across the region's major markets of Japan, China and South Korea. Activity across APAC was expected to grow significantly as more companies set 100% renewable energy goals.
However, in Europe, the Middle East and Africa, PPA activities dropped by 7% to 8.1GW last year due to the region's energy crisis. Some developers demanded richer PPAs to reflect higher overall energy prices across Europe, while others skipped PPA altogether to sell directly into wholesale markets.
But BNEF expects that PPA activity in EMEA could rebound this year thanks to lower natural gas prices and the European Commission's proposed power market reforms.
"Companies can access clean energy at scale in most major countries, the economics make sense, and amid turbulent energy markets, PPA has become useful risk-mitigation tools for CFOs," said Kyle Harrison, head of sustainability research at BloombergNEF.
The study also examined specific firms that had signed clean energy deals. Amazon led all other companies as it signed 10.9GW of PPA last year, followed by Meta (2.6GW), Google (1.6GW) and Microsoft (1.3GW). Amazon has announced 24.8GW of PPA to date, making it the seventh largest clean energy portfolio globally, including utilities.

A total of 135 power project developers signed contracts to offer clean energy in 2022. US renewable energy company AES Corporation topped the list with 2.8GW of disclosed PPA. French company Engie (1.6GW) and Spanish conglomerate Acciona (1.1GW) followed.
Lastly, 56 new companies joined the RE100 last year, promising to achieve 100% clean energy consumption by a future date. The 397 RE100 members have purchased an estimated 249TWh of clean electricity to date, but they will need an additional 290TWh in 2030 to meet their goals.
The demand for clean energy will be even higher for companies such as Google and Microsoft as they have pledged to meet their demand for power at all hours of the day.