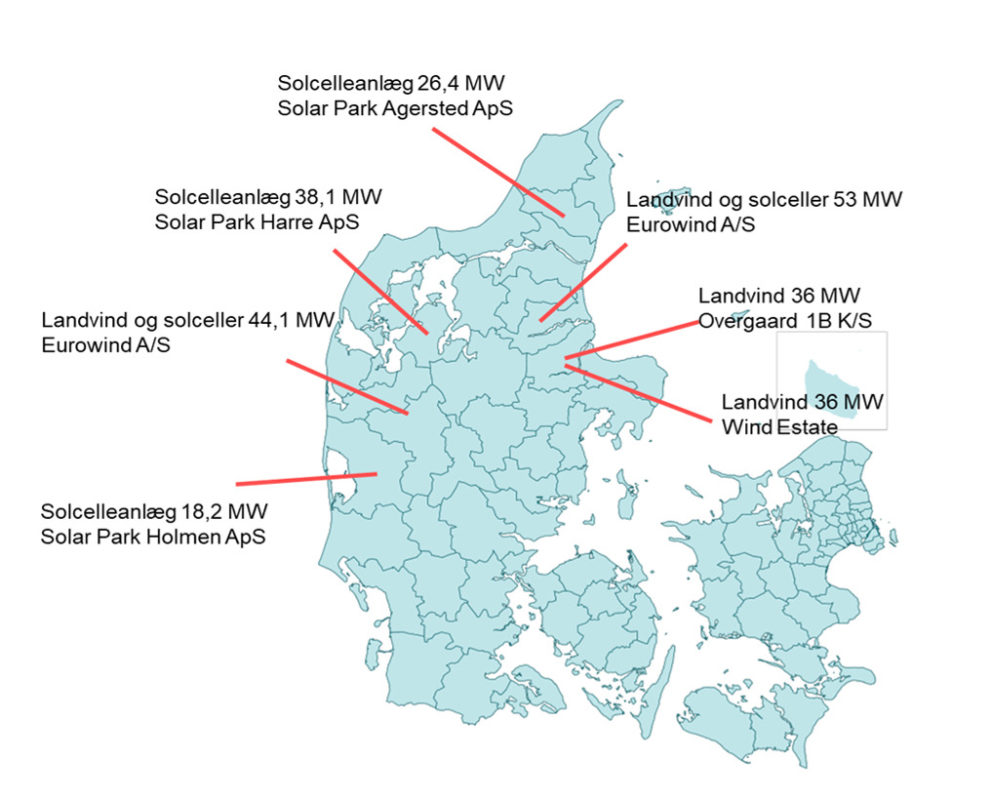 Denmark has joined the countries actively mulling the possibility of subsidy-free solar, in a shift that pushes the current zero-subsidy momentum to Europe's cloudier, northerly reaches.
On Friday, authorities in the Scandinavian country signalled a potential refocusing of renewable policy after competition for the latest technology-neutral tender meant solar and wind needed fewer subsidies than ever.
The 30% year-on-year drop in the average premiums granted to solar and wind bidders – from 2018's DKK0.027/kWh (US$0.003/kWh) to 2019's DKK0.015/kWh (US$0.002/kWh) – helped Denmark contract almost double the renewable capacity while only spending two-thirds of its budget.
"The price of onshore wind turbines and solar farms is now so low that it suggests that they can very quickly be deployed without support," said Denmark's Ministry for Energy and Climate, noting that a DKK101 million (US$15 million) budget slice of the latest tender round had gone unused.
The technology-neutral auction awarded all seven bids it had received between September and November this year. Contracts were assigned to three solar-only projects (83MW), two onshore wind ventures (72MW) and two solar-plus-wind hybrids (97MW).
The three PV-only winners, all due for development in Denmark's west and northwest, range from 38.1MW Harre to 26.4MW Agersted and 18.2MW Holmen. For their part, the two solar-plus-wind hybrids by developer Eurowind will boast a respective capacity of 53MW and 44.1MW.
Tumbling costs lure PV to Europe's cloudy north
The subsidy-free talk now emerging in Denmark is well advanced further to Europe's south, where the likes of Spain and Italy – and increasingly Germany – are tapping into cheap components, high irradiation and investor interest to deploy projects without government support.
Denmark, traditionally a wind rather than solar power hotspot, is nonetheless expecting installed PV capacity to surge from around 1GW last year to 5GW in 2030 and 7.3GW in 2040. As noted by state energy agency DEA, though, cannibalisation is a real risk in the low-cost environment.
The potential is sparking solar moves by local developers – including Better Energy's 53MW and 32MW ventures – but also high-profile foreign names. In September, technology giant Google shared plans to sponsor a 160MW PV pipeline in Denmark as part of a global PPA push.
Contacted by PV Tech at the time, a source close to Google explained cost declines have pushed Denmark from "not a prime location for solar" to a "cost-competitive" market. The 160MW from five PV projects will power Google's first data centre in Denmark, the same source added.
As it regards solar and wind as ready for the free market, the Scandinavian state looks set to refocus funding on less-mature technologies. Support may be shifted to renewable storage and green fuel for air and sea transport, Climate and Energy minister Dan Jørgensen said in a statement this week.
The new philosophy makes Denmark one of various players sharing plans to redeploy aid towards less-established renewables. The European Investment Bank, Australia's state financier CEFC and asset management giant BlackRock have all vowed to back storage and others more decisively.