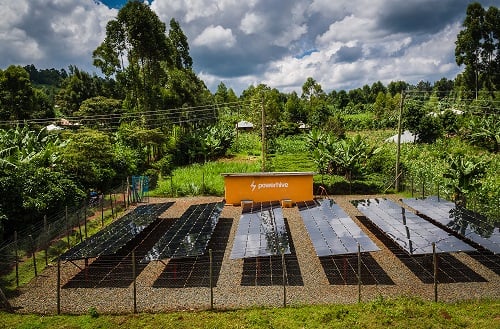 Providers of solar-plus-storage into the continent of Africa have said that it is a misconception that lead acid batteries used in off-grid systems are recycled efficiently back into the supply chain.
PV Tech's sister title, Energy-Storage.News spoke with Powerhive and Offgrid Electric, two US-headquartered providers of solar which have both focused on the off-grid sector in Africa to date. Powerhive provides community microgrids and in essence acts as a utility, selling 240V AC power by the kilowatt-hour, while Offgrid Electric leases or sells solar home kits to individual households. The former is active in Kenya, with Rwanda and Nigeria expected to be its next ports of call, while Off Grid Electric is focused on Tanzania, Rwanda, Ghana and the Ivory Coast at the moment.
Powerhive currently uses lead acid batteries, sourced from manufacturer Trojan, but is currently looking for a lithium battery provider, having decided that the technology is a good fit on price and for its capabilities. Off Grid Electric meanwhile is already using lithium batteries for its low voltage DC systems.
The pair were interviewed for the Global Energy Storage Supplement 2018, which our publisher Solar Media made available as a free download. The full interview covers the pair's shared view that lithium batteries are now a viable option in Africa from an economic and environmental perspective.
In addition to the topics covered in that discussion, the subject of recycling of batteries and materials was broached. The argument is often made that while lead acid contains toxic materials, in much of the world supply chains exist to recycle large proportions of the materials used, reducing the overall impact of the waste.
However, both Rick Wuts, VP for business development at Powerhive and Joshua Pierce, Off Grid Electric's CTO, said that there are a few angles to this argument that many people overlook when it comes to real-world experiences of using batteries in the field in Africa.
"I would actually dispute that fact [that recycling for lead acid is effective] pretty vehemently. This is an area I feel very passionately about," Joshua Pierce said.
The full version of this story is available on Energy-Storage.News