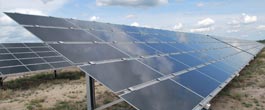 D. E. Shaw Renewable Investments has signed off on an agreement to acquire the 100MW Willow Springs Solar Project in Kern County, California from First Solar.
Terms of the acquisition were not disclosed.
The 100MW plant, which was developed by First Solar, is currently under construction and is expected to be completed by the end of 2018. The site will provide power to Southern California Edison Company through a long-term PPA.
Bryan Martin, CEO of DESRI, said: "DESRI is thrilled to close on the acquisition of Willow Springs from First Solar. This project is a testament to the strong partnership that our firms have built over many years. We are looking forward to using First Solar's leading Series 6 module technology to deliver clean energy to the Kern County community for years to come."
Once completed, the project is expected to generate enough energy annually to power 41,000 typical California homes and displace more than 77,000 metric tons of CO2 greenhouse gas emissions each year.
Willow Springs is the fourth renewable energy project that DESRI has acquired from First Solar. In 2017 a DESRI affiliate acquired the 40MW Cuyama Solar Project in Santa Barbara County, while DESRI affiliates acquired the 31MM Portal Ridge Solar Project in Los Angeles County and the 11MW Rancho Seco Solar Project in Sacramento County in 2016.