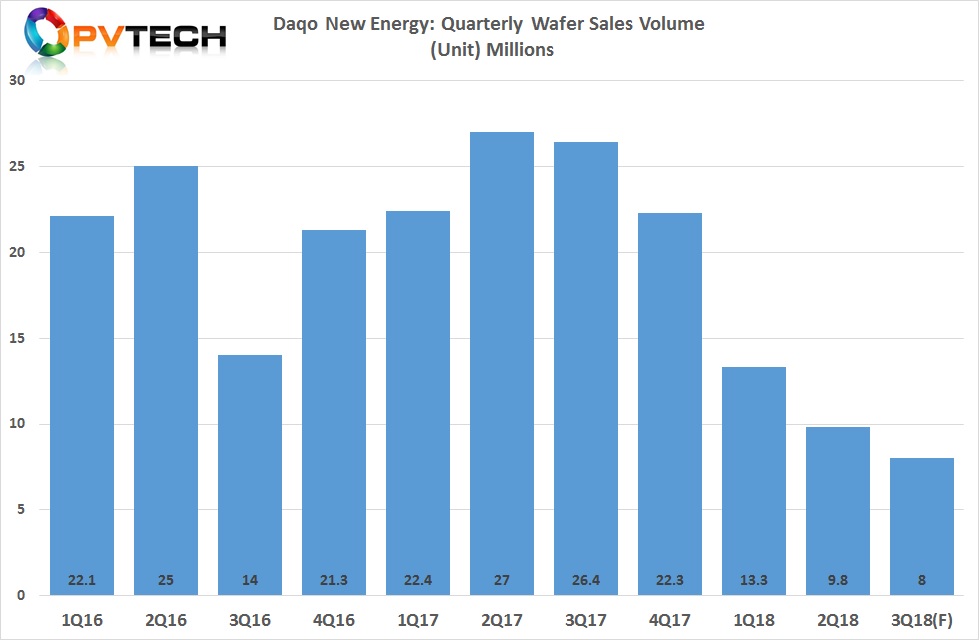 China-based polysilicon and wafer producer Daqo New Energy has guided wafer sales volume down 70%, year-on-year as the caps on utility-scale and Distributed Generation (DG) solar projects in China at the end of May start impacting quarterly business results for many companies dependent on the China solar market.
PV Tech had previously highlighted that Daqo's multicrystalline wafer sales volume had been slashed by as much as 50% for the second quarter of 2018, due to the impact on the caps in the last month of the second quarter.
Daqo had revised its wafer sales volume guidance to approximately 9.5 million to 10.0 million pieces, down from previous guidance of 15.0 million to 20.0 million pieces. In releasing second quarter financial results, wafer sales volume was reported to be 9.8 million pieces, near the high-end of revised guidance.
However, Daqo guided third quarter 2018 multicrystalline wafers sales volume to only reach between 7 million pieces to 8 million pieces, a 70% decline, year-on-year.