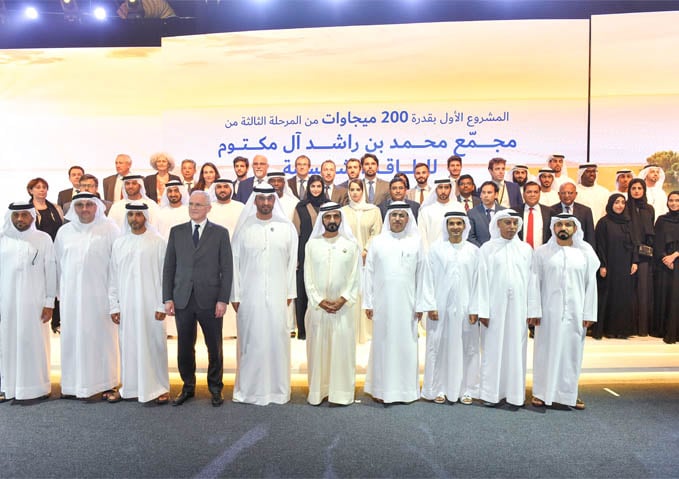 The first 200MW block of the latest phase of Dubai's Mohammed bin Rashid Al Maktoum Solar Park has been inaugurated.
The third phase, totalling 800MW, was awarded in a competitive tender to Abu Dhabi's Masdar and French utility EDF. Two 300MW stages will be completed in 2019 and 2020. The power purchase agreement for the third phase was signed in 2016 at a rate of 2.99 US cents per kWh.
Work on the park began in 2012 with a smaller 13MW installation before the programme was ramped up towards its multi-GW objectives. The completed park will include PV and multiple concentrated solar power arrays.
HH Sheikh Mohammed bin Rashid Al Maktoum, Vice President and Prime Minister of UAE and Ruler of Dubai attended the ceremony.
"This phase is a key milestone and shows our strong belief in the role of clean energy in shaping a sustainable future. This supports the UAE's efforts to strengthen its leading global position in clean energy through such major projects," said HE Saeed Mohammed Al Tayer, MD & CEO of Dubai Electricity & Water Authority (DEWA).
The project is EDF's first in the UAE where it has partnerships with Abu Dhabi's Masdar company and Dubai's state utility DEWA.
"The third phase of the Mohammed bin Rashid Al Maktoum Solar Park exemplifies the EDF Group's ability to execute large-scale solar projects, whilst contributing to the ambitions of the Group's CAP 2030 strategy: doubling its renewable capacities and tripling its international business outside of Europe by 2030," said HE Jean-Bernard Levy, chairman and CEO of the EDF Group.