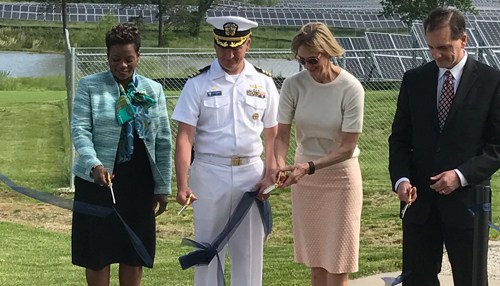 North Carolina's Duke Energy has completed a 17MW solar plant at the US Navy's Support Activity (NSA) Crane facility in Indiana.
Duke Energy will own and provide O&M services for the plant, which is just south of Bloomington and comprised of 76,000 PV modules spread over a 59 hectare site.
Yesterday, the Navy lieutenant governor Suzanne Crouch joined officials from Duke Energy to cut the ribbon at the plant. However, Duke has been planning the facility since 2016. In exchange for providing the land for the project, NSA Crane will receive in-kind consideration in the form of electrical infrastructure upgrades, such as a motor-operated disconnect switch, and a microgrid feasibility study.
"This solar power plant helps provide our customers with a more balanced energy mix using both traditional fuel sources and renewable energy sources," said Melody Birmingham-Byrd, president of Duke Energy Indiana. "We are pleased to partner with the Navy on a project that will deliver clean energy to Indiana customers, and improved energy security for the Navy."
"The solar project at Naval Support Activity Crane will serve as a catalyst for future energy infrastructure projects for the Navy, as well as bringing greater energy management to our state, spurring innovation and growth," added Crouch.