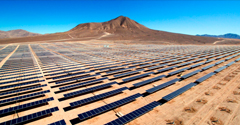 EDF Energies Nouvelles, a subsidiary of EDF Group, has completed a 146MW solar plant and started constructing another 115MW plant in Chile.
EDF shares ownership of the Boléro solar plant located in the Atacama Desert in Northern Chile with Japanese partner Marubeni. The plant is capable of supplying the equivalent of 191,000 Chilean households with electricity every year, using 475,000 PV modules fitted to trackers. The project covers more than 500 hectares.
Another subsidiary EDF EN Chile will be in charge of O&M services.
In October, the EDF Group also started construction of a 115MW solar project to the north of the Chilean capital Santiago. The project will be will be jointly owned by EDF Energies Nouvelles and local developer Andes Mining Energy (AME).
A portion of the power generated will be covered by a 15-year PPA signed with around 20 distributors while the rest will be sold on the market.
Jean-Bernard Lévy, CEO of the EDF Group said: "I am delighted by the level of trust placed in the EDF Group by the Chilean authorities and by all our partners who have worked with us to implement or develop our renewable energy projects. Through its CAP 2030 strategy, the EDF Group is determined to grow its business globally, particularly in countries like Chile with substantial energy needs, abundant natural resources and attractively high levels of economic potential."