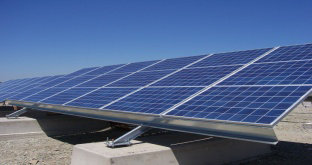 EDF Renewable Energy has signed a 20-year PPA with MCE for its 186MW Desert Harvest Solar Project in Southern California.
The project in Riverside County is expected to start delivering electricity to MCE in 2020. It is located on roughly 1,200 acres of land managed by the US Bureau of Land Management (BLM) in the largest Solar Energy Zone (SEZ) in the US. It will use horizontal single-axis trackers.
Ryan Pfaff, executive vice president of development at EDF Renewable Energy, said: "Desert Harvest represents our second collaboration with MCE, and we look forward to working with them to make the Project a success, providing a boost to the Riverside County economy in parallel through the creation of new jobs and property tax base."
Vulcan Solar approved
In related news, EDF EN Canada, a subsidiary of EDF Energies Nouvelles Group, has had its 77.5MW(ac) Vulcan Solar Project in Western Canada approved by the Alberta Utilities Commission (AUC).
The project located in Vulcan County near the Village of Carmangay will be the largest development of a utility-scale solar project in Alberta and Western Canada. It will include 300,000 ground-mounted solar PV panels.
It is also located within the footprint of the Blackspring Ridge Wind Project, a 300MW facility, and will be the first utility-scale hybrid renewables project in Canada.
Power will be sold into the Alberta Power Pool, energizing more than 12,000 homes and businesses across Alberta, while employing more than 270 workers during the peak of construction. Vulcan Solar can be ready for construction in Spring 2017.
EDF EN Canada vice president of development Cory Basil said: "The Alberta government has created a positive investment climate for new renewables and Vulcan Solar solidifies our commitment to investing in Alberta by working collaboratively with the communities where we do business. We look forward to constructing Vulcan Solar as soon as possible and believe it will deliver Albertans clean, renewable, low-cost energy for many years to come."