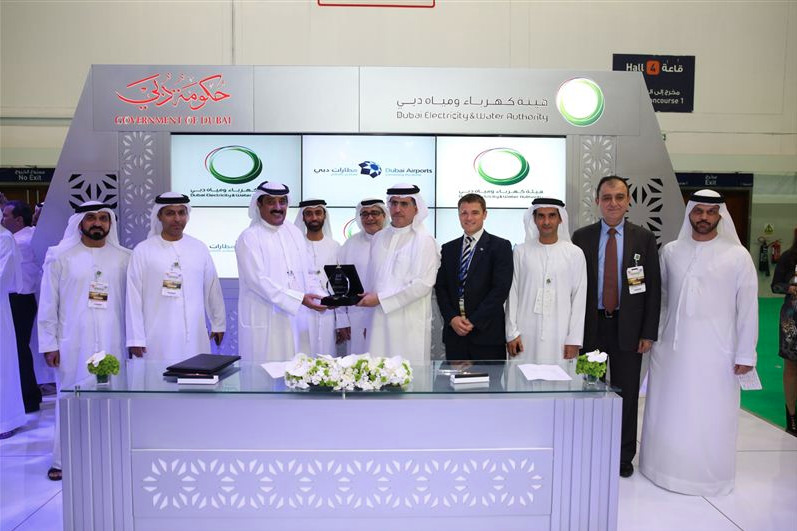 Etihad Energy Services Company (Etihad ESCO) has agreed to retrofit Dubai International Airport (DXB) with solar PV solutions.
Under the agreement with Dubai Airports, Etihad ESCO, which is owned by the utility Dubai Electricity and Water Authority (DEWA), will work on Terminals 1, 2 and 3 of DXB as well as the Dubai International Airport Hotel at Concourse B.
Etihad ESCO will offer best practice in saving electricity and water, as well as providing PV solutions. This is expected to help the airport save up to 20% in energy consumption each year.
HE Saeed Mohammed Al Tayer, vice chairman of Dubai Supreme Council of Energy and managing director and CEO of DEWA, said: "The agreement supports the Dubai Side Management Strategy 2030 to reduce electricity and water demand by 30% by 2030. These are being done with programmes such as green-building regulations, retrofitting of existing buildings, district cooling, wastewater reuse, laws and standards to raise efficiency, energy-efficient street-lighting, and the Shams Dubai initiative to enable building owners to install photovoltaic panels on rooftops to generate electricity from solar power. We are pleased to cooperate with Dubai Airports in this strategic project, in line with our objective to reduce carbon emissions."
Etihad ESCO is currently retrofitting over 30,000 buildings in the Emirate in the first phase of an energy management and efficiency project.
Dubai Airports has already installed PV panels at Dubai International and Dubai World Central.
DEWA recently launched a new investment company based in Silicon Valley, California, which will have R&D and innovation in sustainability and renewable energy among its energy technology focuses.
Ministry's solar carports
In related news, the Ministry of Climate Change and Environment and DEWA have signed a memorandum of understanding (MoU) to install solar carports at the Ministry's building in Dubai.
"This supports the UAE Vision 2021 to create a sustainable environment in terms of air quality, reducing the carbon footprint, and increasing reliance on clean energy," said Al Tayer.