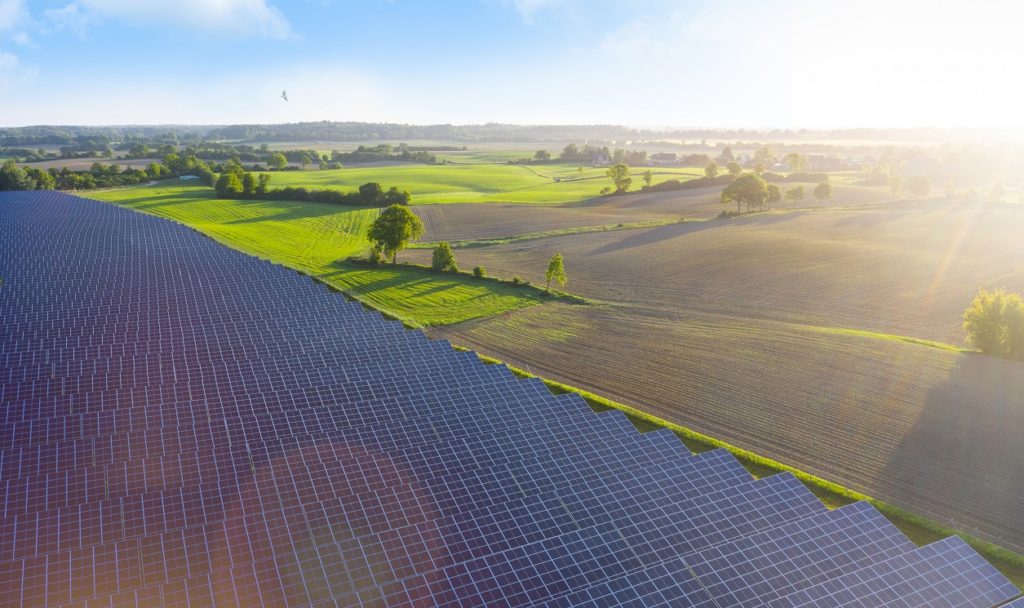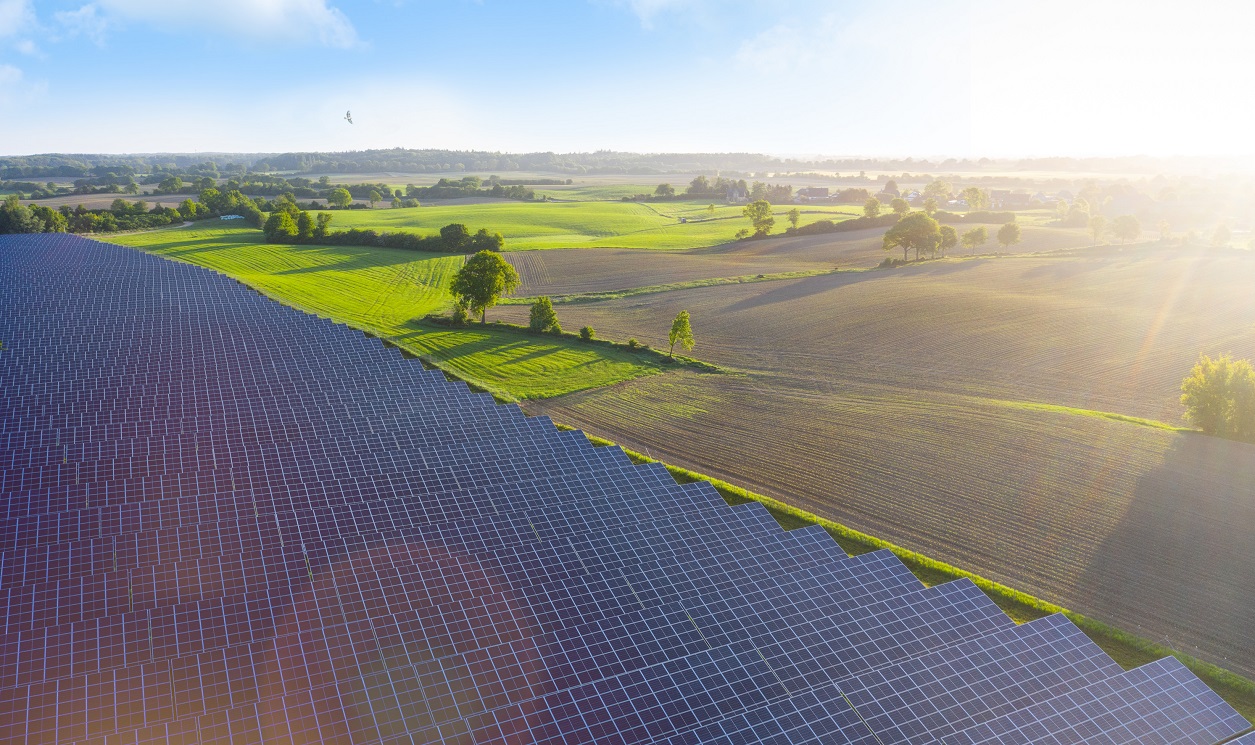 Solar electricity generation in the EU grew significantly last year thanks to a rise in adoption in major countries, according to a study conducted by energy think tank Ember.
The European Electricity Review revealed that solar electricity generation in the EU grew by 24% to 203TWh, up from 164TWh in 2021. The increase brought solar's share in the electricity mix to 7.3%, a 1.6 percentage point increase from the previous year (5.7%).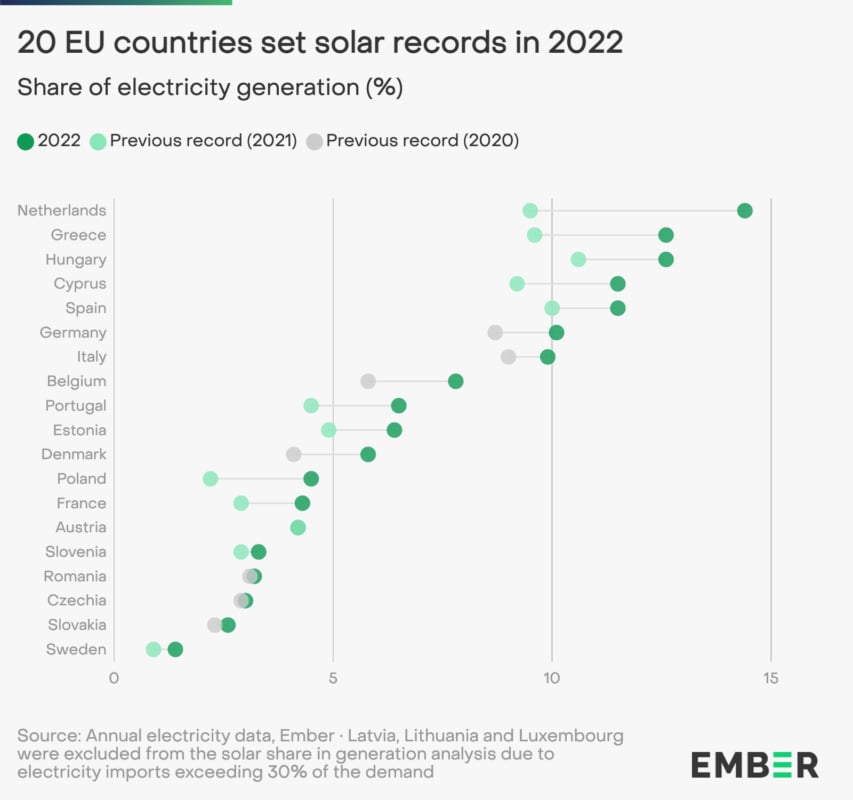 Germany was the biggest generator at 59TWh (10% of its electricity mix), increasing by 9.6TWh or 20% year-on-year. There was also a substantial increase in Spain (+5.7TWh, +21%), the Netherlands (5.8 TWh, +51%), France (4.3 TWh, +27%) and Poland (4.1 TWh, +104%).
Germany produced nearly twice as much as Spain, the EU country with the second biggest solar generation (33TWh, 12% of its electricity mix).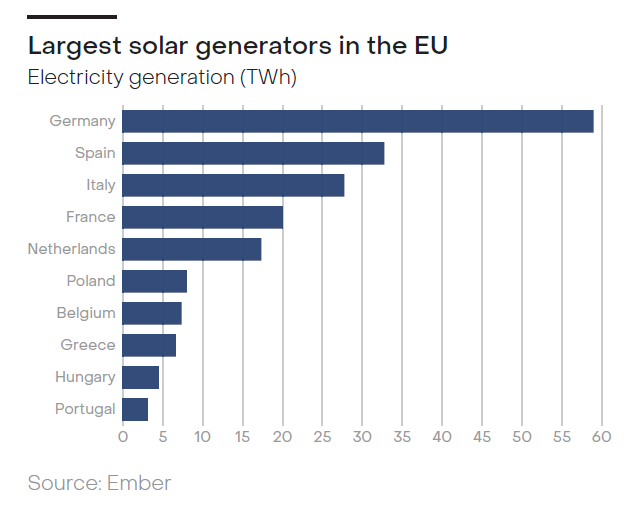 The report also examined the largest increase in solar generation across different countries. Lithuania topped the list as its solar generation increased by more than 120% year-on-year in 2022, followed by Poland (+100%) and Sweden (+50%).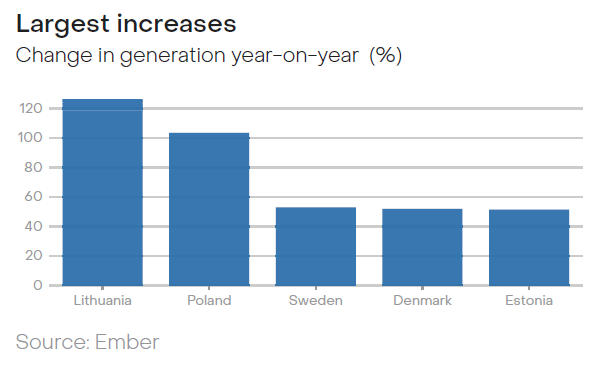 "Solar is stepping up right when Europe needs it most. These new numbers show that rapid solar growth is truly the foundation of the energy transition. In 2023, with the right support, solar will break more records, reduce fossil energy demand further and take us one year closer to a 100% renewable Europe," said Walburga Hemetsberger, CEO of trade body SolarPower Europe.
Solar power generation rose in the overall EU electricity mix from 0% (0.1TWh) in 2000 to 7.3% (203TWh) in 2022.
In the early 2010s, solar deployment in Germany and Italy grew significantly, but both declined to nearly zero in 2016. However, solar has been growing at an average annual rate of 11% since the Paris Agreement in 2015.
After the Paris Agreement, the Netherlands and Hungary increased solar generation into their electricity mix quickly. The share of solar in the Netherlands has increased from only 1% (1.1TWh) to 14% (17TWh) since 2015. In Hungary, the share of solar generation increased from 0.5% (0.1TWh) to 13% (4.5TWh) in the same period.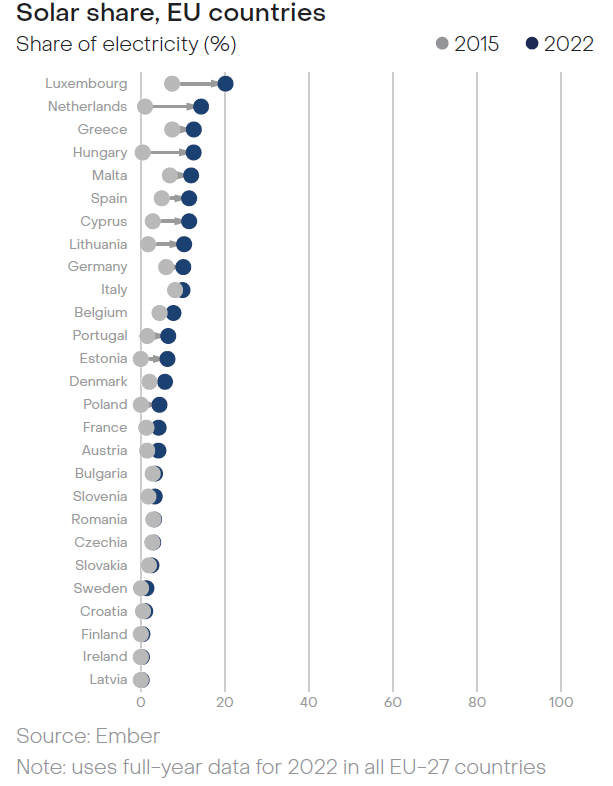 The EU has increased its installed solar capacity from 103GW in 2018 to 209GW in 2022. Installed solar capacity could grow by 54GW in 2023 (medium scenario) and up to 68GW (high scenario). By 2026, annual capacity additions are anticipated to reach 85GW (medium scenario) and 120GW (high scenario).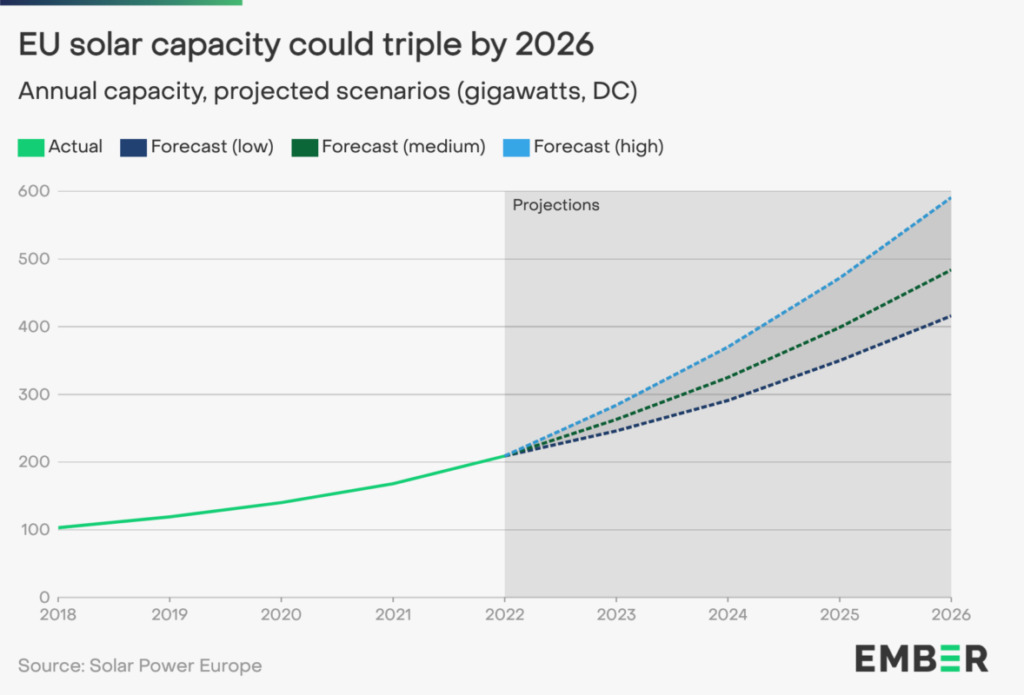 The report also highlighted the significance of the growing solar and wind sectors as both generated a record 22% of electricity in Europe in the year, overtaking fossil gas (20%) for the first time.
Coal power share increased by 1.5 percentage points to generate 16% of EU electricity in 2022, with year-on-year falls in the last four months of 2022.
"The shocks of 2022 only caused a minor ripple in coal power and a huge wave of support for renewables. Any fears of a coal rebound are now dead," said Ember's head of data insights Dave Jones.
The report added that Europe faced some crises in the electricity sector last year. For example, the report said that Europe "scrambled to cut ties with its biggest supplier of fossil gas", and faced the lowest levels of hydro and nuclear in at least two decades, which created a deficit equal to 7% of Europe's total electricity demand in 2022.
But record growth in wind and solar, as well as lower electricity demand, helped cushion the hydro and nuclear deficit. Electricity demand dropped by 7.9% in the last quarter of 2022 compared to the same period the previous year thanks to mild weather, affordability pressures, energy efficiency improvements and citizens being in solidarity to cut energy demand.