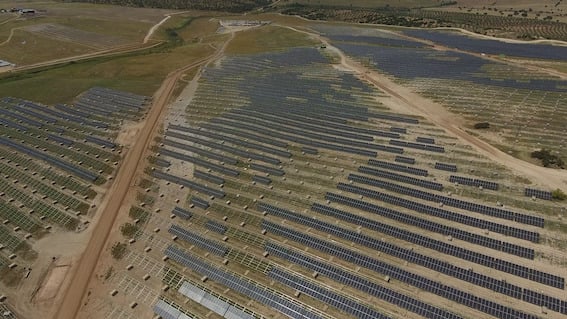 Europe's biggest PV solar plant is one step closer to fruition after the European Union's investment arm and Spain's state-owned bank the Insituto de Crédito Oficial have agreed to bankroll it with a €285 million (US$319 million) loan.
Spanish utility Iberdrola began construction on the Núñez de Balboa plant in the Extremadura region of western Spain in March. The 1,000-hectare mega-facility will have a capacity of 500MW and supply energy to 250,000 people. It is the largest solar park under construction in Europe.
The green finance agreement was signed in Madrid by European Investment Bank vice-president Emma Navorro, ICO president José Carlos García de Quevedo and Iberdrola chairman Ignacio Galán. The EU has committed to lending €145 million (US$163 million) and the ICO up to €140 million (US$156 million).
More than 1000 people will work on the Núñez de Balboa project during its construction, which is slated to finish in 2020.
The Núnez de Balboa mega-facility is the cornerstone of Iberdrola's pledge to commission 10GW of renewables in Spain by 2030 – tripling its current capacity. The 328MW Ceclavín and 150MW Arenales plants will also contribute to the utility hitting its milestone.
The European Investment Bank is the largest multilateral provider of climate action worldwide. It has committed to spending 25% of its investments in on climate change mitigation and adaption. In 2018, it exceeded that target.