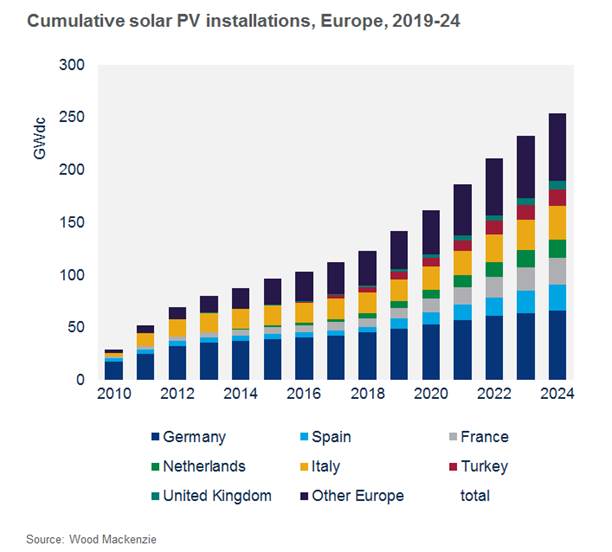 The same cost declines facilitating the meteoric growth of European PV could dent profitability as developers grapple with a subsidy-free reality, according to Wood Mackenzie.
The firm released stats today showing the pace of PV installations will double across Europe (Turkey included) over the next three years, eventually reaching 20GW per year.
The analysis found that soaring additions could see installed PV capacity hit the 250GW threshold Europe-wide by 2024, up from less than 150GW today.
The momentum will find Europe at a time of transition from feed-in tariff (FiT) schemes to auctions, with Wood Mackenzie recording 24GW awarded through tenders last year alone.
Tom Heggarty, senior analyst at the firm, was quoted in a statement discussing the same challenge – the impacts of a subsidy-free reality – that dominated talks at this year's Intersolar and Solar Media events.
Investors, Heggarty said, are increasingly exposed to wholesale power prices as they turn to corporate PPAs and merchant plays. Cannibalisation, he added, will become a "growing issue".
"In developed European power markets, we already see that power prices can fall below €30/MWh and rapidly towards zero as renewable energy penetration rises about 50%," Heggarty remarked.
"Most low-priced hours are overnight but midday price erosion is a near certainty as solar's market share grows," the senior analyst pointed out.
Wood Mackenzie expects Germany to remain the uncontested leader of European PV, installing 20GW between 2019 and 2024 to hit a cumulative 65GW-plus by the latter year.
At 19GW added over the next five years, Spain will be the second fastest installer and almost catch up with Italy and France in cumulative terms, with all three countries sitting in the 25-31GW region.
The cannibalisation warnings emerge as solar hits price milestones at auctions in Germany (€54.7/MWh), France (€62.7/MWh) and other major markets.
Germany and the Netherlands are among those slower in embracing subsidy-free PV, with Berlin currently legally forced to freeze government support when its industry reaches 52GW.