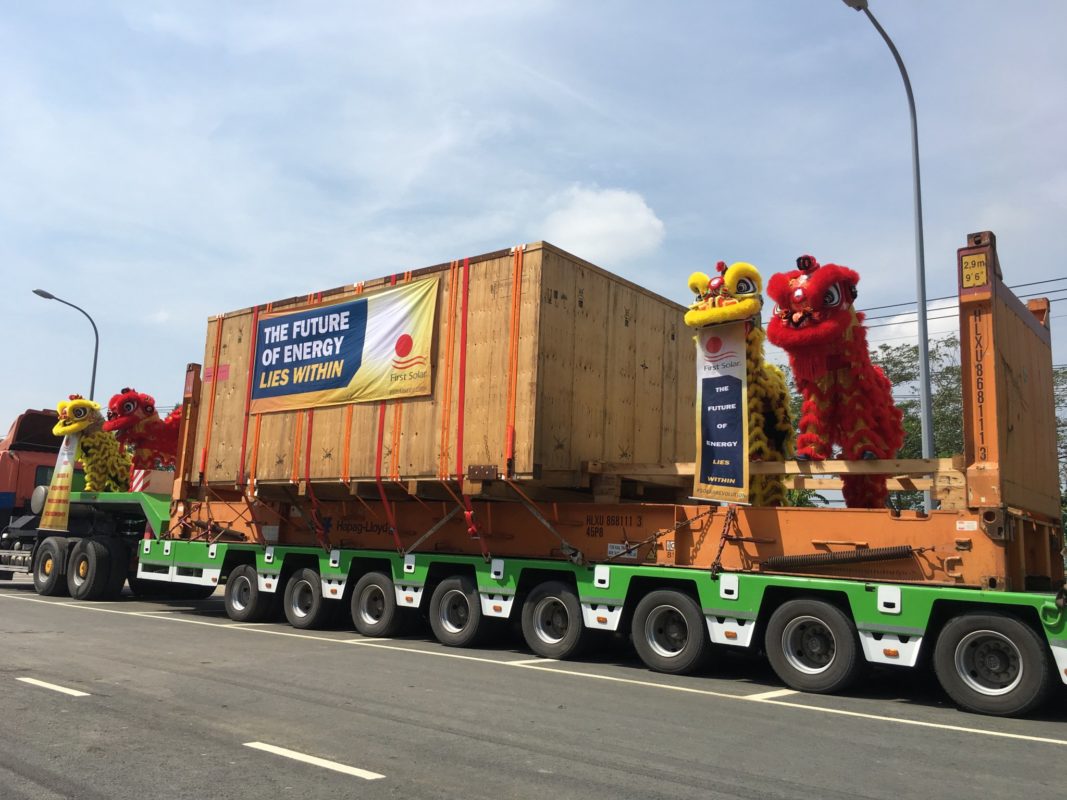 Leading CdTe thin-film module manufacturer First Solar has started production of its large-area Series 6 modules at its first manufacturing plant in Malaysia and said it was nearing the start of production at a third facility as new orders in the second quarter almost reached 900MW.
First Solar had already started production of the Series 6 modules at its lead fab in Ohio, US late last year and the first production plant in Malaysia was said to have just started production late in the second quarter of 2018.
The 600MW Ohio fab was said to be at around 60% nameplate capacity and the Malaysia S6 Factory 1 at over 40% nameplate capacity, which is 1,200MW. However, this slightly below expectations, due to backend line bottlenecks, partially due to tool availability but also process yield related issues.
The third Series 6 manufacturing plant, its first in Vietnam (Vietnam S6 Factory 1) was said to be fully-staffed and undergoing factory acceptance with the first modules through the production lines expected late in the third quarter of 2018. The planned nameplate capacity of the Vietnam S6 Factory 1 is 1,200MW.
The construction of Vietnam S6 Factory 2 (1,200MW) nameplate capacity was noted to be on schedule and initial tools had arrived onsite. Vietnam S6 Factory 2 is still expected to start production in late 2019.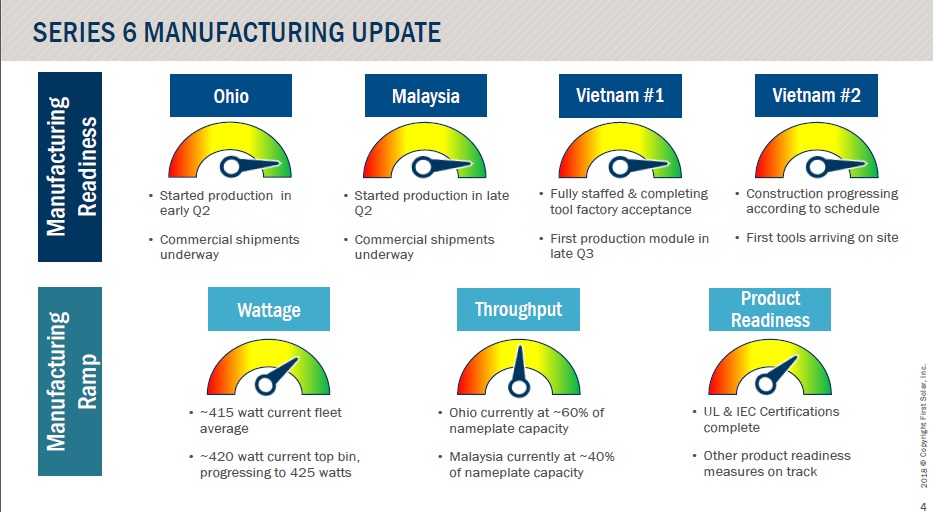 "We have taken another important step forward in our Series 6 transition with the first commercial shipments from our Malaysia factory," said Mark Widmar, CEO of First Solar. "With two factories now producing Series 6 modules and a third factory on the cusp of starting production we have made significant progress during the past quarter. Customer demand for our Series 6 product continues to be solid with nearly 900 megawatts of new contracts signed since our last earnings update. With year-to-date bookings of 4.1GWDC and total contracted volume of 10.9GWDC that extends to the end of 2020, we continue to have good visibility to future demand."
Coverage of First Solar's financial results for the second quarter of 2018 can be seen here.