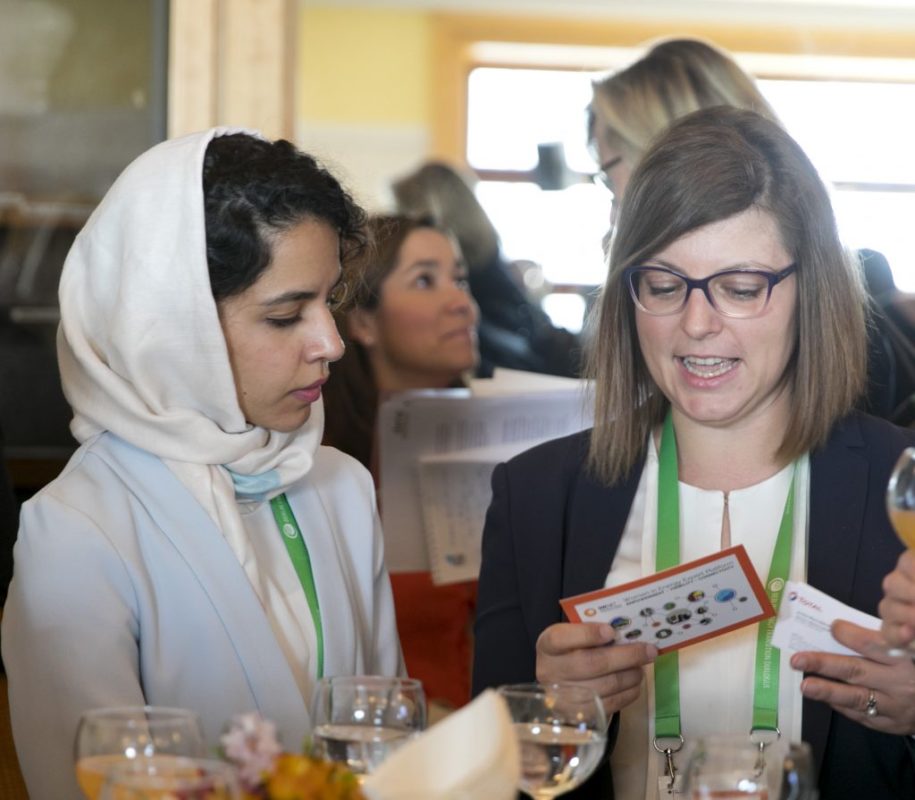 According to a 2019 IRENA report, less than a third of renewables sector jobs were filled by women, a figure which falls further in certain geographies and positions. Molly Lempriere profiles some of the industry initiatives to drive fair representation forward.
---
Despite recent efforts, gender diversity within the renewables sector remains an issue. According to a 2019 report from the International Renewable Energy Agency (IRENA), less than a third (32%) of positions in the sector were filled by women.
Within this, there are further discrepancies. For example in science, technology, engineering and mathematics (STEM) related positions, the share of women sits at just 28%, while they make up 45% of administrative positions.
To tackle gender inequality in the solar sector, a number of key initiatives have been launched in recent years, ranging from in school projects and collaborations, internships, networking organisations, mentorship programs and more.
Two initiatives launched by some of the biggest trade bodies look to recognise the achievements of solar companies to date, and in doing so share stories of success and best practice.
SEIA's Diversity Equity Inclusion and Justice Certification Program
Launched in October 2021, the Solar Energy Industries Association's (SEIA) Diversity Equity Inclusion and Justice (DEIJ) Certification Program is an online initiative designed to provide training and support to companies looking to improve their diversity.
The program uses an evidence-based approach that allows companies to analyse their current DEIJ practices, and then identify solutions to improve. In particular, the DEIJ Certification Program – which was designed by Diversity Certified Professionals and beta tested by dozens of companies – is accessible to solar companies regardless of their size or geographical footprint.
The certification program builds on SEIA's Diversity Best Practices Guide, released in 2019, which highlighted a number of key barriers for women and other minority groups looking to enter the solar workforce, including that often recruitment in the sector relies on professional and personal networks.
It includes a number of key suggestions for companies to increase their diversity, including expanding their hiring pool, reaching out to local colleges to develop partnerships, as well as establishing scholarships, paid internships, and training and apprenticeship programmes.
The DEIJ Certification Program is designed to go beyond the guide, providing resources to help companies enact best practice. This is particularly key as 95% of the solar industry is comprised of small businesses according to Jen Bristol, senior director of communications at SEIA, saying: "Many small businesses want to take action but often don't know where to start."
"Through the diversity certification program, companies now have a clear path to make tangible improvements to their business practices. So far, more than two dozen companies are enrolled in the program, and many more are expected to start the program in 2022," she said.
Companies that complete the DEIJ modules can achieve bronze, silver, gold and platinum certification, helping to highlight their steps to create greater diversity including within gender, and boost the share of women in the US solar sector beyond 26%, where it currently sits.
"In time we hope that the certification will be a must-have validation of a company's commitment to DEIJ and that customers and supply chain partners will look for the certification as evidence that their partners are taking responsible steps toward creating a more diverse and equitable industry, which in the long term will lead to industry growth," Bristol said.
SolarPower Europe's Solar Gender Champion Award
In Europe, another trade association is looking to highlight the efforts of companies in the solar sector to bolster their gender diversity. SolarPower Europe launched its first Solar Gender Champion Award at the 2021 SolarPower Summit.
María González-Calvo de Miguel, the global lead for marketing and communications at Sonnedix won the prize in recognition of the company's internship and mentorship programme, company-wide training on allyship and generous parental leave.
"We are proud of what we have achieved in terms of gender diversity and inclusion so far; our strategic approach, robust and comprehensive set of initiatives addressing training, recruitment and working practices, are delivering noteworthy results," said Axel Thiemann, CEO of Sonnedix.
"These are all highly replicable and we are sharing our good practice as well as continually striving to improve what we are doing. We are outperforming our sector, hopefully acting as role models for others to follow and are open to learning from and sharing our experience with others."
By taking a strategic approach that examined recruitment practices, company-wide training, internships, employee resource groups, reporting and sponsorship and mentoring, the company managed to increase the percentage of women in its workforce from 30% at the end of 2019, to 35% at the end of 2020 and 38% at the end of 2021.
Thanks to an ambitious goal of improving gender equality through recruitment, 47% of those hired by Sonnedix in 2020 were women, and in 2021 44% were.
The runners up to the Solar Gender Champion Award were Carol Weiss, the co-founder of non-profit Remote Energy, which provides training for women in the solar sector, and Signe Antvorskov Krag, head of development at IKEA Clean Energy Services – the Scandanavian furniture giant has 60% women on its clean energy services team, and a 50/50 gender balance through the entirety of IKEA.
More on gender diversity and the skills gap in solar PV will be found in the forthcoming edition of PV Tech Power, to be published early next month.