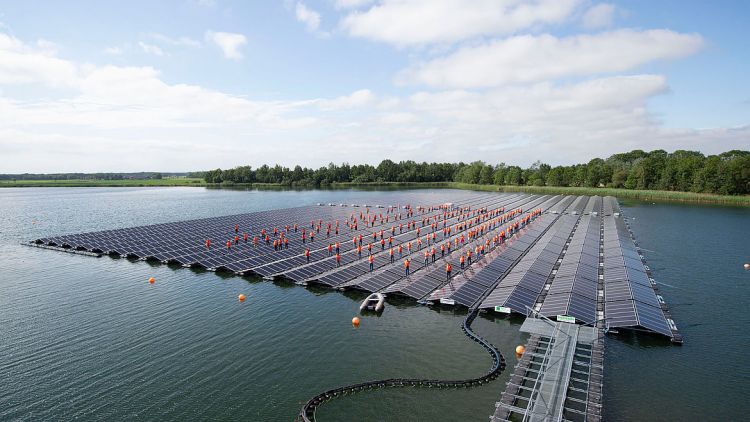 Europe's largest solar market could make huge strides towards renewable targets and de-escalate land conflicts if it acts to promote floating systems on artificial lakes, a study has said.
Germany holds a 56GWp theoretical potential for floating solar across the manmade water bodies that sit by its opencast mines, according to a review carried out by Fraunhofer ISE researchers on behalf of developer BayWa r.e.
The scientists reached the 56GWp figure after assessing 500 opencast ponds at Germany's lignite coal mines, a collective 47,251 hectares of water bodies. Once areas earmarked for conservation and tourism were set aside, the nation-wide potential still reached 2.74GWp, the review found.
Researchers identified the biggest floating PV potential in Central Germany and Lusatia, an area bordering Poland and slated to become one of Europe's key artificial lake hotspots. These opencast mining regions are, the study said, well suited to floating because they are already linked to the grid.
Fraunhofer ISE used the findings as basis to call for Germany to sponsor floating PV, offering state support that helps close the 10-15% cost gap between the segment and cheaper ground-mount plants. PV on water should be "privileged" given its land-neutral status, the institute argued.
"It would make sense to have innovation tenders especially for floating PV and other area-neutral PV power plants that still need a market boost," said Dr. Harry Wirth, Fraunhofer ISE's head of Photovoltaic Modules and Power Plants.
Dedicated tenders aside, Germany should reclassify opencast lakes as conversion areas for renewable purposes, Fraunhofer ISE said. Floating PV should become a default part of mine redevelopment plans, with mechanisms added to ensure environmental impacts are understood and citizens can get involved, the institute said.
BayWa r.e. – the firm commissioning the analysis – echoed the calls for dedicated support to floating PV, with head of Power Plant Engineering Edgar Gimbel urging Germany to create the "right framework" and simplify the approval process. The developer has become a rising force in European floating PV, having completed a 25MW duo last year and planning to follow with 100MW in 2020.
Floating PV wages charm offensive to become ally of Europe's coal heartlands
Analysis by José Rojo, senior reporter, PV Tech
As every EU state lays down plans for major solar growth, the debate is slowly shifting from the initial 'what' of capacity targets to the less headline-friendly yet crucial question of 'how' each country can actually get there in practice.
From Italy's bureaucracy with land procurement to Spain's grid bottlenecks, the concerns rising so far seem to run along a distinct line: does a crowded, highly urbanised continent have space to host the 21-26.8GW of annual PV installations industry players are now predicting?
Germany, Europe's top PV market at a cumulative 50GW-plus, is not immune to the dilemma. The same government who set a 98GW-by-2030 goal continues to apply land limits to projects. If recent auctions are anything to go by, the queue of PV players keen to find sites to deploy in is massive.
Fraunhofer ISE's review may focus on Germany but the Netherlands is, arguably, the better cautionary tale around what happens when majorly ambitious PV targets meet a reality of land and grid congestion.
As reported by PV Tech, Dutch PV players have in the past year grappled with a contradiction. A bonanza of state subsidies tells them to rush to project deployment, at which point they face connection refusals from grid operators and MP threats to freeze ground-mounted permits.
The clampdown on land creates a clear opening for water-dwelling PV and the industry appears ready to seize it. Announcing last year the completion of its 25MW Dutch floating PV duo, BayWa r.e. drew an explicit link as it billed the segment as a "promising" solution to land conflicts.
There is also the jobs dimension to be considered, a key element for EU policymakers keen to ensure the energy transition is as fair as it is green. Fraunhofer ISE's talk of PV potential at lignite mines sees it join a school of thought that pitches solar as the lifeline for Europe's left-behind heartlands.
Whether Germany will heed the industry lobbying and act to sponsor floating remains to be seen. As a recent PV Tech Power feature found, the worldwide segment is attempting to use standardisation to drive down costs, amid a struggle to compete in the auctions that are fast replacing feed-in tariffs.
The prospects and challenges of solar's new era in Europe and beyond will take centre stage atand Large Scale Solar Europe 2020 (Lisbon, on 31 March-1 April 2020).