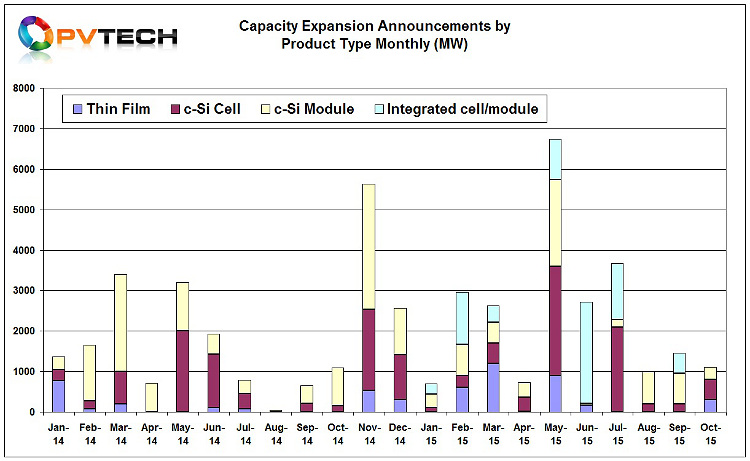 According to PV Tech's preliminary analysis of global PV manufacturing expansion plans for the month of October 2015, new announcements reached 1.1GW in relation to thin film, c-Si solar cell and module assembly.
Although overall expansion plans were in line with expected rates, as a lull seen in August 2014 through to October 2014 played out in the same months of 2014, figures in the current year were at slightly higher intensities, though October 2014 and October 2015 produced identical figures of 1.1GW.
However, the product mix was very different. In October 2014, c-Si module assembly expansions dominated (950MW), while 150MW was provided by dedicated solar cell expansions. In October 2015, thin film contributed 300MW, dedicated solar cell expansions totalled 500MW and 310MW was attributed to c-Si module assembly. No integrated solar cell/module assembly expansions were announced in October, 2015.
The relatively low capacity expansion announcements reflected once again in the low level of companies – six – that declared plans.
Yet, some of the plans demonstrate bigger ambitions over the next few years.
The CIGS thin-film plans of Avancis are worth noting as although the initial first phase capacity expansion is 300MW at a new facility in China, ambitions were announced for subsequent build-out at a single facility that totals 1.5GW of capacity.
The other big ambition relates to 1366 Technologies' initial 250MW 'Direct Wafer' production plant in the US, with future ambitions to expand capacity to 3GW in coming years.
Staying with upstream manufacturing, Elkem Solar announced plans to restart multicrystalline ingot production at the former REC plant in Herøya, Norway. Although planned production levels were not disclosed the plant had a capacity of 650MW and several hundred employees. Elkem Solar is initially expecting to create around 70 to 80 jobs, indicating initial production would be low.
There has been little new multicrystalline wafer capacity expansions announced for more than two years, except an additional meaningful 1GW of capacity at GCL-Poly taking nameplate capacity to 14GW. Overcapacity and weak ASPs have limited expansions in this upstream sector and it is not currently included in PV Tech's accumulation of capacity expansion data.
The big surprise
In mid-October China Sunergy (CSUN) announced it had officially started the volume production ramp at a new 200MW solar cell plant in Incheon, South Korea, having had trial production successfully undertaken in May.
The NASDAQ-listed PV manufacturer had not previously disclosed any specific plans for production in South Korea. The cash-strapped company is believed to have transferred tools from its facilities in China and said it was considering expanding production to 500MW with additional production lines once the facility has reached around 50% utilisation rates and against the backdrop of restructuring its manufacturing footprint to circumvent US and EU anti-dumping duties.
Technically, CSUN's announcement would not be classified as a capacity expansion announcement but simply a relocation of nameplate capacity. However, CSUN has experienced low utilisation rates in recent years and the shift of tools to South Korea would bring idled capacity back into being 'effective' capacity.
Global update
Based on updated information and analysis, the first nine months of 2015 has seen more than 22.7GW of new capacity expansion announcements.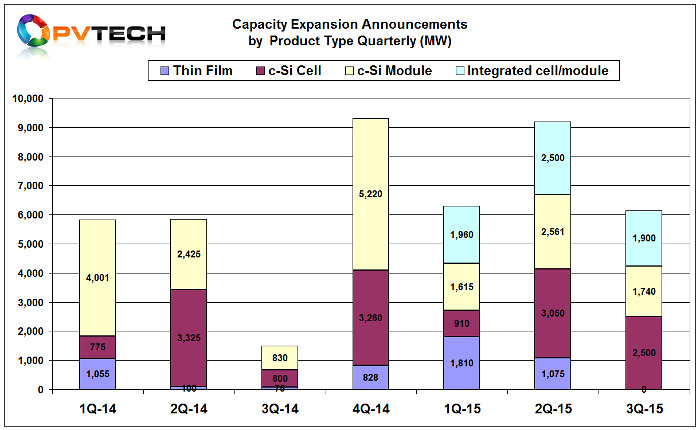 The major seismic shift of capacity plans outside China primarily to other countries in Southeast Asia has continued through October. India, South Korea, Malaysia and Thailand have been the destinations of choice, though the US has also been an attractive destination for the last two years but at lower intensity levels.
At the end of October 2015 a cumulative total of 23.8GW of new capacity expansions had been announced that incorporates thin film (3.1GW), c-Si solar cell (6.9GW), module assembly (6.2GW) and (6.3GW) of integrated cell/module expansions planned.
The figures also underline the growing focus on both dedicated c-Si solar cell and integrated c-Si solar cell and module capacity expansions in 2015, compared with 2014 when emphasis was focused on module assembly expansions.
Expectations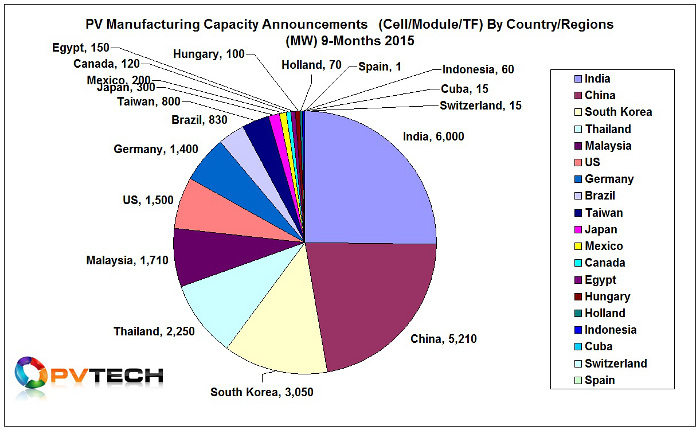 Last year, the month of November generated almost 5GW of new capacity expansion announcements as publicly listed major PV manufacturers reported fiscal third quarter results and the largest single month of expansions in 2014.
SunPower has already said that it will announce its next major new production facility plans during an analyst event next week, which could provide over 800MW of new capacity.
There is a strong expectation that several of the six 'Silicon Module Super League' (SMSL) members due to announce third quarter results this month (Trina Solar, JA Solar, JinkoSolar, Canadian Solar, Hanwha Q CELLS and Yingli Green), with a backdrop of full capacity utilisation rates and module shipment guidance ahead of in-house nameplate capacity, will also make major new capacity expansion plans.
It will be interesting to see whether major expansions will be announced for facilities in China or whether a further phase of expansions will focus on further expansions in South East Asia.
The top solar cell producers inlcuding the six SMSL members are all presenting at the PVCellTech conference in Malaysia in March, 2016. Further details here.