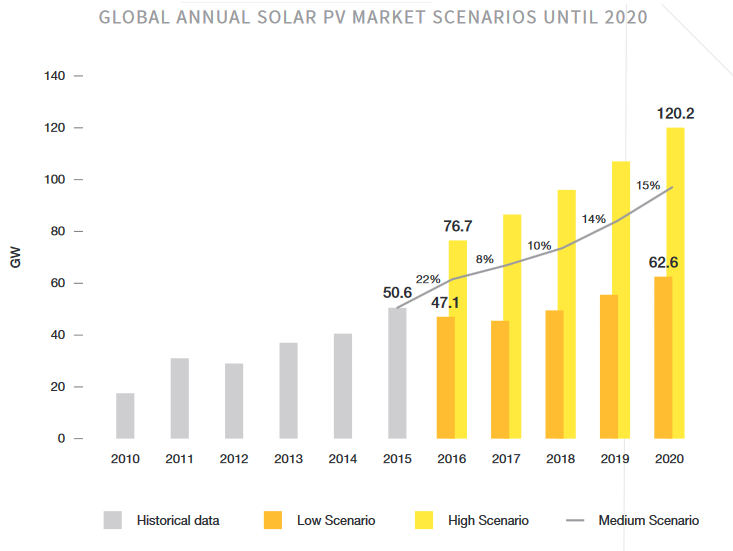 Solar PV installations are expected to surpass 60GW worldwide in 2016, up from the 50.6GW deployed last year, according to the latest figures from SolarPower Europe.
The 'Global Market Outlook for Solar Power 2016-2020' report saw significant increases in forecasts for all solar segments, residential, commercial and utility-scale, compared to last year's forecasts.
SolarPower Europe now expects roughly 516GW of grid-connected solar power by the end of 2019, instead of 450GW from last year's predictions. Ultimately, in the best case scenario, even a total of 716GW is possible by 2020.
Asia is the stand out driver, with just two markets, China and Japan, accounting for more than half of all installations last year, driven by feed-in tariffs and utility-scale power plants. Such dominance by Asia is expected to continue over the next five years, especially with India entering the top five markets for the first time this year.
The report stated: "Whichever path the development of solar will take in the next five years between the two boundaries of the low and high scenarios, there is little doubt that Asia's market dominance will prevail. While its market share exceeding 60% today – will slightly decrease as the Americas and Middle East/Africa gain traction – in any case Asia should absorb over half of the new PV installations in 2020."
China, particularly continues to push the market, having installed 7GW just in the first quarter this year, and having overtaken Germany as the country with the largest PV deployment capacity. In April China had more than 50GW installed cumulatively.
The third biggest market, the US, actually grew below average global growth rates, increasing 18% up to 7.3GW from 6.2GW in 2014.
Europe had a strong year in 2015 growing 15% year-on-year with 8.2GW of newly grid-connected PV, its first upward trend since 2011. However the report noted that after this 2015 European uptick, It is highly probable that demand on the Continent is slowing again in 2016.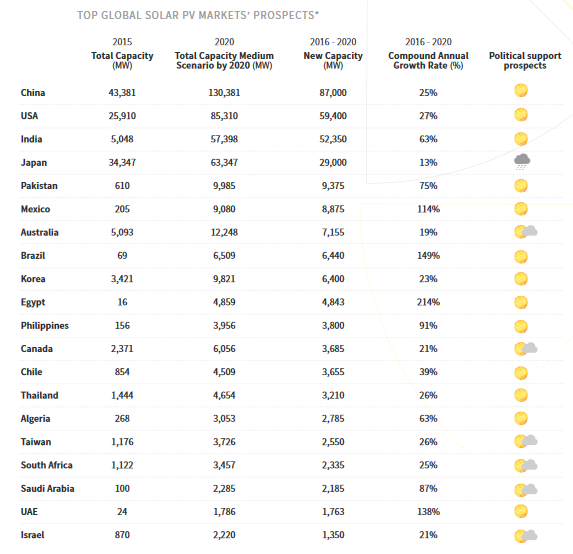 Tariffs
After a year of record-breaking low solar tariffs in specific regions, the report stated: "2016 will be remembered in the renewable energy history books as the year solar became cheaper than onshore wind power."
Even though solar is now cheaper than retail electricity in many countries, with many heads turned by the US$0.029/kWh tariffs touted in a recent Dubai solar tender, SolarPower Europe stressed that simple cost comparisons are inadequate given the variable nature of renewable power output in electricity markets that were designed for centralized, dispatchable power generation.
It added: "A stable regulatory environment taking into account the needs of renewable energy remains key to tap the gigantic potential of solar power."
Manufacturers
The report said that the cost of solar modules is coming down faster than most experts have anticipated and this trend is continuing.
A key trend of 2015 was the movement of major PV cell and module manufacturers into Asian countries besides China, such as Malaysia, Vietnam, Thailand – with India expected to profit from the next wave of investments.
Similarly, Western processing material manufacturers are increasingly moving to, or are expanding in Asia to get closer to their customers.
Other highlighted trends included the increasing number of utilities coming on board to the green energy market and foraying into solar, meanwhile large companies such as IKEA and Unilever are boosting the commercial segment. Meanwhile, community solar which has been largely conceptual until now may start to take off in the coming years.