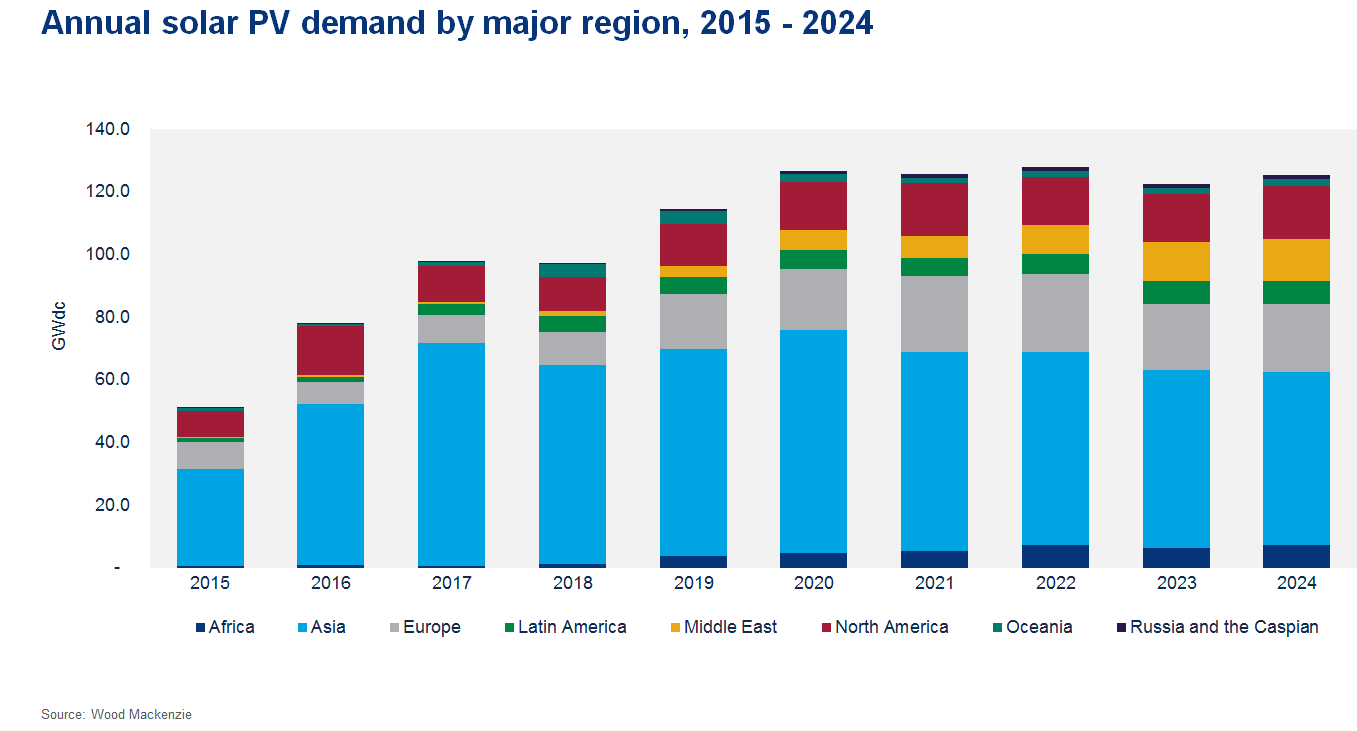 The solar industry is to notch up another year of stellar installations by rolling out the largest annual volumes seen in history, Wood Mackenzie Power & Renewables has predicted.
According to the consultancy's latest update, worldwide PV additions will hit record levels of 114.5GW in 2019, a 17.5% hike on the 97.4GW recorded throughout 2018.
The continued global momentum will come despite expectations of a gradual installation slump in China, Wood Mackenzie senior research analyst Tom Heggarty said in a statement.
According to him, the move from feed-in tariffs to more competitive PV procurement will see the Asian state add a "more sustainable" 30-40GW per year, down from its 53GW peak in 2017.
PV set to break its own records in 2020
Wood Mackenzie expects global solar to again smash its own roll-out records in 2020, installing 126.7GW. Worldwide additions will flatline around that figure between that year and 2024, however.
Asian solar PV, the firm found, will hit a 71.1GW addition peak in 2020 but then decline to 55-63GW values in the following four years.
Europe, meanwhile, will boom to install around 24GW in 2021 and 2022 to then drop to 21GW-plus in 2023 and 2024. North America will record values in the 15-17GW region throughout the period.
For their part, Africa, Latin America and the Middle East will record relatively uninterrupted growth between 2019 and 2024, hitting respective sizes of 7.3GW, 7.3GW and 13.5GW in the latter year.
The new faces at the top of global PV
The future global solar ecosystem anticipated by Wood Mackenzie's statistics won't just be larger, also more diverse.
The list of top markets – understood as those installing 1-5GW a year – will significantly grow from its few members of 2018: Germany, South Korea, Turkey, Netherlands, Mexico, Brazil and Australia.
By 2024, the seven will be joined by 12 new solar "growth engines", including Spain, Italy, Japan, France, Saudi Arabia, Taiwan, United Arab Emirates, Egypt, Iran, Ukraine, Pakistan and South Africa.
Wood Mackenzie's singled out some of its current country highlights. Brazil's price-smashing auctions come at a time of demand from large consumers, while Saudi Arabia's upcoming 1.5GW tender will be "extremely competitive", the firm said.