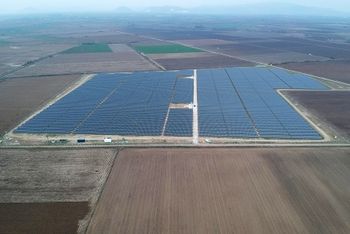 Interest in Greece's upcoming solar tender this summer has not met the government's expectations, new figures suggest.
New data from energy authority RAE shows 200.26MW worth of bids across 68 projects has been put forward for a PV-only auction in July, open to projects of 20MW and less.
The bidding volumes, recorded after the deadline closed on 31 May, fall shy of the 300MW total offered up by Greece as the tender opened for participation in mid-May.
At 261.75MW across 12 bidding projects, wind players too have fallen short of the 300MW limit set by RAE for a separate, simultaneous technology-specific auction in July.
PV Tech understands that RAE is currently working to evaluate the solar bids, which start at a ceiling price of €0.06926/kWh (roughly US$0.078/kWh).
The undersubscription contrasts with Greece's first ever technology-neutral auction in April, which targeted instead PV projects above the 20MW mark.
The tender, offering 600MW to solar and wind, triggered bids of 637.78 MW across both technologies. Of that total, RAE opted to award a final 437.78MW at record-low prices of €0.053-€0.06472/kWh (US$0.059-US$0.072/kWh), with PV reaping six of the seven auction wins.
Home in recent years to a 2.5-2.6GW PV industry, Greece is working to push the figure up to 6.9GW by 2030, making it the top renewable energy source.
PV-only auctions kicked off in the Hellenic Republic last July, handing out contracts in the months since to projects below and above the 20MW mark through separate tenders.