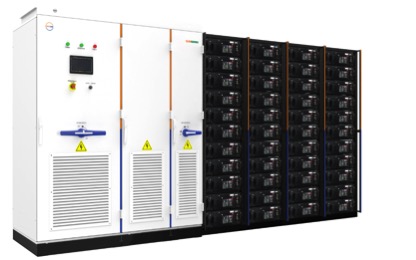 PV inverter manufacturer Sungrow and energy storage system integrator / software specialist Greensmith are working on the first community solar-plus-storage project to be delivered in the US state of Massachusetts.
Energy-Storage.News reported in January that the 1MW rooftop solar and 1MW / 2MWh energy storage system, under construction by Florida-headquartered Origis Energy, had secured a long-term PPA (power purchase agreement) with utility Sterling Municipal Light Department (SMLD).
At the time, SMLD representative Matt Stelmach had said that his utility was rapidly approaching a self-imposed cap on commercial solar capacity but that "the introduction of a grid-scale battery system greatly reduces any concerns along those lines", also helping to lock-in savings for ratepayers based on hedging against rises in electricity costs.
While the first standalone grid-scale energy storage system in Massachusetts was delivered and commissioned by NEC Energy Solutions in 2016 – also for SMLD – the Origis Energy project will be the first operational solar-plus-storage project and also the first to be developed on a community basis. Origis will own the project and create a subscription programme for customers to participate. Another grid-scale project in Massachusetts, was described by a local mayor as having the potential to "stabilise" customer electricity rates for 20 years.
Greensmith Energy, owned by European energy company Wärtsilä since July 2017 in a deal worth US$170 million and started up almost 10 years ago by two executives with a background in cloud computing, is delivering the system. It will use LG Chem batteries and Sungrow inverters, while Greensmith will provide its proprietary control software platform, GEMS, with the company also responsible for operation and maintenance (O&M) services under a 10-year agreement. CEO John Jung said the Origis project could "serve as a technological benchmark for the region".
Sungrow, the China-headquartered inverter maker which has a partnership with Samsung SDI for energy storage projects and was recently awarded a 30MWh project in northern Japan, welcomed the opportunity to work on the project.
"Sungrow is glad to be part of this Origis solar-plus-storage project in Massachusetts to push energy storage to the next frontier. With the advanced technology and expertise of Greensmith Energy and Origis Energy, this system will certainly help to provide reliable solar power and cost savings for this town," Sungrow-Samsung SDI joint venture (JV) general manager Mizhi Zhang said.
As a state, Massachusetts introduced an "aspirational" 200MWh energy storage procurement target for utilities last year, while the state is also providing US$20 million funding towards 85MWh of energy storage.
This article was first published on Energy-Storage.News.