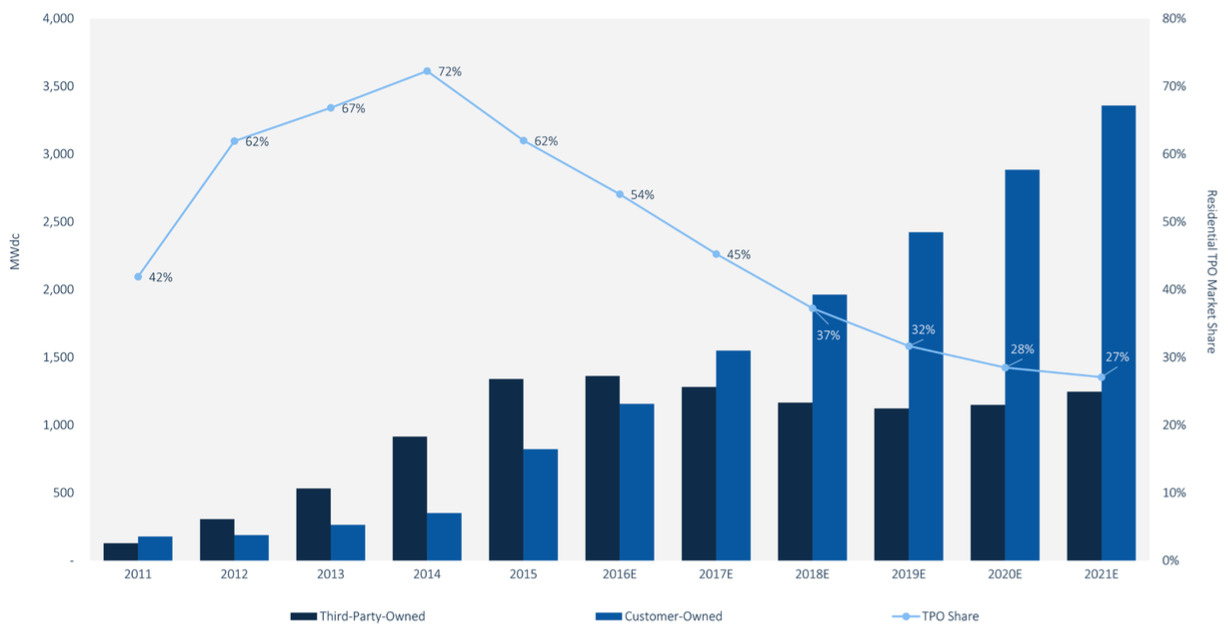 Direct ownership of solar panels is set to overtake leasing in 2017 for the first time since 2011, according to new analysis by GTM Research.
55% of all US residential solar capacity installed next year will be purchased by customers either paying in cash or with a loan, replacing third-party ownership. GTM Research also forecasts that 73% of all solar systems sold in 2021 will be owned directly by customers.
This transition will cause bumps in the road as the residential sector undergoes changes in business models and the competitive landscape shifts.
"The solar loan market is much more fragmented than the leasing market ever was," said report author Nicole Litvak. "Installers and homeowners have access to more companies financing loans as well as multiple options for loan tenors, interest rates, and dealer fees." According to the report, Mosaic was the leading solar loan provider in the first half of 2016.
The decline of solar leases and PPAs is spurring the waning in popularity of third-party ownership. However, in terms of megawatts, third-party ownership will remain relatively flat, GTM said, while direct ownership will continue to grow.
The main reason for this shift can be attributed to large residential installers like SolarCity and Vivint Solar slowing down in their deployment of leases. Local installers who are experiencing more rapid growth than their national counterparts, are selling more systems for cash. In addition, state law plays into the transition; with legislation in markets such as Florida and Utah barring PPAs, forcing installers to sell directly to customers.